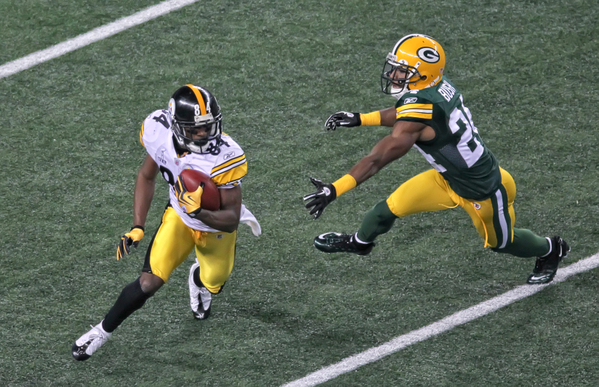 Repeat after me:  "It's only the preseason… It's only the preseason…"
The[intlink id="19″ type="category"] Pittsburgh Steelers[/intlink] played their first preseason (don't call them exhibitions!) game last night.  I tapped out shortly before half time but thanks to the magic of DVR, I finished the game a few minutes ago.  Even in fast forward, it was like watching a train wreck in slow motion.  To say it was a forgettable performance from the boys in Black and Gold would be an understatement.
"It's only the preseason… It's only the preseason…"

Let's be honest, these games aren't really indicative of anything.  A few years back, the Detroit Lions went undefeated in the preseason then posted an O-fer the entire regular season.  Bill Cowher was famous for having a miserable preseason record but his teams competed for championships year in and year out.  So while Rex Grossman looked like a world beater last night, Skins fans shouldn't be planning a trip to Indianapolis quite yet.
With that in mind, here a few random thoughts on what I saw:
– Ben Roethlisberger and the first team offense played exactly one series.  Just long enough for him to get knocked down a couple times and overthrow a wide open Mike Wallace.  Pretty much the only notable play in that drive was The Flash running uncontested straight down the field only for Big Ben to miss him by five yards.  Ben has never been good at throwing a deep ball but Byron Leftwich has.  He similarly misfired on a deep sideline pattern in the second quarter.
– The offensive line better hope they get officiating crews who call things as loosely as they did yesterday.  There was a whole lot of grabbing and holding every time Washington brought pressure.  Chris Scott and Ramon Foster seemed to be the two most grabby individuals.  I'm not sure either man made a strong case for starting last night.  New LT [intlink id="85″ type="category"]Jonathan Scott [/intlink]did start despite missing practice most of the week which is encouraging.  Although not as encouraging as the sight of the best center in football, Maurkice Pouncey, back on the field.
– [intlink id="81″ type="category"]Antonio Brown[/intlink] looked fantastic.  By far the best receiver on the field last night.  Remember my concerns on depth if Emmanuel Sanders is more hurt than he's been letting on?  Let's say between A-B and newly signed Jerricho Cotchery, I'm a lot less concerned.
– In the battle for the last remaining receiver spots, nobody really distinguished themselves.  Tyler Grisham  showed very poor hands while Wes Lyons, who is a really big drink of water, got knocked out on his first attempt.  The game seemed to be moving a little too fast for him and that was with second and third stringers in there.  Limas Sweed didn't play which doesn't bode well as the famous Barry Foster quote applies:  "You can't make the club in the tub."
– Not that it was all the receivers' fault.  Leftwich was the first QB out of the chute so he's looking like the #2.  The immortal Charlie Batch took over in the second half and looked fairly sharp.  Then came Dennis Dixon.  On the plus side, he seems to have recovered from his ACL injury as he looked great when using his feet to make plays.  On the negative, his passing accuracy was absolutely Tebow-esque.  To be fair, Dix was in there with a lot of guys who will be cut in the next week or so but for a guy the Steelers were so high on, he's rapidly turning into another Tee Martin.
– Isaac Redman is the best preseason player ever.  The Steelers lone touchdown was a beautiful 22 yard effort by Redzone.  He was really the only back who showed anything yesterday.  Mewelde Moore was given a few short yardage carries and failed miserably.  Jonathan Dwyer, who looks eerily like Casey Hampton's Mini-Me, accomplished nothing.  He's lucky Baron Batch blew out his knee or I don't think he'd have a chance of making this team.
– [intlink id="39″ type="category"]Cam Heyward[/intlink] is going to be a beast.  One thing I was looking forward to was seeing our first round pick in action.  Ironhead Jr. did not disappoint.  There was one play where former Penn Stater Evan Royster ran a sweep to his side of the field and he just grabbed on to him with one big paw and flung him to the ground like he was Joe Paterno.
– Not a good showing by the defense.  Zero sacks, zero turnovers, almost 500 yards of total offense given up.  Granted, Dick LeBeau only runs the most vanilla of schemes in the preseason but you would still expect a little bit more effectiveness.  Neither [intlink id="96″ type="category"]Keenan Lewis[/intlink] nor [intlink id="96″ type="category"]Crezdon Butler[/intlink] did much of anything although it looked like every corner was playing five yards off the receivers last night.  Some rookie named Da'mon Cromartie-Smith got a lot of playing time at safety and looked pretty good trying to cover for others' mistakes.  Ryan Mundy started in place of Troy Polamalu and laid his best hit on teammate Lawrence Timmons.  The Steelers have a whole bunch of young linebackers on the roster but only Stevenson Sylvester made an impression.  Nice to see Aaron Smith back on the field, hope he can stay there for all 16 games.
"It's only the preseason… It's only the preseason…"