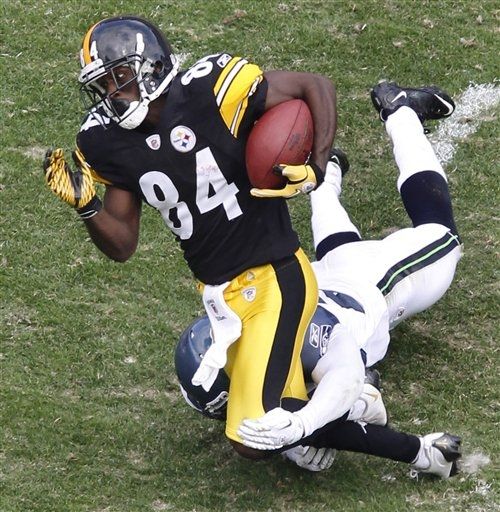 Sources told ESPN's Adam Schefter that the Pittsburgh Steelers came to an agreement with Antonio Brown. The four-year contract extension makes the 28-year-old Miami native the highest paid wide receiver in the NFL, at $68 million dollars.
Antonio Brown's previous contract with the Steelers runs through until the end of the season until 2017 where he will make a total of $4.7 million dollars on the season. With his new contract, he will make nearly four times that amount with $18.5 million in his first three years and $12.5 million in the fourth year of his contract extension. The new contract also came with a $19 million dollar signing bonus so now we can see why Antonio is all smiles in the picture he shared on twitter.
Despite his success in the NFL as wide receiver, he didn't start running routes regularly until he made it into college. Antonio was a quarterback at his high school in Miami Gardens and didn't garner any special attention from the scouts. It was the wide receiver's coach, Zach Azzanni, at Central Michigan that let him know to fly out to Michigan on his own dime and tryout as a walk-on. It was a good thing that he did, the transition was obviously easy for him as the coaches offered him a scholarship only a few weeks after the walk-on tryouts. At the end of his career at Central Michigan he had the school's record for receptions at 305, with all three of the top seasons for receptions by a single receiver, he had accumulated 3,199 receiving yards and had 22 touchdowns total.
In 2010, he announced that he would not finish school and instead go directly into the NFL draft. The Pittsburgh Steelers drafted Brown in the sixth round to a three-year, $1.28 million-dollar contract with a signing bonus of just over $70 thousand dollars. Since then he has received a career total of 8,377 yards averaging 13.3 yards a reception. He has been invited to the Pro Bowl five times and is the first player in Steelers history to finish a season with more than 1000 receiving yards and 10 touchdowns in three consecutive seasons. In 2016, Brown took it a step further and finished his fourth season in a row with more than 1000 yards receiving and 12 touchdowns with an average of 12.1 yards per reception which made those who enjoy betting on the Pittsburgh Steelers or Brown prop bets very happy.
The highly paid wide receiver recently caught some flak in the social media world by posting a Facebook live event where he caught his head coach, Mike Tomlin, speaking inappropriately about their super bowl opponent, New England. Tomlin later went on to apologize to the Patriots. It was reported later that Brown would be facing a $10,000 fine for the social media violation.
It was later rumored that Brown was paid $244,000 to create content for Facebook live. The wide receiver was apparently able to profit $234,000 dollars off the scandal.