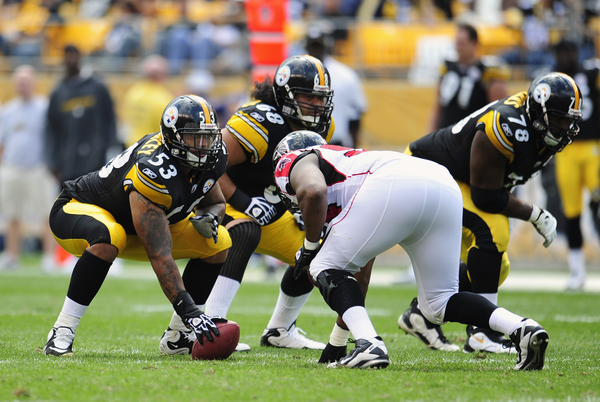 Alright, who didn't bring their rabbit's foot?
Before the [intlink id="19″ type="category"]Pittsburgh Steelers[/intlink] kicked off their third preseason game Saturday night, I threw up a quick note beseeching those making the trek to Heinz Field to bring whatever good luck charms they may hold dear.  I knew the starters were going to see significant playing time.  And I knew that the last thing we needed was one of those starters to get injured in a meaningless exhibition game.  When the game ended with not one, not two, but three significant injuries to key personnel, I knew somebody didn't listen.
The ugliest injury belonged to back-up quarterback Byron Leftwich, who broke his left arm bracing his fall early in the second half.  The camera didn't cut directly to [intlink id="55″ type="category"]Dennis Dixon[/intlink] so we can only speculate whether he was sticking pins into his Leftwich voodoo doll at that exact moment.  Seriously, how much luck can one man have?  Dix must have been born with a horseshoe up his ass.

Last season, the Steelers badly wanted him to start in place of the unjustly suspended Ben Roethlisberger.  He was spectacularly mediocre during the preseason leading one to assume Leftwich would be handed the job instead.  Then, in the team's final preseason game, Leftwich messed up his knee, awarding Dix the job by default.  This season, it appeared DD was odd man out for the #3 spot on the depth chart, only to see the presumptive #2 break his arm.
Losing Leftwich wasn't even the worst news of the night.  Steeler Nation let out a collective "NOOOOO!" when they saw superstar center [intlink id="129″ type="category"]Maurkice Pouncey[/intlink] limp off the field early in the first quarter.  The good news is, the Steelers are saying he only suffered a sprained ankle.  The bad news is, the Steelers are filthy liars.  Mike Tomlin is famous for never telling the media the truth when it comes to injuries.  For all we know, this "sprained ankle" could actually be a high ankle sprain, which is the kind of injury that severely hobbles a player's performance.
If I had to pick one player on offense this team can least afford to lose (other than Big Ben), Pouncer is  the obvious choice.  [intlink id="85″ type="category"]Doug Legursky[/intlink] filled in admirably but he's not close to Pouncey's level.  The Steelers have reportedly raved about the Big Legursky's performance in Super Bowl XLV, which I have to believe is like giving a kid a trophy just for participating.  Sure he did a good job, if you don't count that missed assignment that led to Rashard Mendenhall getting waylaid and fumbling.
Mark it: if the Steelers had Troy Polamalu and Maurkice Pouncey healthy for the big game, we'd be talking about Eight Is Not Enough instead of still trying to climb the Stairway to Seven.
Besides Pouncey and Leftwich, there were a couple other injuries of note. [intlink id="96″ type="category"] Kennan Lewis[/intlink], who was finally starting to show something, limped off the field after coming down hard on his knee.  Bryant McFadden hasn't taken a single snap this preseason because he's been nursing a bad hammy while [intlink id="101″ type="category"]Ike Taylor[/intlink] is still working his way back from a broken thumb.  B-Mac and Face Me Ike should play in the season opener, although it's not exactly comforting to know Will.i.am Gay and Crezdon Butler are currently your only two healthy corners.
All this injury talk overshadowed what was an excellent showing by the Steelers against NFC powerhouse Atlanta Falcons. Lawrence Timmons made a Polamalu-esque interception on a tipped ball that should have went for a touchdown.  Antonio Brown continues to be the star of the preseason, first returning a lousy kickoff 51 yards then catching touchdown bombs of 77 and 44 yards. The offensive line showed some flashes of competence, with rookie Marcus Gilbert looking decent at LT while Tony Hills performed well at RG.  Of course, they'll look a hellluva lot better with the best center in the NFL back manning the middle.