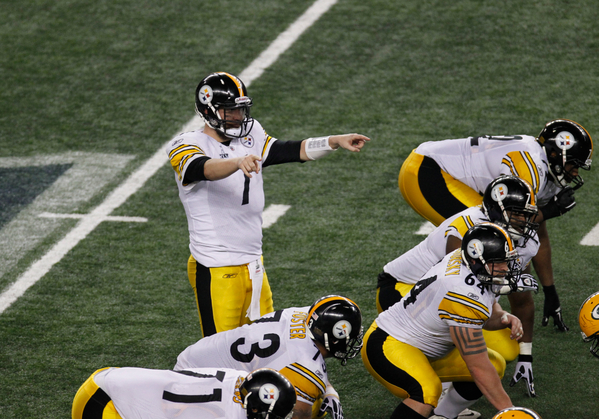 Stop the insanity!
I try not to get too worked up over rankings.  The NFL inspires more list making than Santa Claus.  ESPN and SI with their ridiculous weekly power rankings like the NFL is as poorly run as college football. Every columnist and blogger ranking the top ten pulling guards who weigh over 300 pounds or what have you.  It's never ending and one could go certifiable trying to keep  up with them all.
However, as one of my heroes is fond of saying, "I've taken all that I can and cants take no more." The disrespect shown Pittsburgh Steelers quarterback [intlink id="14″ type="category"]Ben Roethlisberger[/intlink] is astonishing.  Steve Young is in the Hall of Fame with a grand total of one Super Bowl victory. Bret Favre is continually hailed as a Wrangler jeans wearing Football Messiah yet only has two Super Bowl appearances on his resume and one win.  Big Ben has been to three Super Bowls, won two of them, all in a career that is less than half as long (insert penis joke) as the Gunslinger's.
Stop the insanity!

Read the NFL quarterback rankings on various sites across the interwebz and you'll notice Ben continues to receive little or no respect.  Oh, they put him in the top 10 as a courtesy.  But seldom do they give him the credit he deserves.  With Michael Vick signing his ridiculous new contract, prepare yourself for a season's worth of  stories declaring Vick the Greatest Quarterback Ever.
He's not, by the way.  He's not even in Ben's league when you come right down to it.  We can break this down two different ways although you really should pick one criteria and stick with it.  Either go by how successful they are at winning football games or their Fantasy stats.  For sake of argument, I'll look at both.
Ben's lifetime QB rating is 92.5.  Vick's is 80.2.  Ben has 144 TDs against only 86 INTs whereas Vick has a 93/58 split.  It should be noted, these numbers are fairly comparable because Ben has played 99 games and Vick has played 98.  So statistically, Ben is clearly the better player.
While stats are fine, let's look at what's really important.  Winning.  Quarterbacking in the NFL, much like Charlie Sheen, is all about winning.  Ben has an astounding 69-29 career record as a starter.  Vick is 46-31-1.  He's barely a .500 quarterback.  Then we have the playoffs.  Ben's status as the best big game QB in the NFL is indisputable.  Just for the record, the Steelers are 10-3 in the playoffs with two Lombardi Trophies during Big Ben's tenure.  Vick's only been to the playoffs three times in his career and is 2-3.  Clutch, he is not.
Stop the insanity!
USA Today came out with a Top NFL QBs list a few weeks ago.  Ben was ranked 6th.  To their credit, they put him ahead of Vick but to their disgrace they put him behind Drew Brees and Philip Rivers.  Rivers has never won anything so let's just forget about him.  Brees had one good season, when he led the Saints over the biggest choker of all-time, Peyton Manning, and the Colts.  Brees lifetime QB rating is 91.7 while his career record is 79-58.  So he's not better statistically nor is he more of a winner.  Sure he's a nice guy but I don't want a nice guy behind center, I want Super Bowls.
Then we have the Bleacher Report where one of their "featured columnists" has Ben ranked 7th.  Again, we have the ridiculousness of Brees and Rivers ranked ahead of Roethlisberger.  But adding insult to injury, they also place Matt Ryan ahead of Ben.  Yes, the Matt Ryan who got beat by Dennis Dixon in last year's season opener.  The Matt Ryan who has played three years and never won a playoff game.
Stop the insanity!