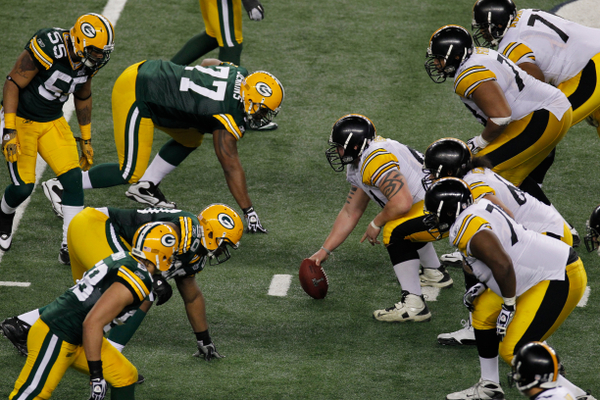 Remember back during the lockout when [intlink id="8″ type="category"]Roger Goodell[/intlink] had this crazy idea for an 18 game season?  Remember how the Ginger Dictator justified this little slice of insanity by saying, "The fans have told me they hate meaningless football games?" Remember when it was revealed that the scheme would essentially cut the preseason in half with the final two exhibitions becoming regular season contests?  Remember how this idea was met with howls of protest from coaches who said, "I absolutely need four games to determine my rosters and prepare for the season?"
Tonight the [intlink id="19″ type="category"]Pittsburgh Steelers[/intlink] have their yearly preseason meeting with the Carolina Panthers. In this fourth and final preseason game, which is absolutely crucial remember, head coach [intlink id="45″ type="category"]Mike Tomlin[/intlink] has already announced Ben Roethlisberger, Ike Taylor, Jerricho Cotchery, Troy Polamalu, James Farrior, Casey Hampton,  Maurkice Pouncey and Bryant McFadden won't be playing.  But, hey, you'll get a full half of [intlink id="99″ type="category"]Charlie Batch[/intlink]!  ALL CHAZZ, ALL THE TIME!  IT'S LIKE HITTING THE LOTTO AND SCORING WITH ROONEY MARA IN THE SAME DAY!

The Steelers already know their opening day roster.  Oh, maybe the 53rd man is still be up for grabs but numbers one through fifty-two are set.  Perhaps if you're a pitiful team like the Panthers or Redskins, there is legitimate competition for various starting spots.  Super Bowl caliber teams like the Black and Gold, however, have precious few questions regarding their top two units on both sides of the ball.
That's why the team has already announced Doug Legursky is your brand new starting right guard.  The [intlink id="85″ type="category"]Big Legursky[/intlink] has been a favorite of offensive line coach Sean Kugler since his arrival in Pittsburgh.  Few remember there was serious talk of starting Legursky at center and moving Pouncer to LG during last season's training camp.  I believe the fact he can play every position on the line worked against him as the Steelers braintrust preferred to keep him in the bullpen as a kind of super-sub.  But Ramon Foster has plummeted off the radar while Tony Hills has limited experience at guard which basically left the job to Legursky.
By the way, it's not that the fans hate the exhibition games, it's that they hate the fact owners make them pay regular season prices to watch practice squad fodder as part of their season ticket packages. Of course, Ginger would rather climb a tree to tell a lie than stay on the ground and tell the truth.  He'd never let greed interfere with his personal mission to ride his players like circus animals while milking every drop of revenue from fans' pocketbooks in the process.  Never change, Roger, never change.