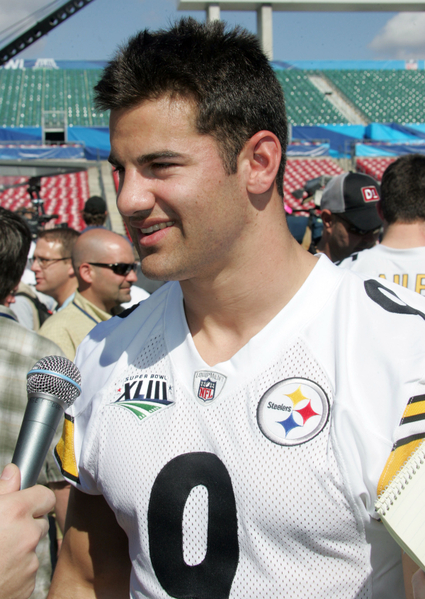 Hope everybody had a nice Labor Day weekend. Sorry for not updating the past couple days but as the proud grandson of a steelworker, I honor my forefathers by doing nothing more strenuous than throwing brats on the grill, cracking open a PBR and watching fireworks over Labor Day holiday.
While in absentia, the Pittsburgh Steelers finalized the roster which will lead them to legendary glory here in 2011 (and hopefully well in to 2012).  The biggest surprise cut was second year cornerback [intlink id="96″ type="category"]Crezdon Butler.[/intlink]  Butler played quite a bit during the preseason, struggling at times but also showing flashes of ability.  The team is thin enough at corner that it's surprising they'd just give up on a youngster so soon.  It's slightly reminiscent of last year when Joe Burnett played similarly well yet still failed to make the team.  Then again, Burnett was a final round cut by the New York Giants this season so I guess [intlink id="23″ type="category"]Kevin Colbert[/intlink] knows what he's doing.

As I predicted, free agent TE John Gilmore lost out to impressive rookie Wes Saunders.  Saunders has shown Eric Green-like tendencies (as a pass-catcher, not a pot-smoking fatass) and probably would've been a mid-round draft pick had the NCAA not suspended him last year for talking with an agent.  Jeremy Kapinos is a better punter than Daniel Sepulveda but the team invested a fourth round pick in the Dreamy One which basically means Kapinos had to kick the ball like Clark Kent did in "Superman" in order to make the team.  Finally, Tony Hills, who was moved to guard in a last ditch attempt to get something out of him, was expendable once the team brought back super-sub Trai Essex.
Hills failed to unseat [intlink id="85″ type="category"]Doug Legursky[/intlink] for the starting RG job, which was his only real shot to make the squad.  The Big Legursky, by the way, is your lone new starter on either side of the ball.  I told you the preseason is pretty meaningless when you follow an elite team like the Steelers.  The coaches knew the first and second stringers back in June.  The past month has only been about getting in shape, avoiding injury (Sorry Byron!) and figuring out players #48-53.
A few names who saw a lot of playing time in the preseason managed to catch on with the team's practice squad, most notably undrafted rookie RB John Clay and pint-sized wide receiver Tyler Grisham.  DB Domnique Rodgers-Cromartie and LB Mort Ivy also earned jobs after fairly impressive preseasons.  Hopefully they'll spend the rest of the year running scout team for the starters and not be forced on to the main roster due to injury. Then again, as these cuts show, this is a team with second and third stringers who would likely be in the mix for starting opportunities on a lot of other teams.