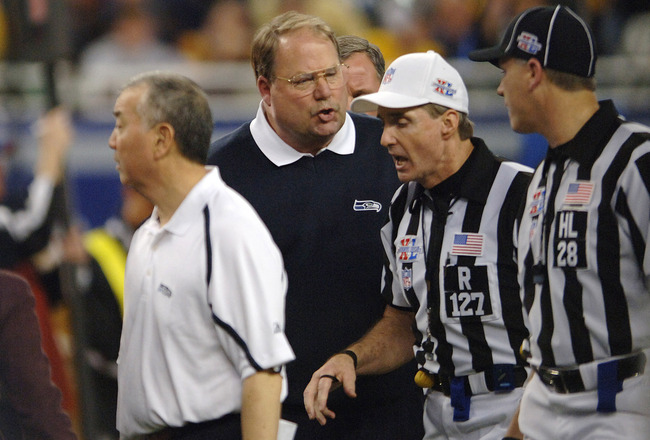 Does [intlink id="8″ type="category"]Roger Goodell[/intlink] have any clue?  Or does his never-ending quest to screw over the [intlink id="149″ type="category"]Pittsburgh Steelers[/intlink] trump even the commonest of sense?
This Sunday the Black and Gold face the Seattle Seahawks at Heinz Field.  The official assigned to referree the game is one Bill Leavy.  Yes, the same Bill Leavy who did a perfectly fine job officiating Super Bowl XL betwixt these same two teams. And the same Bill Leavy who last year decided to unburden his tortured soul by apologizing to the Seahawks for doing his job to the best of his abilities in that game.
It was a tough thing for me. I kicked two calls in the fourth quarter and I impacted the game, and as an official you never want to do that," said the veteran of 15 NFL seasons and two Super Bowls.
Bill Leavy is clearly a tortured soul.  He "punted" two calls in the Super Bowl! How could he live with himself if he didn't confess his sins to a bunch of players who weren't even on that team? And why is the Ginger Dictator so cruel as to make this man relive the worst day of his life?  Does he want a tragedy on his hands?
I hope the NFL has at least been kind enough to book rooms for Leavy and crew on the ground floor of the Pittsburgh Marriott.  Better safe than sorry.

Mike Pereira, the NFL's former Head of Officiating and Leavy's boss in 2006, penned a column for Fox Sports where he wrote, "Did Leavy's calls determine the winner of Super Bowl XL?  Absolutely not!  In truth, there were missed calls that went against both teams."
Well said, Mr. Pereira.  Honestly, I didn't think this needed stated because I thought anybody with a brain in their head already knew the Steelers won Super Bowl XL fair and square. The "two calls" Leavy claims to have punted were a holding penalty on Seattle which wiped out a play that put them at the Steelers 1 and a personal foul penalty on Matt Hasslebeck after Ike Taylor picked him off at the Steelers 5.
Yes, the holding penalty was ticky-tacky. NEWSFLASH:  Most holding penalties are ticky-tacky.  The holding call on Justin Hartwig in Super Bowl XLIII that not only cost the Steelers a first down but resulted in a safety was ticky-tacky. And for the record, Clark Haggans WAS being held.  Perhaps if Seattle's line wasn't so badly overmatched that they had to resort to cheating, the ref wouldn't have had to penalize them. The Hasselbeck personal foul occurred AFTER he threw an absolutely horrendous INT.  Sure it kept the Steelers from being backed up in their own end but how does that call affect the Neil O'Donnell-esque pick Seattle's inept QB threw seconds earlier?
The bottom line is this:  Bill Leavy didn't allow Willie Parker to blast off a 75 yard touchdown run.  Bill Leavy didn't force Hasselbeck into misfiring on one out of every two passes he attempted.  And Bill Leavy didn't force the Seahawks to stand around like neon green traffic cones while the Steelers pulled the brilliant razzle dazzle of Antwaan Randle-El firing to a wide open Hines Ward for the back-breaking score.
I get that Seattle still brings up Super Bowl XL because they haven't had anything remotely interesting going on since Nirvana hit big in 1992.  And I completely understand the Seahawks franchise dwelling on their one moment in the sun because they've been utterly forgettable for the other 34 years of their existence. But at some point I'm sure those latte sipping emo bastards will eventually shut up, get over it, and move on to more interesting pursuits such as cutting themselves while listening to Mudhoney bootlegs.
Why an NFL official is still dwelling on it years later boggles the mind.  How the NFL can then allow said official to adjudicate a regular season game between the same two franchises is even more boggling.  Do they not realize any questionable call is going to be met with skepticism?  Do they not know if a controversial call affects the outcome of the game, fans of the victimized party will cry that the fix was in?
Then again, perhaps that's exactly what the Ginger Dictator is counting on.