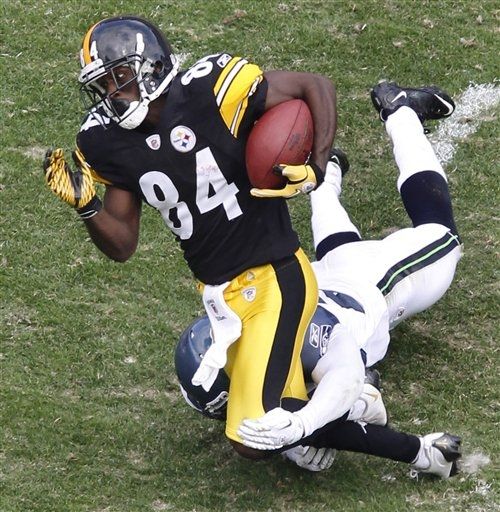 NFL analyst Warren Sapp recently derided the Pittsburgh Steelers saying they were "old, slow, and it's over." I wonder if he'll take the drumstick out of his mouth long enough to retract that statement in the wake of the[intlink id="21″ type="category"] Steelers[/intlink] 24-0 drubbing of the Seattle Seahawks.  Much like last week, the final score doesn't accurately reflect the one-sidedness of the actual game.  The old slow Steelers dominated in every facet, amassing 421 yards to the Pigeons meager 164 while tossing their first complete game shut out since 2008.  Sadly, that's one more than the Pirates have had this year.
[intlink id="52″ type="category"]James Harrison[/intlink], who was nearly invisible last week, played like a man possessed. [intlink id="57″ type="category"]Troy Polamalu[/intlink], whom Sapp mocked for whiffing on a tackle of Ed Dickson, led the team with 8 tackles including one sack while also defensing one pass which should have gone for a Pick Six.  To give you an idea of how thorough a whupping Dick LeBeau's men laid on Seattle, the Seahawks didn't venture into Steeler territory until well into the fourth quarter. Not that the Steelers didn't display areas where they could still improve. Bryant McFadden did not play, leaving [intlink id="96″ type="category"]Will.i.am Gay[/intlink] to offer comfy 5 yard cushions to our guests. It also afforded Keenan Lewis his first extended look against actual NFL competition. Both failed to distinguish themselves, playing loose coverage which would spell disaster against a more capable quarterback.

Offensively, Chris Kemoeatu also sat out, leaving [intlink id="85″ type="category"]Ramon Foster[/intlink] to take his place at LG.  Foster made several nice plays, particularly a crushing pull-out block on Isaac Redman's fantastic 20 yard TD run early in the second quarter. When Kemo heals up, the Steelers may need to consider keeping Foster in the starting line-up, either at LG or replacing the Big Legursky, who continues to struggle. The Steelers opening drive of the afternoon ended in a disappointing turnover on downs after Legursky completely whiffed on a fourth down play allowing Rashard Mendenhall to be stopped well short of the goal line.
Rookie RT Marcus Gilbert acquitted himself well although one of his mistakes nearly cost the Steelers their entire season. Late in the second quarter, he failed to hold a block on Raheem Brock, who chop blocked [intlink id="14″ type="category"]Ben Roethlisberger[/intlink] from behind. As Big Ben lay writhing on the ground, visions of season-ending ligament damage flashed before our eyes. Luckily, Ben escaped major injury, missing only two plays. Even when the game was comfortably in hand, Mike Tomlin's refusal to rest his franchise quarterback was totally baffling. Evidently, Chaz Batch will only see action when somebody removes one of Ben's limbs from his body and proceeds to beat him senseless with it. Tomlin's foolishness almost came back to bite the Steelers when Brock tried to pull a Kimo Von Ohloffen later in the game. Strangely, the refs decided to let that one go as evidently the Tom Brady Rule only applies to Tom Brady and other NFL favorites.
Ben finished an efficient 22/30 for 298 yards and one TD.  Mike Wallace caught 8 balls for 126 yards. Continuing with the "What We Learned…" theme, Antonio Brown is showing his great preseason was no fluke, returning a punt 41 yards while making 4 catches for 67 yards.  Loathe as am I to agree with Sapp's demented ramblings, in regards to Hines Ward, who also caught 4 balls but for only 33 yards, he may have a point. Hines is still a dependable possession type but he's clearly lost the ability to get open in space. It may be time to start AB opposite the Flash with Hines playing the underneath slot type role Randle El excelled in. Twenty-four points is nothing to be ashamed of but when you amass 400 yards of total offense, one would have liked to see a little more scoring.
While a win is a win, Steeler Nation should temper their excitement at defeating such an obviously over-matched opponent.  The Seahawks are a JV team by NFL standards and next week's Sunday Night match-up against the Colts shouldn't offer much more competition.  While games against cannon-fodder serve as fine tune-ups, one mustn't read too much into them. I wonder if Sapp will now insinuate the Ravens are old and slow because the Ravens shat the bed this week against a clearly inferior Tennessee team? Or perhaps he'll realize we're only in week two and teams are still trying to find a rhythm on both sides of the ball.  We have a long way to go in 2011 but for one week at least, the Black and Gold managed to invoke memories of 2010.  If they continue to build upon that success, we may yet still write a similar story to last year, albeit one with a happier ending.