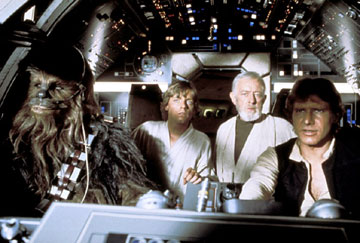 I got a bad feeling about this…
The [intlink id="20″ type="category"]Pittsburgh Steelers[/intlink] return to the Lone Star State for the first time since last season's soul-crushing loss in Super Bowl XLV. However, rather than the team who reside at Jerry Jones' tribute to his minuscule penis, their opponents are the Cowboys' slacker younger brothers, the Houston Texans. I'm going to level with my dear readers. I'm very very worried about this game. Between the injuries to the offensive line and the shaky secondary, I can't help feeling like we're in the Millennium Falcon getting sucked toward the Death Star.
This week, we're going to do something a bit different in Know Thy Enemy. The aptly named Pat Starr over at the State of the Texans blog kindly agreed to give us the lowdown on his team. After you're done reading this, click on over to check out my answers to his questions. In the meantime, I'm going to stick to my regular format but insert Pat's info when appropriate. So text is me, quote block's are Pat.

First up, the Texans suffered their first loss of the season last week against the New Orleans Saints. What does your team need to do to get back on track?
I think it rests on Head Coach Gary Kubiak and see if he can break the mold after a tough loss to come back and get a win. It is times like these when the Texans could be in jeopardy of losing 3 in a row, that is how it always has been. It is up to Kubiak to prove that this is a new team and a new mentality in Houston that they can come back and forget last week. This is a bigger test than last week, because after a big loss they are facing a conference power and it could prove important late in the season if the Texans are fighting for a playoff spot. It is games like these that could define the Texans season at the end of the year.
Wow.  No pressure then?
STEELERS DEFENSE vs. TEXANS OFFENSE
The Texans are currently the fourth best rushing team in the NFL. What makes this surprising is superstar back Arian Foster hasn't played at all this year. The ground game has been driven by the fantastic performance of rookie Ben Tate. So, what's up with Foster?
His hamstring has been giving him issues since training camp, and he reinjured it during the third preseason game and then re aggravated it against the Dolphins in week 2. He said he could have gone against the Saints, but he wanted to make sure he was healthy for the rest of the season. I would expect to see him Sunday, but how much is going to be a big question.
Indeed. Kubiak has said Foster will start on Sunday. What does he bring to the offense that they're missing without him?
The red zone presence is important, but more than anything he gives the Texans offense a confidence than can be seen. He is such a good one cut runner he makes the Texans offensive line even better. He can catch the ball, but he gives the Texans a real threat running the ball that can gain big chunks of yards at a time.
I think Pat undersold the red zone thing. Last season, the Texans scored on 62% of their trips into the red zone. This year, they're sitting at 31%. Regardless, the prospect of the Steelers suddenly vulnerable run defense chasing after Foster (or Tate) isn't a positive one. I hope Lawrence Timmons brings his A-game because he's the one linebacker who can actually run with these guys.
Of course, the big scary is the Texans' explosive passing game. Tell us about your quarterback, Matt Schaub. Is he a championship caliber signal caller?
Depends which one you are talking about, division champion, yes, for the Super Bowl, work in progress. Schaub has not been able to be clutch when needed and he has struggled with that since being here in Houston. He has been great for the Texans but when he is called to make a clutch throw in crunch time, he has failed. In order for the Texans to take that next step he needs to take a step as a quarterback in those situations.
How about his favorite target, beast/man-child/superstar receiver Andre Johnson?
He is a worker, and does everything right, plus it helps when Matt Schaub looks for him when he gets in trouble. Johnson is the hardest working Texans player, and is the "true" leader of the team. Even during training camp he takes no plays off and it translates to the field. He is a threat to go deep or make something out of a short pass, but what is over looked is the fact he knows how to read defenses and find his spots. He makes the Texans offense a real threat when he is on the field.
What you're saying is, he's a GROWN ASS MAN? Good luck, [intlink id="101″ type="category"]Face Me Ike[/intlink]. The Steelers gave you the big contract because they believed you were an elite cover corner. Here's your chance to prove it.
STEELERS OFFENSE vs. TEXANS DEFENSE
Last year, the Texans were a team that had no trouble dropping 30 points on an opponent. The problem was they routinely gave up 35. They brought in Wade Phillips to coach up the defense. Phillips was a clueless puppet as a head coach but he's actually a fairly accomplished defensive coordinator. How's 'ol Wade been thus far?
He has been the best addition to the Texans this offseason, and has made the Texans a better defensive team. During training camp he was in player's faces and letting them know what was right and wrong. The defensive players have responded well and it has shown, but it will be interesting on how the Texans respond after a tough loss to the Saints.
Here's where things get scary. Both [intlink id="85″ type="category"]Jonathan Scott[/intlink] and [intlink id="85″ type="category"]Doug Legursky[/intlink] are out. Ramon Foster will replace the Big One at RG while Trai Essex will protect Big Ben's blind side. On one hand, they couldn't possibly play worse than Scott and Legursky did against the Colts. On the other hand, they're back-ups to two guys who stink which doesn't speak well of their ability.
So, who on the Texans defense will Ben be running for his life from this Sunday?
Mario Williams is the first because of the disruptions he has been causing off the edge, but the biggest concern will be Antonio Smith. He has a sack in all three games so far this season and has proved to be the team's most consistent pass rusher to the point. Both Smith and Williams can provide pressure when needed from the inside or outside.
If Ben can stay upright long enough to deliver the ball, the Texans were known last season for having one of the worst secondaries in NFL history.  Has anything changed this year?
They actually opened the check book and signed Johnathan Joseph and Danieal Manning who have provided some real players that the Texans have never had in their 9 year existence. They have combined for three interceptions this year which is mind blowing here in Houston, because we are not used to defense being played like that. Also, the Texans moved Glover Quin to safety, who played corner last year, and has made a good transition. He has given up some touchdowns but he is proving he can tackle from the safety position which is a good sign.
Uh-oh. Still, I don't think anybody can completely shut down [intlink id="82″ type="category"]Mike Wallace[/intlink]. People laughed at the Flash for predicting he'd be the first receiver in NFL history to pass 2,000 yards but he's on pace to get there. He's been battling some sore ribs this week, which hopefully wasn't the reason he basically disappeared in the second half against the Colts. Open checkbook aside, I expect him to do well against the Texans secondary, if the line can give Ben enough time to get rid of the ball.
The Steelers are coming off their third Super Bowl appearance in six years. The Texans are the only franchise that has yet to qualify for the post-season. What's it gonna take for them to get off the schnide?
Consistency. They have to get better in every phase of the game, but the mentality to get over the losing has been the hardest part. The Texans have the talent but being able to put it together game after game has been an issue since 2002.
Well said, Pat. Thankfully, the Steelers already have the championship mentality. But getting better in all three phases? Three games in and we're still waiting for the Black and Gold to show some evidence of that.