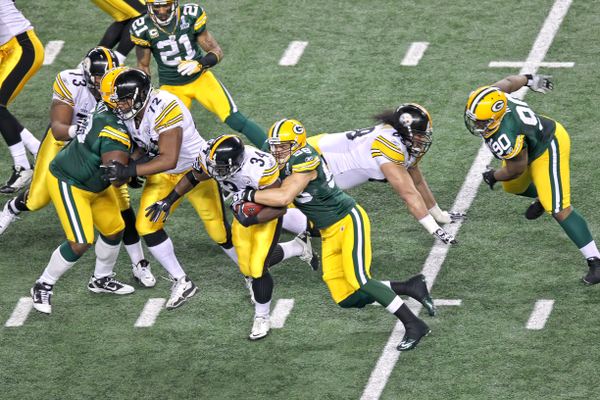 [intlink id="166″ type="category"]Pittsburgh Steelers[/intlink] head coach Mike Tomlin's weekly press conference yielded little as usual. [intlink id="41″ type="category"]Aaron Smith [/intlink]continues to be out with a bad case of ineffectivitis while Marcus Gilbert, [intlink id="131″ type="category"]Casey Hampton[/intlink] and [intlink id="85″ type="category"]Chris Kemoeatu [/intlink]are all "questionable," whatever the hell that means. The only definitive information we received was running back [intlink id="88″ type="category"]Rashard Mendlenhall [/intlink]would definitely be ready for this weekend's game against the Jacksonville Jaguars. Praise Allah!
Steeler Nation, though, do we really care?
Last week, Jonathan Dwyer and [intlink id="168″ type="category"]Isaac Redman[/intlink] combined to produce the Steelers best rushing attack of the season. The two combined for 156 yards on 26 carries. Mendy has 173 yards for the entire season. What's more, he hasn't really been that great dating all the way back to last season. The last time the Steelers have had back-to-back 100 yard rushing performances was by Fast Willie Parker in 2008.

Mendy's miserable 2011 is well-noted. What people don't talk about is how he finished up last year. Of course, we all remember his fumble as the turning point of Super Bowl XLV. But look at his last eight regular season games leading up to the Black and Gold's playoff run. He had two 100 yard games, a 151 yard effort against the then-lowly Bills and 99 yards against the formidable Jets (I'll give him credit for an extra yard because it's the Jets). In between those two efforts, he has a whole bunch of 40-60 yard games.
I'm not advocating the team bench Mendy. I don't believe Dwyer nor Redzone are significantly better backs. The majority of Dwyer's output came on a single 76 yard run which was made possible by a hole I could have drove my Prius through. Redman had a very Mendenhallian 15 carries for 49 yards. The only reason his performance was memorable was how hard he ran for every one of those yards. Neither man pulled a Fast Willie, who exploded for 161 yards when pressed into the starting line-up due to injury to the team's nominal starters.
My thinking on the subject is, why does it have to be one or the other? Mendenhall has been the featured back for three years now and you can only call somebody a "potential superstar" for so long before they actually have to fulfill that potential. Fact is, his tap dancing pansy-ass style has made him useless in short yardage since day one and his fumbling issues have yet to be completely solved. I firmly believe the only reason he continues to receive feature back consideration is the fact he was a number one draft pick.
What we learned last week is perhaps this should not be so. Why not have a three-headed monster at running back? It worked for the New york Giants the year they upended the undefeated Patriots in one of the greatest Super Bowls of all-time. Give Mendy 8-10 carries a game and mix in Dwyer and Redman for the other 20. Dole them out situationally, allowing Redzone to pick up shorter yardage where he excels while allowing Mendy ample chances to break one in the open field. Ride the hot hand if one presents itself.
The Steelers are a pass-first Flying Circus, of that there is no doubt. But to keep Ben healthy not to mention mitigate the mistakes he is apt to make, there is no doubt the Black and Gold need to establish a solid running game that can produce effectively on 20-25 carries per game. Dating back to last year, Rashard Mendenhall has produced mediocre results in what amounts to nearly a year's worth of games. What we learned last weekend was the Steelers do have some options. The question is will they use them?