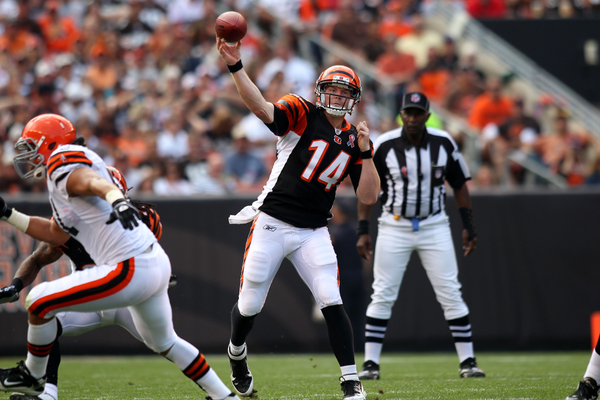 This weekend, the Pittsburgh Steelers face the Cincinnati Bengals in a crucial AFC match-up. Unfortunately, most of you who live out-of-state will have to fire up the satellite dish or visit your favorite Steeler bar in order to watch since it's neither a national nor prime time game. In fact, all Bengal games start at one o'clock because they have to be indoors before curfew as a condition of parole.
Anyway, when last we left Cincy, franchise quarterback Carson Palmer was saying he'd rather retire than strap on their orange jumpsuit ever again. Hardheaded GM/Owner Mike Brown eventually traded him to the desperate Oakland Raiders which for Palmer must have been like being handed a Get Out Of Jail Free card. The haul in return was impressive, a first rounder and a second that becomes a first if the Raiduhs win a playoff game, which I'm sure Cincy will use to augment their team with the best available criminals in next year's draft.

STEELERS DEFENSE vs. BENGALS OFFENSE
Credit where it's due, the Bengals have actually drafted very well. When a team overhauls a roster to the extent Cincy did over the off-season, usually there is a lull while they reload with fresh talent. First round pick WR AJ Green and second rounder QB Andy Dalton have not only filled the void left by the departures of Palmer and Chad Ochocinco, they're actually playing a lot better than their predecessors have in recent years.
The Red Rifle (Dalton is a ginger and, thus, has no soul. See also: Goodell, Roger) is many people's pick for Rookie of the Year. Cam Newton probably should win due to much more impressive statistics as Dalton's TD/INT ratio is a fairly middling 12/7 and he's 15th in the NFL in passer rating. However, Dalton is winning games which is what the true measure of a QB should be. Red can best be described as a game-manager although his poise and unflappable nature has already allowed him to lead the Bengals on a couple exciting come-from-behind victories.
Dalton's favorite target is, of course, fellow rookie Green. He's currently ranked 13th in the NFL with 40 catches for 599 yards and 5 TDs. His knack for the big play has been key in a number of Cincy's victories. Jerome Simpson, Andre Caldwell and Jermaine Gresham are all deadlocked behind him with 25 catches each so you can see pretty much figure who Ike Taylor will be lined up against this weekend. If Face Me Ike can shut down Green, Dalton figures to have a hard time moving the ball through the air.
Not that he's in for an easy day in any case. Dick LeBeau loves young quarterbacks. The only rookie to have beaten LeBeau was Baltimore's Troy Smith way back in 2007 in a game that was meaningless as the Steelers had already wrapped up a playoff spot and pulled their starters after halftime. His confusing defensive looks make it difficult for a newbie to figure out where the pressure is coming from and where his open man will be. I expect the Bengals to lean heavily on Cedric Benson, who was ran wild on the Steelers the last time they defeated us. If the run D can hold the fort, I don't expect a repeat of Joe Flacco's performance on Sunday.
LaMarr Woodley continues to battle a bad hammy and will miss his second straight game. With the bye upcoming, it's best to give Woodley three straight weeks of rest rather than rushing him back and possibly losing him for a longer period of time. James Farrior has finally healed from his "injury," curiously right around the time we play a team without a lot of speed out of the backfield. I respect Farrior but Larry Foote played a real good game against Baltimore and it's hard to justify benching him. Lawrence Timmons back at his natural ILB spot probably influenced this move since we'll have at least one linebacker who can cover sideline-to-sideline.
STEELERS OFFENSE vs. BENGALS DEFENSE
A few years back, the Bengals came out of nowhere to win the AFC North. They did this by playing stifling defense and featuring a conservative offense which featured a heavy dose of Benson. Naturally, the next year they basically flushed everything that worked down the toilet by bringing in Ocho's buddy T.O. and going to a pass-heavy offense led by turnover machine Palmer which repeatedly hung that D out to dry. This year, they're back to a conservative offense and in return their defense has returned to spectacular form.
Cincy currently has the 4th ranked defense in the NFL. They're 2nd against the run but only 10th against the pass, likely a consequence of allowing their best corner, Jonathan Joseph, to leave via free agency. In his place, they acquired veteran Nate Clements, who is currently fourth on the team in tackles and has forced two fumbles. His partner, Leon Hall, is the jewel of the secondary, an underrated corner who can cover as well as almost anybody. FS Reggie Nelson leads the team in tackles and is quietly blossoming into a decent play-making safety although he and Chris Crocker aren't the best in coverage.
The star of the defense is clearly LB Ray Maualuga, an extremely active linebacker who can run and hit with the best of them. Geno Atkins, Frostee Rucker and Carlos Dunlap, who are responsible for 9.5 of the team's 20 sacks, provide the beef up front. As noted, they've been very stout against the run (not that the Steelers have much of a running game anyway) and have also generated the majority of their pass rush. This concerns me as we all remember the way the Colts' speedy defensive ends absolutely beat the crap out of Ben Roethlisberger.
Then again, we didn't have Max Starks when we faced Indianapolis. The O-line has performed infinitely better since Big Max returned and last week he did a fantastic job on Terrell Suggs. Marcus Gilbert over at RT also did a fairly solid job as they flipped T-Sizzle around a few times and you hardly heard his or Cory Redding's names. Despite my effusive praise, if the line gives Ben time to survey the field, I don't think even Cincy's secondary can contain the Steelers' explosive offense.
Hines Ward is cleared to play after suffering a concussion stinger. This is the second concussion stinger a Steeler has suffered this season and I'm sensing a pattern. Perhaps Hines can help in the red zone as the Steelers continue to struggle converting TDs. The Flying Circus will be down one performer as Manny Sanders returned from his mother's funeral to have his balky knee scoped and will be out through the bye. At least for this week, this saves us from arguing if Jerricho Cotchery, who played very well last week , should be playing instead of Hines. Regardless, the duo of Mike Wallace and Antonio Brown have proven too much for any secondary to handle and I expect that to be the case on Sunday.
All smack-talk aside, this is a pivotal game for both teams. The young Bengals are trying to prove to everybody their 6-2 record is no fluke. Meanwhile, coming off an epic meltdown against Baltimore, the Steelers currently find themselves odd man out in the AFC North (and eventual Wild Card) race. A loss this week would not only give the Bungles a dangerous boost of self-confidence, it could potentially cripple the Steelers chances at even making the playoffs.