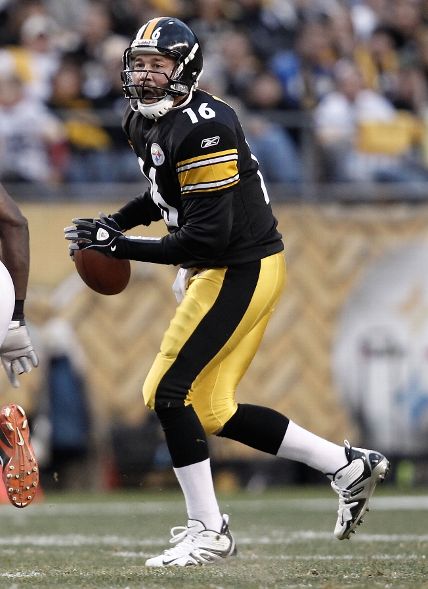 Early in the fourth quarter of yesterday's game between the Pittsburgh Steelers and Cincinnati Bengals, CBS came back from a break with the sound of "Renegade" clearly audible in the background. I love the Steelers unofficial fight song but pulling out the rally hair metal when the Black and Gold are putting the finishing touches on 35-7 ass-whuppin' is a bit unnecessary. Like when dickish college coaches dial up a 45 yard bomb already up four touchdowns on a Division I-AA opponent. Or when an NFL team gives their asshat head coach a Gatorade bath for winning a regular season game.
To paraphrase the late great Myron Cope, "Renegade," like the power of the Terrible Towel, should be saved for when we really need it.
I won't lie, I thought we were in for a loooong afternoon after the Steelers began yesterday's game with a three and out in which Mike Wallace dropped a 20 yard pass that hit him in the hands. Andy Dalton responded by hooking up with AJ Green for 43 yards a few plays later. Normally dependable Ike Taylor had a rough time keeping up with Green all afternoon, although did have his second pick of the season later on. The Bengals had a first and goal at the Steelers 8 before you could say, "Anything you can do, I can do better."
Then the Bungles we all know and love made an appearance.
On third and goal, a touchdown to Jermaine Gresham was wiped out on a false start by Green. Karma, I suppose, for the touchdown the Steelers got taken off the board by a holding penalty in the first game. Cincy lined up for a glorified extra point but were late snapping the ball so Mike Nugent's field goal didn't count. On his second attempt, Cameron Heyward blew through the line and Nugent's kick ricocheted off his big paw. Three golden scoring chances wasted.

The teams futzed around the rest of the first quarter before the Steelers finally got something going. Ben Roethlisberger connected with rising star Wes Saunders for 15 yards, then hit Antonio Brown with a five yard slant he took for 45 yards to close out the quarter. Isaac Redman began the second with a good hard nine yard run straight up the gut which set the Steelers up with a first and goal at the 6. Unfortunately, Redzone couldn't punch it in after two more carries so they gave Rashard Mendenhall a chance and he made a couple nice quick cuts on his way to the end zone.
After a three and out by Cincy, the Steelers wasted no time going deep to Wallace. He drew a pass interference penalty which was good for 45 yards (but worthless to my fantasy football team. Grr….). Mendy ripped off a beautiful 15 yard scamper for a first down at the 5. Two carries later, he made another nice cutback run in traffic and scored his second touchdown of the afternoon.
I hate to risk tennis elbow by patting myself on the back but I did mention in my game preview how getting the running game going would make a BIG DIFFERENCE in the Steelers red zone offense. And this week was a perfect illustration of that. The Flying Circus is fine and dandy for moving the ball between the 20s but when you get inside the 10, you absolutely need an effective running game to finish off drives. Whatever his other shortcomings, Mendy seems to have a nose for the end zone. I also want to give some credit to the Big Legursky, who was a much more effective pull blocker than that useless Chris Kemoeatu.
Anyway, on the ensuing kickoff, Stevenson Sylvester's drive-by swipe knocked the ball loose and the Steelers recovered. A reverse to AB went for 9 yards then Ben scrambled away from danger and found the Flash all by his lonesome in the corner of the end zone. The Steelers scored 21 points in a little over eight minutes but Andy Dalton continued to be unflappable. The Red Rifle fired to Grehsam for 20 yards, while Green ran his own reverse for 15 and caught another for 15. He then burned both Lawrence Timmons and Face Me Ike for an easy 11 yard TD to trim the score to 21-7.
With time dwindling in the first half, the Steelers sputtered deep in their end and it appeared the Bengals would get the ball back in decent field position with a chance to narrow the gap even further before halftime. Jeremy Kapinos, who never should have been cut in the preseason, boomed a 57 yarder to pin Cincy back at their own 13. Three passes netted -3 yards so it was the Steelers turn to look for a late score. It ended up happening faster than any of us expected when Antonio Brown took the punt at his own 40, made one cut, got a great block from Bryant McFadden, and sprinted untouched 60 yards for the touchdown.
The Bengals never recovered. They seemed shell-shocked in the second half, with James Harrison serving as a one-man tank division. LaMarr Woodley did start but played only a handful of plays before heading back to the bench so we may not be seeing him again for awhile. For one game, at least, Silverback was all the Steelers needed as he repeatedly hurried and harassed Dalton, aided by good games from Bret Keisel and Ziggy Hood (who unveiled his Pee Wee Herman sack dance).
The Steelers second drive of the third quarter saw Redzone get loose for 27 yards. The coaches finally split the carries by rotating Redman and Mendy from series to series. It paid off as they had their most effective rushing output of the season, with Mendy carrying 16 times for 60 yards while Redzone had 8 for 51. The Flash capped the drive with a 19 yard TD catch, his second of the game, where he made at least four guys miss on his way to pay dirt.
With the game completely out of hand, the Steelers turned their attention to more pleasant pursuits. They made a concerted effort to feed the ball to Hines Ward in an effort to help him achieve some of the career milestones he has within reach. He got one yesterday, when a 15 yard slant put him over 12,000 yards for his career. Ironically, a reception later in the game set a record not for him but Big Ben, who is now the Steelers all-time completions leader.
Early in the fourth quarter, we had a Charlie Batch sighting. The Human Victory Champagne came in with about ten minutes left and managed to take a half dozen snaps without getting injured. At least, I think that's what happened as I have to confess at this point I flipped over to NFL Red Zone channel to check in on what was happening with my favorite non-Steeler NFL player, Tim Tebow. I happened to tune in just as Brian Billick was comparing Tebow to a young Ben Roethlisberger, which set the Steeler Twitterverse into a frenzy but is actually a fairly accurate comparison. The only thing that irks me is when Ben won by game managing his first few seasons, it became this negative thing that people still use to CRITICIZE him to this day (as in, "He's not that good. He won two Super Bowls but he was a game manager for the first one!"). Timmy does the exact same thing and the media is all, "Tim Tebow and the Denver Tebows won an exciting come-from-behind game yesterday when Tim Tebow led a late game scoring drive, then a last second interception by Tim Tebow led to a game winning field goal by Tim Tebow."  WTF?
Regardless, the Steelers have righted the ship big time with a thoroughly convincing victory over a quality opponent. They now head out to Cleveland on Thursday with a playoff spot firmly in hand and breathing down Baltimore's neck for the AFC North title. With three of their final four games against bottom feeders Cleveland and St. Louis, only an epic collapse would preclude them defending their AFC Championship. When it came time to rise to the occasion, the Black and Gold did so emphatically. That's what champions do.