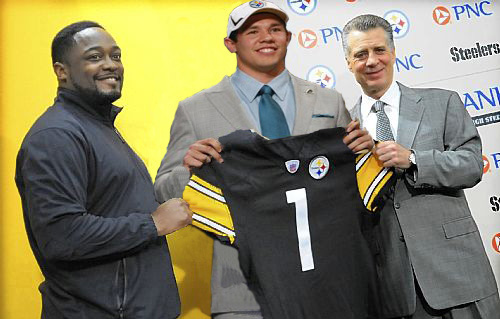 I'm a comics nerd. Oh, it's fashionable to read comic books now that every summer is filled with superhero movies but I've been reading them since I was five years old. One of my favorite titles when I was a kid was a book called "What If…" The premise basically took well-known Marvel stories and presented a scenario whereby different outcomes occurred. For example, what if the radioactive spider had bitten Mary Jane Watson instead of Peter Parker? Or what if Captain America had died in World War II instead of Bucky?
And yes, I know Bucky returned from the dead but it was a cool story back then.
Anyway, this is a fun game to play with sports as well. What if the Pittsburgh Pirates had traded Kris Benson for Ryan Howard instead of a shoddy bomb casing full of used pinball machine parts? What if the Penguins hadn't tanked the regular season (twice) so they could draft Mario Lemieux or Sidney Crosby? What if the 49ers had taken Aaron Rodgers first overall instead of Alex Smith? Would we be talking about the Pittsburgh Steelers quest for a Crazy Eighth championship?
Which brings me to this week's opponent, the St. Louis Rams. Some of you may remember back a few years ago when Ben Roethlisberger had a little situation down in Milledgeville, Georgia. Many Steeler fans (myself included) were outraged by the allegations, some even calling for Ben's immediate release. By all accounts, the Steelers brain trust, particularly team president Art Rooney, were just as irate. Although they weren't going to simply cut ties with their star quarterback, it was fairly well-known that the Steelers were willing to listen to offers. Although they deny it now, "NFL Insiders" almost uniformly agree the Steelers would've parted ways with their Super Bowl winning QB if they could get their hands on the first overall pick.
That pick was held by the Rams. The consensus first choice that year was Oklahoma quarterback Sam Bradford, who, in a strange bit of irony, grew up a Steeler fan. The Rams, for whatever reason, decided rolling the dice with the unproven Bradford was preferable to acquiring Big Ben. Unable to get what they perceived as fair value for Ben (the best deal they received was allegedly the Raiders second round pick and/or CB Nnamdi Asomugha), the Steelers chose to ride out the controversy.
What if the Rams had thought differently? What if they decided to snatch the carrot dangled in front of them?
Ben is a winner. I have no doubt an elite quarterback such as him would win no matter the situation you placed him in. Although leading St. Louis would definitely pose a large challenge. The Rams have a decent defense and elite running back in Stephen Jackson but very little talent at wide receiver and almost none at offensive line. Then again, lousy protection hasn't hampered Ben during his time in the Black and Gold. And the NFC West is a whole helluva lot easier to win than the AFC North.
Would the Rams be Super Bowl Champions? Probably not. Would they be a playoff team? Probably.
And what about the Steelers? Since being drafted, Bradford is 8-18 as a starter, averaging a puny 218 yards per game. His career split of 24 TDs to 21 INTs is hardly impressive. What's more, he's spent most of his two years as a pro battling an assortment of injuries.
However, he's shown a, dare I say it, almost Roethlisbergian ability to play through injuries. Battling a high ankle sprain of his own, Bradford has toughed it out the past several weeks despite his team essentially playing for nothing. Also, it's not like Bradford hasn't shown an ability to get things done at the pro level, as evidenced by his being named NFL Offensive Rookie of the Year last season. As noted, the Rams have next to no offensive talent surrounding their young quarterback so to place the team's struggles entirely on his shoulders is patently unfair.
Put Bradford on the Steelers and whose to say his learning curve doesn't accelerate. With the Steelers, Bradford would be more of a game manager and the Steelers demonstrated they could win with a young game manager at QB. Of course back in 2005, the Steelers had a much stronger running game and were less dependent on airing the ball out. Could Bradford take the pounding associated with playing for the Black and Gold? Probably. Could he pilot the Flying Circus? Maybe.
But would the Steelers still be Super Bowl contenders with Bradford at the controls?
The NFL is clearly a quarterback-driven league, in which rookie quarterbacks no longer get the benefit of the doubt when they fail early on in their careers. Recently we have witnessed rookie quarterbacks be competent enough to make the playoffs (Ben Roethlisberger, Joe Flacco, Matt Ryan and Mark Sanchez), and this year Andy Dalton is trying to lead the Bengals to the postseason. Then year two comes around, and we really get a glimpse of what they can really do. For example, Peyton Manning's rookie season didn't go so well (3-13), but his second season went a lot better (13-3). Roethlisberger won the Super Bowl in his sophomore season. Flacco, Ryan and Sanchez have all shown flashes of brilliance but none have have made that jump to elite championship winning status.
Bradford is a proven winner. In college, he won the Heisman Trophy and led his team to the National Championship game. As a pro, he's shown guts and determination despite playing on a terrible team. However, he's never shown the uncanny leadership abilities and clutch play that has marked Big Ben's tenure. If Bradford were wearing the Black and Gold, I'd say the Steelers' quarterbacking situation would be roughly akin to the Baltimore Ravens'. And we all know how many Lombardi Trophies they've won.