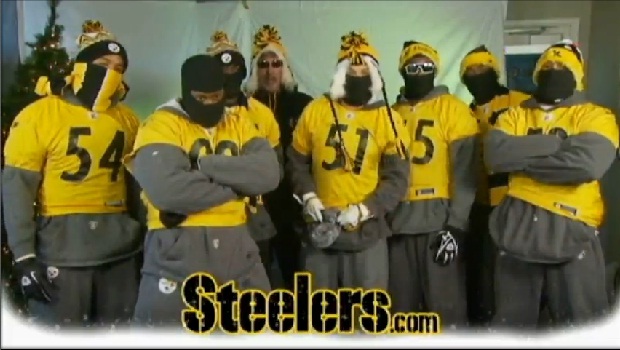 If those guys came to my front door Christmas caroling, I'm not sure if I'd offer them egg nog or hand over my watch. What the hell? Anyway, the Pittsburgh Steelers released their annual video of players singing Christmas Carols and, as usual, they are absolutely must-see. There are four separate clips, each introduced by Mike Tomlin looking the most uncool he's ever looked in his life. Each position grouping is charged with singing a different holiday classic and I guess the linebackers pictured above decided "Frosty The Snowman" needed more street cred. From left to right, the Gangsta Choir is composed of Chris Carter, James Harrison, Lawrence Timmons, James Farrior, Stevenson Sylvester, Morty Ivy and Larry Foote.
The best part is linebackers coach (and defensive coordinator in waiting) Keith Butler standing in the back looking like a festive Paul Ellering. If you get that reference, plus thirty cool points for you.
Before I get to Knowing this week's opponent, the St. Louis Rams, a bit of blog housekeeping to clear up. For those out of the loop, the Ginger Dictator Grinch's heart must've grown three sizes one day because he has decreed this weekend's games will be played on Saturday so the players can have Christmas off. As I'm off to sunny Tampa to spend the holidays with my folks as soon as I press "Post," I won't have the game recap up until Monday. I'm sure most of you have better things to do on Sunday than check in here, anyway. If you're really desperate to hear my groan-worthy one-liners, you can always follow me on Twitter as I usually tweet during games. I will try to keep the blog up to date with pertinent news next week but my posting schedule may be a bit spotty so please bear with me.

STEELERS DEFENSE vs RAMS OFFENSE
The Rams offense stinks. I mean, it's worse than your Aunt Barbara's Christmas fruitcake. Despite my piece on the toughness of quarterback Sam Bradford, it looks like the Rams have decided to shut him down for the season. He tried to play through his own high ankle sprain but if you watched his effort against the Seattle Seahawks on Monday Night Football a few weeks ago, he was about as effective as Big Ben was last Monday. With nothing left to play for, the St. Louis braintrust would rather play out the string with journeyman back-up Kellen Clemens behind center.
Clemens, a one-time "quarterback of the future" with the Jets, played decently last week against the Bengals. He completed 25 of 36 for 229 yards and a touchdown. Perhaps he can provide a spark to one of the most inept offenses in recent NFL history. The Rams are dead last in points per game and total points scored and second to the bottom in yards per game.
It's not entirely management's fault the Rams currently find themselves Sucking For Luck rather than a playoff race. No team has been decimated by injury like St. Louis and no area of the team has been hit harder than the offense. They lost their top receiver, Danny Amendola, early in the year and then lost their number two receiver, Mark Clayton, a few weeks later. They did swing a trade to bring talented wide out Brandon Lloyd over from the Broncos and Denario Alexander is a big (6'5) target with decent hands but the passing game just never got on track.
The Rams best hopes on offense lie with superstar running back Stephen Jackson. As Fantasy Football aficionados well know, Jackson is a stud as both a runner and pass catcher out of the back field. When healthy, Jackson may be the best dual threat back in football. Unfortunately, he's been doomed to toil in relative obscurity, piling up big numbers playing on some really atrocious teams. His stats are down this year, mostly due to the inept passing game allowing teams to key on him, but he remains the threat to be most concerned about.
The Steelers will continue The Streak this week with James Harrison getting out of Time Out as LaMarr Woodley heads back to the bench thanks to his troublesome hammy. The Steelers haven't officially ruled Mister Woodley out but they'd be insane not to rest him until the playoffs. He came back too early once and left after a single series, on Monday he made it almost an entire half so I guess that's progress. Without Woodley and Harrison in the line-up, the Steeler D got absolutely no pressure on Alex Smith, failing to register a single sack. Their secondary continues to play pretty well and their line has quietly become a real strength, especially against the run. However, with the way their defense is constructed, Harrison and Woodley missing time due to injury, Farrior looking old, and Timmons playing like garbage has conspired to really cut down on what Tomlin likes to call "splash plays."
STEELERS OFFENSE vs RAMS DEFENSE
To Ben or not to Ben? That is the question. Jason La Canafora of NFL Network is reporting the organization is leaning towards having Ben sit out the rest of the season. Of course, local reporters have said Charlie Batch met with the MNF crew for pre-game interviews this past Sunday, a sign the team was leaning toward starting Chaz up until game time on Monday. And we all know how that ended up. Ben hasn't practiced at all this week and coming off a short week and a game where he took a hellacious beating, I just don't see how he could possibly play.
Of course, I'm starting to think Ben calls his own shots. And left to his own devices, I have no doubt he'll want to play. We'll see if Tomlin has the stroke to put his big dog on a leash. If he doesn't, they both might wind up wearing the Cone of Shame.
An interesting subplot this weekend is it's the Steelers final scheduled home game and, fluctuating playoff scenarios aside, could very well be the final home game of the season. If that's the case, it may very well be the final home appearance of Hines Ward in the Black and Gold. Hines recently gave an interview indicating he's not ready to retire. Considering his cap hit, place on the depth chart (was he even targeted last week?) and sense of pride, it would seem highly unlikely he'll want to return to the Steelers. Joe Montana finished up with the Chiefs, Franco became a Seahawk, all the great ones hang on a year or two past their prime because they don't want to let go. Hines is one of my all-time favorite Steelers and will go down as the best receiver in team history. I know Steeler Nation will give him a fitting send-off.
If Batch starts, the Steelers should be able to run the ball on the Rams last-ranked rush defense. St. Louis has a few decent defensive players, such as Justin "Son of Howie" Long and James "Son of Road Warrior Animal" Laurinitis but they're still a work in progress. Even without Maurkice Pouncey, I expect Mendy and Redzone to take some pressure off the quarterback, whoever that may be. Much like last week, one touchdown probably takes this game so it's not like the offense will be counted on to carry the team.
On a final note, I want to wish all my readers a very happy holiday season. Merry Christmas and GO STEELERS!