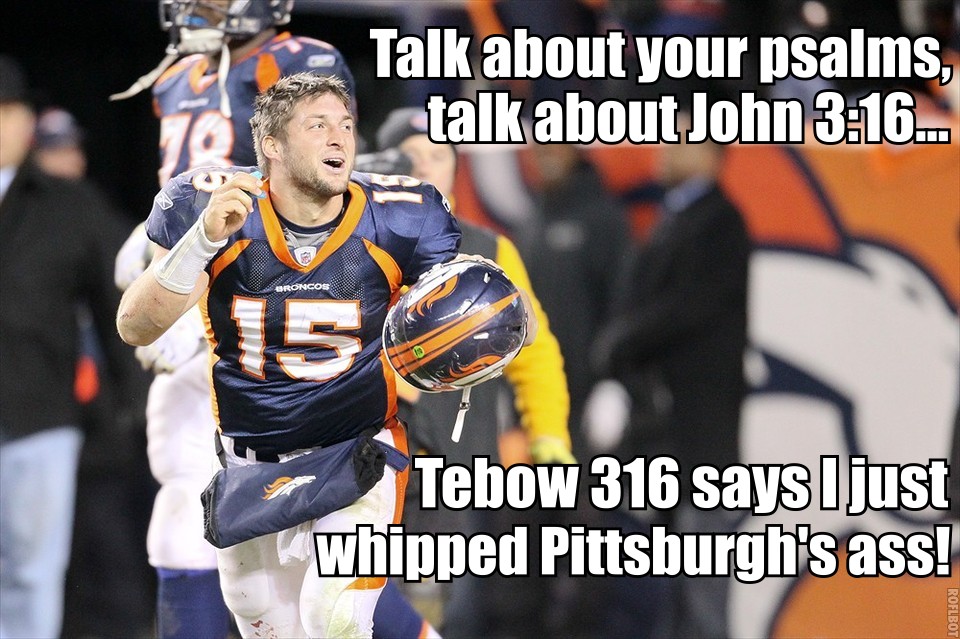 The Pittsburgh Steelers suffered one of their most heartbreaking losses in recent memory yesterday, losing 29-23 to the Denver Broncos. Tim Tebow was absolutely masterful, throwing for a career best 316 yards and basically humiliating the NFL's top ranked defense by making them look like a bunch of amateurs. Any doubts about Tebow's ability to play quarterback should finally be put to rest. He repeatedly burned the Steelers secondary on big pass plays while showing the strength and maneuverability in the pocket of a young Ben Roethlisberger.
Meanwhile, the actual Big Ben put forth a valiant effort, particularly in the fourth quarter, but was a shell of himself for most of the game. Much like last week against Cleveland, Ben struggled in the early going, making terrible throws and displaying absolutely no mobility thanks to his sprained ankle. He rallied a bit in the second half, leading the team on two long scoring drives to force overtime, although once again it was a story of too many missed opportunities.
Not that Ben got much help from his teammates. As I predicted, the offensive line had all kinds of trouble keeping him upright. Ben was sacked five times with Robert Ayers, who at one point threw Max Starks five yards backward like a crash test dummy, notching two sacks to lead the team. Tomlin eventually saw enough and brought in Jonathan Scott to relieve Mad Max but there was more than enough blame to go around. Elvis Dumervil and Von Miller picked on Marcus Gilbert all day while Doug Legursky's errant snap cost the Steelers a shot at a field goal to close out the first half. They did a good job run blocking, with Isaac Redman running for 121 tough yards on 17 carries (Rashard Who?), which is about the only nice thing I can say about their performance.

When Ben had more than a split second to deliver the ball, he was getting little help from his receivers as well. Jerricho Cotchery dropped an easy first down conversion early in the game although he would redeem himself late with a brilliant juggling catch in the end zone to tie the game. Mike Wallace was wide open for a 50 yard bomb but failed to come down with it cleanly. Big time players make big time plays and Wallace, who disappeared down the stretch during the regular season, was the Invisible Man yesterday (3 catches for only 26 yards). He would score on an end around play but the Steelers are paying him to be a deep threat, not a super-fast decoy. Antonio Brown and Heath Miller were the only reliable pass-catchers with Manny Sanders emerging from his season-long absence to lead the team with 6 catches for 81 yards.
While the offense had their issues, the defense didn't even bother to show up. Ike Taylor played like absolute garbage. I'm not about to join the pitchfork wielding Yinzers already calling for Face Me Ike to be run out of town but his name belongs right up there with Chad Scott and Tim McKyer when discussing most pitiful performance of all time by a Steelers cornerback. Between getting turned around, being flagged for holding/interference, getting stiff-armed to the ground like a weak little girl or just flat-out getting beat, Ike was "throw stuff at your TV" level wretched. Even Taylor recognized his own incompetence, reportedly sitting in silence after destroying his locker, then tweeting an apology to everybody who had to watch his comical attempts at coverage.
Again going back to my preview, I mentioned our improved secondary play had a lot to do with Dick LeBeau going with five and six DBs. Yesterday, the Steelers were so concerned with Denver's option running attack, they stuck with a base defense and brought their safeties up in the box, trusting the two corners with man-to-man coverage on the outside. After Tebow's first three completions went for 21, 51, and 30 yards, it was obvious that plan was doomed to fail. Will.i.am Gay was burned for a TD on the 30 yarder but generally did okay, particularly when he broke up a couple big passes to hold the Broncos to a field goal. Ike, on the other hand, couldn't handle Demaryius Thomas at all. AT. ALL. Giving up 204 receiving yards to Megatron or Wes Welker is one thing, letting DEMARYIUS F'N THOMAS drop a deuce on you is flat out embarrassing.
As horrendous as Ike played, it would be unfair to place the entire blame on him. Not one quarter into the game, both Casey Hampton and Brett Keisel were lost to injury. Rookie Cam Heyward is going to be a good one but Steve McClendon was pushed up and down the field, proving he is not ready to step into Big Snack's shoes. LaMarr Woodley rotated with Jason Worilds and neither applied any consistent pressure on Tebow. James Harrison couldn't tell his ass from his elbow, overrunning plays and constantly being out of position. In fact, the entire defense seemed utterly bamboozled by Denver's offense. I've never seen them run around like a bunch of nursery school kids hopped up on sugar like they did yesterday. Denver's offense thoroughly confused them right up to the first play of overtime where the safeties sold out on the run only to see Tebow hit Thomas on a 15 yard slant which he took 80 yards to the house due to no help over the top.
Honestly, the fact the Steelers were able to rally late and force overtime is a testament to their will to win. They were completely outplayed and outcoached for three straight quarters and only a timely forced fumble by Ryan Mundy (who had a helluva game) kept them alive. I've seen fans on some message boards whining about the refs, particularly Ike's PI call and the lack of holding calls on our linebackers. If you're in that camp, tell your story walking because I don't have patience for insipid "fans" like you. The Steelers caught every conceivable break yesterday. The drive where the Steelers scored their first touchdown shouldn't have happened because Wallace dropped a backwards lateral that BRUCE ARIANS CALLS FIVE TIMES EVERY FUCKING GAME EVEN THOUGH IT NEVER EVER WORKS but the idiotic refs blew the whistle prematurely(?), negating a Denver fumble recovery. Not to mention the Steelers grabbed two or three facemasks which went undetected by the crack officiating crew. Between those breaks, the fumbled snap, Ben getting the ball swatted out of his hands at least twice and two more passes that probably should have been picked, the Steelers had no right to even be in this game.
The Steelers were humbled today, humbled by a humble man who Dick Lebeau clearly didn't take seriously enough as a passer. Humbled by a lightly regarded team some dismissed as a mere speedbump in the Black and Gold's path who turned around and whipped their ass. That said, the Steelers were a deeply flawed team whose dominance against weak opposition disguised many shortcomings. As injury after injury to key players piled up, it became only a matter of time before the boat took on too much water to stay afloat. In the end, the Steelers were done in by the same problems which have plagued them all year. A defense which is solid on paper but prone to giving up big plays while failing to make any of their own. And an offense which moves the ball effectively between the 20s but simply cannot finish drives. I'm by no means suggesting we enter a rebuilding mode but Mike Tomlin and company have a lot of areas they need to address if this team is to get back on a championship track next season.