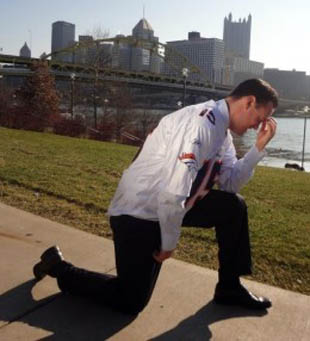 The mood in Pittsburgh is not good. How seriously do we take our Steelers football? The day after each of our two Super Bowl losses, a figurative dark cloud hangs over the city. I currently live in the 'burbs but I was still going to CMU when Neil O'Donnell threw we lost Super Bowl XXX. Taking a bus through town from my off-campus apartment, I had never seen more somber expressions in my life. It was positively funereal.
Now that we've had a few days to digest what has to be the most devastating non-Super Bowl loss in Black and Gold history, it's time to focus on the off-season. Before closing the book on the 2011 campaign, though, here are a few quick tidbits that surfaced over the past couple days.
— Pittsburgh's esteemed Mayor Luke Ravenstahl, made good on his bet with the mayor of Denver by Tebowing for the local news media. Everybody knows the Boy Wonder is a diehard fan so I'm not surprised he made a city-to-city bet on a Wild Card game. I am a bit surprised by the stakes. What if the Steelers had won? Would Denver's mayor have to break his foot, then do body shots with a skanky coed?

–Some dope at CBS Sports.com with the audacity to call himself an "NFL Insider" posted that "a player texted him" that Hines Ward was expected to retire. Oooh, anonymous sources with vague and unverifiable information!  That's about as credible as my posting Rooney Mara needed comforting after the Steelers' loss so she tweeted me her room number at the Sheridan. You, sir, are no Adam Schefter. And Dragon Tattoo was kind of a letdown, despite the Chief's great-grandaughter getting her lezzy on.
Anyway, Hines quickly responded on his official Facebook page that he had no intention of retiring. Of course he doesn't. Ken Whisenhunt has a nice warm bench in Arizona for Hines to sit on next season. As an aside, did CBS have to cut to Hines pouting on the sidelines like 45 times on Sunday? It made me sad to see the Greatest Receiver in Steelers History reduced to a $4 million cheerleader.
—There was a brief controversy over whether the Broncos lined up in an illegal formation on the game-winning 80 yard touchdown catch. Some crybabies astute Steeler fans noted it appears Denver doesn't have enough players at the line of scrimmage. Well, the tackle lining up akimbo IS technically considered on the line of scrimmage so the play was legal. You know, the most commented post in the history of The Site That Shall Not Be Named was a piece I wrote about Super Bowl XL where I basically told the latte sipping whiners in Seattle to stop crying about the refereeing and accept that their team got outplayed.
Tim Tebow kicked the Steelers' ass. We lost. Denver won. Don't be a douchebag.
–Had the Steelers won, they may have had to go all WPIAL style by having some guys play both ways in New England. The injury report is ugly to say the least. Casey Hampton and Max Starks both suffered ACL injuries which may require surgery. Meanwhile, Brett Keisel had a groin pull the likes of which you've never seen. And hopefully never will. Chris Kemoeatu battled through a bad hammy while Doug Legursky played the whole game with a separated shoulder. And who knows how Maurkice Pouncey's bruised vagina would be feeling next week.
There's no such thing as an acceptable loss but with half our starting line-up sitting out with injuries, I wonder how much of a chance we realistically would've had up in New England.
–Pittsburghers who traveled to the Mile High City to root on the Black and Gold received a rude farewell from one airline at the local airport. Stay classy, Denver.
–Finally, a bit of blog business. As the season is over, I suppose many of you will depart for parts unknown until the team reconvenes up in Latrobe in August. I won't lie, my posting output will become a tad more sporadic in the days to come. I will cover all off-season news, including free agency and the draft, so I hope you check back in from time-to-time. And I will continue to update the site on a semi-regular basis at least through the Super Bowl so don't leave me just yet.
But to all the people who followed me over from The Site That Shall Not Be Named, thanks for reading and making Year One here at TotalSteelers a fun and successful experience for me. And to the newbies who have no idea what I'm talking about when I mention TSTSNBN, thanks for joining us and hope you come back next year. Maybe in 2012, a few of you will even feel like leaving a comment…