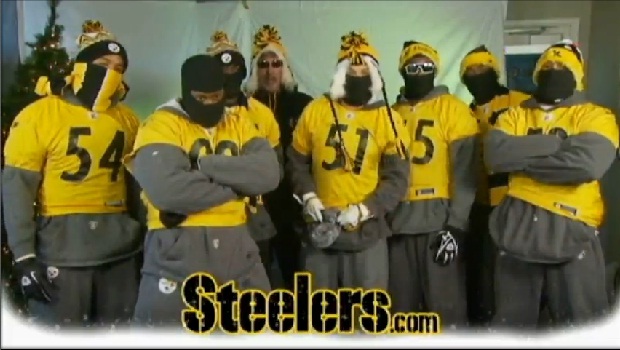 Talk about getting left at the altar…
Pittsburgh Steelers linebackers coach Keith Butler had a change of heart over the weekend, deciding not to join the Indianapolis Colts as their next defensive coordinator. Over the past couple off-seasons, Butler has been the go-to choice for teams looking for a new D-coordinator. He turned down a job with the Dolphins two years ago and the Steelers refused to grant him permission to interview with the Cardinals last summer. The consensus is Butler has been tabbed to take over for Dick LeBeau whenever the master decides to retire although his brief flirtation with the Ponies seems to indicate he's worried about getting JoePa'd. All parties involved are stating no promises have been made in regards to transitioning Butler into the top job in the near future.
Which naturally means promises were made regarding transitioning Butler into the top job in the near future.
Butler to the Colts was never an ideal match. Indy still plays Tony Dungy's 4-3 Tampa-2 while Butler is a disciple of LeBeau's 3-4 Zone Blitz scheme. With the Colts in full rebuilding mode, perhaps they were willing to devote the next couple drafts to bringing in the proper defensive personnel to run the Steelers' system but it would be a few years before they'd have the right players in place. My feeling is Butler has been patiently waiting to take over the Steelers' defense for the past three years but with LeBeau still going strong, perhaps he's feeling a bit desperate. The fact he opted against joining the Colts signals to me that 2012 will probably be LeBeau's final season as D-coordinator.
In other coordinator news, former Colts head coach Jim Caldwell will not be coming to Pittsburgh to take over offensive playcalling. *Whew* As I mentioned on Monday, he would've been an absolutely horrible choice for O-coordinator. He's never been an offensive coordinator on any level and his football credentials primarily consist of being Dungy's friend and fetching coffee for Peyton Manning. The Ratbirds ended up hiring Caldwell as QB Coach which is hilarious on a number of levels. The main one being the idea that zombie will somehow be able to transform Bert Flacco into another Pey-Pey.
The newest offensive coordinator prospect is former Chiefs head coach Todd Haley. The Steelers official website even posted a blurb about Haley meeting with Mike Tomlin, which is very unusual for that super-secretive organization. Haley, as noted before, is a Pittsburgh native and his father, Dick Haley, played for the Steelers before serving as the team's director of player of personnel (Kevin Colbert's job today) during the Steel Dynasty. Haley wouldn't be the worst choice in the world as he managed to turn a talent-barren Chiefs team into a respectable offense and made his name as the O-coordinator for Ken Whisenhunt's Super Bowl runner-up Cardinals. The problem with Haley is he has a reputation for being an unbearable prick, having alienated players on both the Chiefs and Cardinals with his abrasive personality.
One thing is for sure, the Steelers better make a move soon because the pool of decent offensive coordinator candidates is rapidly thinning out. The Fins hired Green Bay's O-coordinator, Joe Philbin, as head coach which means QB coach Tom Clements will likely be promoted there. Caldwell and former Raiders coach Hue Jackson have found jobs elsewhere. The Steelers have the option to promote their QB coach, Randy Fichtner, to the top job but I don't see how he'd be a huge change from Arians. A dark horse candidate I've heard thrown around is former Pitt Panthers quarterback Alex Van Pelt. It's an intriguing name but Van Pelt's previous NFL experience has been overseeing pathetic offenses in Buffalo and Tampa. I'm not sure that's the guy you entrust with a team that has Super Bowl aspirations.
So, who should be the Black and Gold's next offensive coordinator?