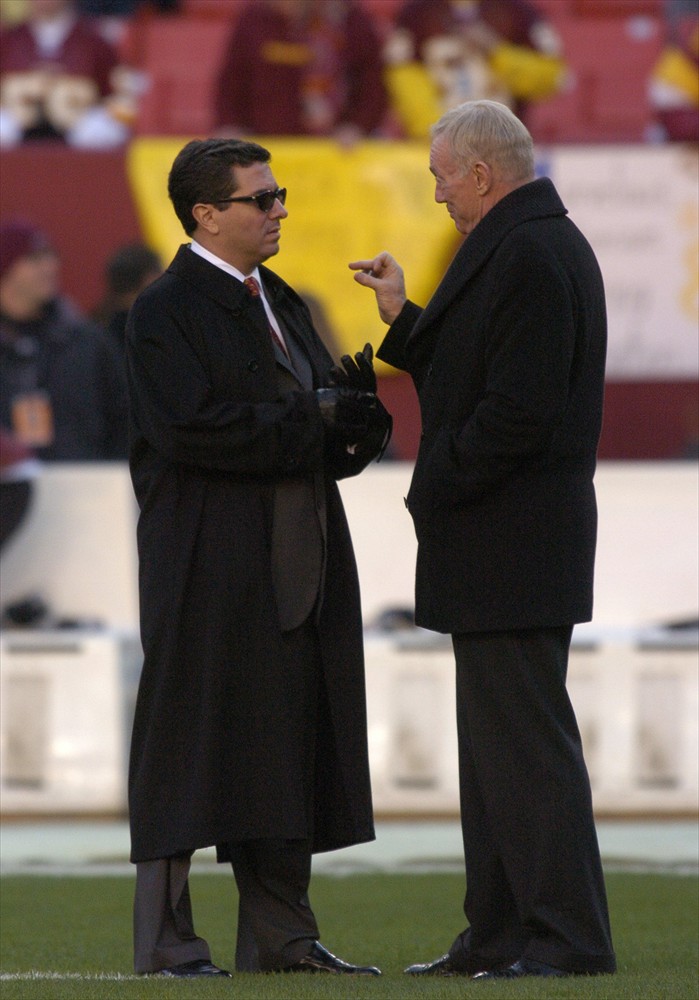 An already crazy NFL off-season is about to get even crazier. When the clock strikes four this afternoon, the league's 2012 free agency period officially begins. There really wasn't much free agent activity last year due to the lock-out and teams being reluctant to bring in new faces who wouldn't have the benefit of an entire off-season to learn a new playbook. Prepare for free agency to return with a vengeance.
Speaking of which, the Pittsburgh Steelers got an itty bit of salary cap relief thanks to of all people Commissioner Roger Goodell. Over the weekend, the salary cap was set at $120 million, a negligible increase over last year's cap. Considering the lock-out was fought over the players wanting 53% of the revenue while the owners tried shrink their share to 47%, it's pretty clear who won last year's showdown. Good job bending over for the league, Dee Smith.
Anyway, the league announced two teams, the Dallas Cowboys and Washington Redskins were being docked cap space for front loading contracts during the uncapped year. In other words, the Ginger Dictator is penalizing those teams ($10 and $31 million respectively) for violating the salary cap in a year in which no cap existed. And I thought suspending players for playing football set a new bar for insane rulings. Gotta love that monomaniacal douchebag.

The Cowboys and Redskins are vowing to fight the ruling. Considering the league approved those contracts and now is retroactively saying they were illegal, I'd say they have a case. Also there's that pesky little thing of there being NO SALARY CAP THAT YEAR. The league is justifying their ruling by saying those teams violated "the spirit" of the uncapped year which is a solid legal argument if I ever heard one. I hate the Cowboys and can't stand Danny Snyder but I hope both of them drag the NFL into court and legally-speaking kick Goodell right in the dick.
The enemy of my enemy is my friend and all that…
The upshot of Ginger's latest effort to piss off every fanbase in the NFL is every team except the Raiders and Saints (who I guess also defied the Spirit of the Cap although just not as bad) get $1.6 million additional cap space. The Steelers were $10.5 under the original cap so that little bonus will give them a cool $12 million to spend this off-season.
They've already began spending by tendering a slew of their restricted free agents. Mike Wallace received the max tender ($2.7 million) meaning any team that signs him will surrender a first round pick if Pittsburgh doesn't match. They also gave minimum tenders to Doug Legursky, Ramon Foster, Keenan Lewis, Ryan Mundy and David Johnson. A minimum tender (about $1.2 million each) means if the player signs with another team and the Steelers don't match, they receive the same draft pick they used to originally acquire the player from the team that signs him. For example, if somebody signs the Big Legursky, the Steelers would get nothing because he was an undrafted free agent but if somebody wants Lewis, they'd have to surrender their 3rd rounder because that's where we drafted him.
Assuming Wallace and the minimum bunch sign their tenders, that leaves the Steelers roughly $4 million to spend on free agents. Dumpster diving it is! There are a number of interesting names out there but most will be far too expensive for the Steelers. For example, the Texans released stud RT Eric Winston but signing him would not only eat up their remaining cap but probably necessitate cutting a few more players. Because heaven knows we absolutely have to keep human traffic cones Willie Colon and Jonathan Scott on the roster. I mean, who cares about keeping Ben Roethlisberger healthy and upright?
If the Steelers do talk to any free agents (hahaha), I'd say the areas they're most likely to target are OL, ILB, WR, and RB in no particular order. Just looking over the list of impending free agents, there are a number of names I'd love to see the Steelers go after. Again in no particular order:
RB – Mike Tolbert, Michael Bush
WR – Plaxico Burress, Jerricho Cotchery, Robert Meachem
ILB – Dan Connor, Larry Grant (restricted but only costing a 7th rounder to sign)
OL – Steve Hutchinson, Levi Brown
Do I think we'll get any of them? No, not really. I can see them re-signing Cotchery or some other veteran receiver. And they could possibly get Hutchinson, who is a seven time Pro Bowler at guard but at 34 years old isn't exactly going to inspire a bidding war. Of course, this off-season is going to hinge on what happens with Wallace. If the Steelers lose him, and Peter King is calling Wallace the best restricted free agent bargain EVER, I don't see how this off-season will be considered anything but a huge failure.