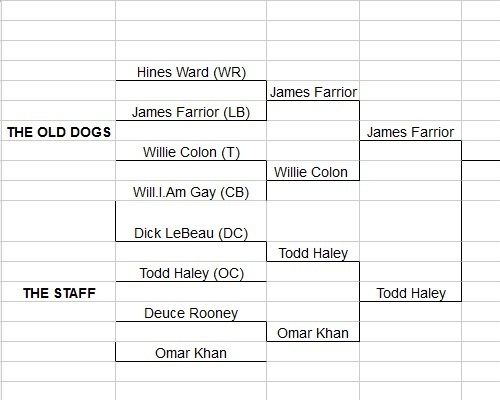 With March Madness in full swing, our pal Hennessy came up with a great idea for our very own Final Four. However, coming up with 64 individual participants and 32 separate brackets proved way too unwieldy. So we narrowed the list to 16 names who we both agreed would prominently figure into how the 2012 season played out for the Pittsburgh Steelers. To give it more of a competitive flavor, I agreed to take half the brackets with Hennessy taking the other half. I'll be leading off today with an analysis of my eight brackets, picking a winner as to who I think will play a more significant role to the Steelers going forward. Tomorrow it's Hennessy's turn. With our Final Fours set, he and I will have a final face off on Monday just in time for the actual NCAA Championship game.
Enjoy!
OLD DOGS BRACKET
Hines Ward vs James Farrior – Two distinguished veterans, both cut by the Steelers early in the off-season. Hines has been the face of the franchise for many years but his actual on-field importance had diminished in recent seasons. Farrior, meanwhile, was the defensive captain and Dick LeBeau's eyes and ears on the field right up until the day he was released. And while Hines' leadership was invaluable, Potsie's leadership was every bit as important to the D. I'll miss Hines but the bottom line was he was a 4th string receiver last season while Farrior was not only starting but calling the signals.
WINNER: Farrior
Willie Colon vs Willie Gay – You say good-bye, I say hello. Gay, of course, recently departed for Arizona Pittsburgh West, where ex-Steelers go to never be heard from again. Colon was allegedly on the team the past couple seasons but you'd never know it because he kept being lost to season-ending injuries. With Max Starks coming off an ACL injury, the Steelers entire O-Line plan depends on a healthy Colon returning to man the RT spot, allowing Marcus Gilbert to slide over to LT and Jonathan Scott to mercifully remain on the bench. I thought Colon was overrated when he was completely healthy so coming off two serious injuries, I'm skeptical of this plan. However, you can't deny his level of play will be a crucial factor to this upcoming season. I liked Gay, I thought he did a good job as a starter this past season but I don't think he showed anything youngsters Cortez Allen and Curtis Brown couldn't potentially replicate. If Colon falls apart, well, Ben is a dead man.
 WINNER: Colon
THE STAFF BRACKET
Dick LeBeau vs Todd Haley – LeBeau is a genius. I'm not disputing that. But he coached one of the worst games of his life against Denver. Dick is usually a master of adjustments but his refusal to acknowledge Tim Tebow's success throwing the ball ultimately doomed the team to an ignominious playoff exit. Still, the Steelers ended the season with the league's number one overall defense, continuing LeBeau's streak of top ranked units. He'll have work to do this year, finding a new starting cornerback and replacing his team captain at inside linebacker. However, roster change-over is nothing new to the Steelers and I'm sure the old master will be up to the challenge. The real question is whether Haley will rise to his challenge like he did at prior stops in Dallas and Arizona or flame out miserably like he did in KC. He already got off to a somewhat rocky start with Ben Roethlisberger and despite Mike Tomlin's outright lie that he made the call to hire Haley, the decision to fire Bruce Arians was far from unanimous. Arians had his faults, no doubt, but he also coached the Steelers to a 21st century high flying high octane offense. Will Haley take them to the next level? Or will he follow a mandate from above and return us to the grandaddy's five yards and a cloud of dust? And how will Ben or Mike Wallace react the first time they walk to the sideline only to be greeted by a crazed Haley's hostile word vomit?
WINNER: Haley
Art Rooney II vs. Omar Khan – And here's our 15-3 upset of the tournament. Most people would think, "Nobody is more important than the owner. He's the owner!" While Deuce has certainly injected himself into the day-to-day activities more than his father ever did, I still think he limits himself to a large extent. Sure he fired Arians and maybe his mandate to run the ball more will influence Haley's playcalling but at the end of the day I don't think he'll be calling down to the sidelines at halftime. Omar Khan is the Steelers' cap specialist and I think the work he does will figure much bigger into the team's future. Mike Wallace becomes an unrestricted free agent next season while both Antonio Brown and Manny Sanders become restricted free agents. Omar will be the man charged with figuring out some way to finagle the cap so we can keep our young receivers while also addressing potential holes at RB and CB.
WINNER: Khaaaaaannnnn!