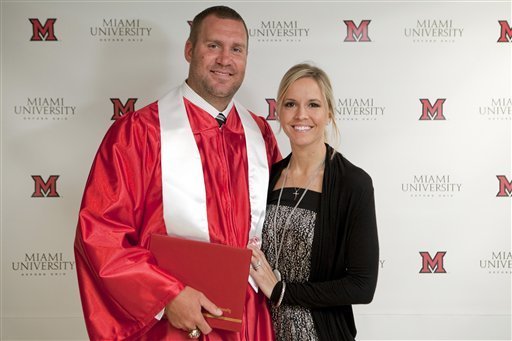 Ah, college graduation. That rite of passage when one chapter of your life closes and another begins. Of course, I graduated in my early twenties with about six figures worth of debt to my name. Something tells me Pittsburgh Steelers quarterback Ben Roethlisberger doesn't have to worry about repaying his student loans. And while he graduated this weekend some nine years after leaving Miami University (Ohio) for the NFL, it's nice to see the big lug finally earn his degree. He even trotted out the sham wife (who, to be fair, has ditched the butch haircut and is looking much better these days. She still dresses like my grandma, though.) to keep him away from post-graduation keggers share in his special day.
While Big Ben was off accepting his bachelor's degree in education (EDUCATION? No wonder US academic standards continue to plummet), the Steeler were busy getting acquainted with their 2012 draft class. The new CBA makes contract negotiations fairly standard in terms of length and base salary, the only quibbling point left is over bonus money. NT Alameda Ta'amu was the first draft pick to sign, with good reason as the Steelers lavished their nose tackle-of-the-future with a generous deal worth about $2.5 million. To put that in perspective, fourth round pick Ta'amu received roughly the same deal second rounder LaMarr Woodley got back in 2007. RB Chris Rainey was the second player to sign although his contract details haven't been announced.
Regardless of contract, all our draft picks, undrafted rookies, and non-roster invitees were in town this weekend for their first off-season mini-camp. Sadly not among them was Trick Shot Quarterback Alex Tanney, who I mentioned in my recap of undrafted free agents last week. Tanney decided to sign with the Bills when he found out we also invited former Texas A&M quarterback Jerrod Johnson to camp. Johnson, who holds the honor of being the first overall pick of the 2011 United Football League draft, bounced around between the UFL, NFL, and ArenaBall last year. Johnson is a big guy (6'5 240 pounds) with a big arm who also has pretty good mobility for a guy his size. And he's African-American, like every other quarterback on our roster not named Ben Roethlisberger. I only felt compelled to point that out because like 10% of the QBs in the league are African-American yet the Steelers are going into camp with four on the roster (not to mention Dennis Dixon is still trying to find work). Mike Tomlin must think he's Jesse Jackson or something.
Anyway, rookie orientation begins with the assigning of jerseys which is always an interesting proposition. The Steelers don't retire numbers, another of their strange little quirks like refusing to alter their uniform design or field a squad of big-haired Polish girls waving pom-poms. Technically, they have retired one number, #70, worn by Hall of Fame defensive end Ernie Stautner from 1950-63. It was retired in 1969 which to you Steeler historians out there will pretty well explain why his was the last number to be "officially" taken out of circulation.
Vaunted rookie guard David DeCastro has drawn countless comparisons to former Steelers All-Pro Alan Faneca since the moment his name was called by the Ginger Dictator. DeCastro initially took #61 but after second thought (or perhaps some prodding from the Steelers' PR staff) switched to Faneca's #66. Maybe they're both really big Penguins fans. Fellow rookie lineman Mike Adams took freshly retired Chris Hoke's #76. Ta'amu picked one of the more iconic numbers, choosing to wear the #95 most frequently associated with Greg Lloyd. Lloyd's number was actually worn by Joey Porter early in his career but he got sick of being called "the next Greg Lloyd" so he changed it to #55. It's pretty safe to say Ta'amu won't have to worry about those comparisons as even if he blossoms into the anchor at the middle of the Steelers D, there's not much confusing a mouthy linebacker built like a brick house with a fatass lineman charged with the dirty work up front.
Then we have perhaps one of the more ignorant things the Steelers have done in recent years. Rookie linebacker Sean Spence asked for and received #51. Granted James Farrior may not be a Hall of Famer or even one of the top ten linebackers in Steelers history (although that's arguable) but he was key contributor to three Super Bowl bound teams not to mention a long-time defensive captain. They couldn't wait ONE FREAKIN' YEAR before peddling his number out to some midget who'll probably be cut in a year or two?? Not to mention for those hoping Farrior might be brought back at a later date, I guess now it's clear the Steelers have turned that page.