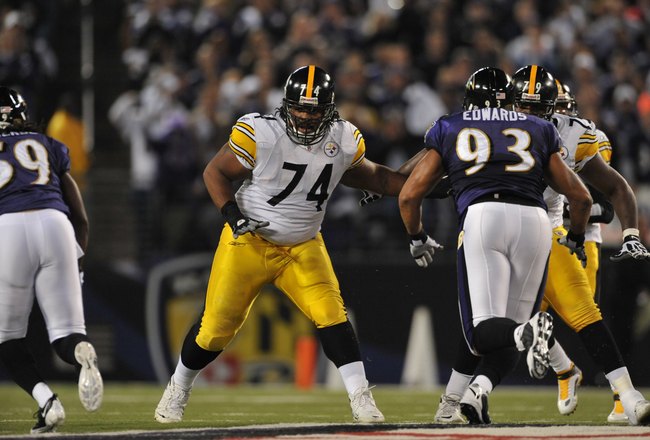 I love the new collective bargaining agreement. Granted, the NFL players took a golden shower on the deal but those meatheads picked their leadership so they get what they deserve. I love it because I remember back when the days following the NFL Draft were filled with strife and turmoil as scumbag agents tried to wring every last nickle they could for their clients. Revisionist history says Troy Polamalu didn't play much as a rookie due to Dick LeBeau's complicated defense – which is at least partially true although I think a lot of more of his slow start is owed to the fact he missed a large part of training camp holding out.
Those days are long over. With the new CBA and its built-in contract slotting and rookie salary cap, guys get picked, signed, and into camp with little fuss. Here we are slightly less than two weeks since the draft and the Pittsburgh Steelers have already signed six of their nine picks. Nose tackle Alameda Ta'amu and RB Chris Rainey both signed over the weekend while TE David Paulson, CB Terence Frederick and big WR Toney Clemons made deals in the past 48 hours.
Then there's second rounder Mike Adams, who became the Steelers' highest pick to agree to terms when he inked a deal yesterday. Adams, you may remember, was so bummed when he heard the Steelers took him off their board  for testing positive for pot at the Combine that he wrote them a groveling letter wherein he offered to defer his signing bonus for 18 months during which time he'd prove he could stay clean. According to Uncle Eddy Bouchette behind the P-G's obnoxious pay wall, the Steelers did not take him up on the offer. So if Adams decides to wake and bake in the near future, they'll have nobody to blame but themselves.
I'm honestly rooting for the guy, though. I admit, it's for selfish reasons. I like watching Ben Roethlisberger play and he can't continue to do that if he gets the hell beat out him behind a paper mache offensive line. Adams has potential first round talent as a tackle, a position where the Steelers can surely use all the help they can get. Now that he's signed, hopefully Adams will spend more time in the weight room than rolling doobies and OLine coach Sean Kugler will have him up to speed by training camp.
The team's current plan at O-line would seem to be (left to right) Marcus Gilbert, Ramon Foster, Maurkice Pouncey, David DeCastro and Willie Colon. My worry there is Gilbert looked like a human traffic cone during his brief stint at LT last season and Colon has always been an injury prone turnstile. There are rumblings that Max Starks may be brought in at some point depending on how fast he heals up from major off-season surgery but I think that's a pretty remote possibility. I think the Steelers know they have an issue at LT and rolled the dice on Adams because if he straightens out, he can easily be the team's LT-of-the-future.
The good news is Pouncer started as a rookie two years ago and Gilbert started as a rookie last year so it's not impossible or unlikely for that to happen. Would the Steelers be willing to field an O-line that features two rookies, possibly even manning the entire left side (DeCastro projects as a natural LG)? I'd imagine Mike Tomlin never relishes starting rookies. But I'd also imagine Tomlin would like his Franchise quarterback to survive the season without becoming a one man injury report. And getting Adams signed and in the fold in a timely fashion goes a long way to accomplishing that goal.