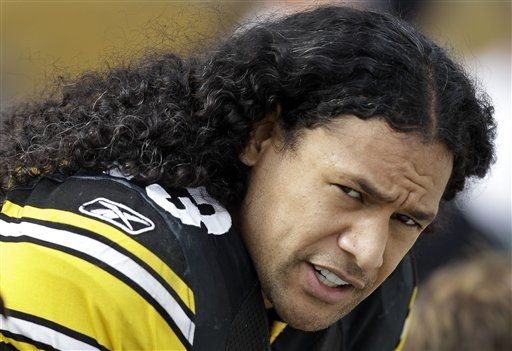 As the Pittsburgh Steelers wrap up part one of their two week (they reconvene next Tuesday) off-season workout, they were greeted with a surprise visitor at OTAs. No, not disgruntled wide receiver Mike Wallace. He's still laboring under the delusion that holding out will magically grant the Steelers salary cap space they don't have to sign him to a long term big money deal. Nor was it rookie David DeCastro, who is still over at Stanford working on becoming the scariest looking bachelor of science and engineering in history.
It was Troy Polamalu who showed up at Steelers HQ this week. Since his early years in the Black and Gold, Troy has become the football version of Punxsutawney Phil, disappearing once the season ends and only appearing to signal six more weeks of training camp. Which isn't to say Troy doesn't work out during the off-season, he just prefers to do so with his own personal trainers and the occasional group of current players at his alma mater, USC. Considering his long history of excellence, whatever he does clearly works for him.
So why mess with his usual routine? Well, Troy told reporters that with the loss of veteran leaders like Hines Ward, Aaron Smith and James Farrior, he felt the team could use a veteran presence on the sidelines. This is why Troy is one of the best Steelers of all time. It's not just his play on the field, it's not just his charitable works and Christian values, it's that he gets it. Troy gets that doing the minimum is fine if you want to be an average player on an average team; if you want to be a champion, you have to always do a little bit more.
Speaking of doing a little bit more, reporters were tweeting that after practice ended yesterday, Antonio Brown and Leonard Pope stayed on the field to practice catching balls from the JUGS machine (which is not a vending machine you'd find at Blush). We always wondered who'd be the heir apparent when Hines finally retired. First we thought it'd be Santonio Holmes, who turned out to be a pothead me-firster. Then we had Wallace, who has turned out to be an overrated me-firster. It looks like of all the receivers who've passed through Heinz (or is it Hines') Field in recent years, it's AB who'll carry on the tradition of doing things the Steeler Way.
A few final notes from week one of OTAs. With Willie Gay gone to Pittsburgh West, we wondered what the new look secondary might look like. Keenan Lewis has been starting at corner opposite Ike Taylor with second year man Cortez Allen playing the nickel. I'll admit I'm not sold on Lewis. He didn't exactly blow me away last year as the nickelback. I believe he was victimized on the go-ahead touchdown pass in the second Baltimore game and I recall him getting burned in the second Cincy game as well. Fans weren't exactly high on Gay, I didn't particularly care for him either, but he had a solid season last year. I know the team was really high on Allen last year so I imagine if Lewis struggles in the early going, they won't hesitate to flip the two.
In more positive news, our long national nightmare may be over. Todd Haley likes having a fullback, an actual fullback, not a mediocre TE pretending to be a fullback, in his offense. As such, FB/TE David Johnson now has one fewer position to suck at. Haley told DJ that going forward he'll strictly play fullback since the team already has a plethora of talented tight ends. Johnson will have to compete with former WVU Mountaineer Will Johnson, who has reportedly looked very good in camp. Although as an undrafted free agent who spent 2011 out of football, I have to imagine Johnson needs to badly outplay Johnson to make the team. Admittedly, that's not very hard.
Finally, while it's too early to declare training camp "battles," there are a few positions to keep an eye on. First we have offensive line, which will be in flux until our top two draft picks get into camp. Max Starks was seen working out at the facilities, trying to rehab after off-season surgery, so he may be in the mix at some point. With Willie Colon moving to guard, Marcus Gilbert has evidently been told to concentrate on right tackle. He was supposedly in the mix to take over LT which made no sense after a disastrous stint there last year. Speaking of disasters at LT, this probably means Jonathan Scott heads into camp as the de facto starting LT with rookie Mike Adams being given every chance to beat him out.
And finally, there appears to be a running back battle brewing as well. The team has six backs on the roster although Rashard Mendenhall will be out until October/November. I don't see the team keeping five active backs on the 53 man so it would appear there's gonna be a three way dance between John Clay, Baron Batch and Jonathan Dwyer for two of those four spots. Clay was undrafted and we know how Kevin Colbert loves to hold on to his picks even when they're clearly no good (see Sepulveda, Daniel or Sweed, Limas) but he had a couple nice runs last year while Dwyer has shown next to nothing. Batch is coming off a knee injury but he's really the only back on the roster who can play a third down role similar to the departed Mewelde Moore.