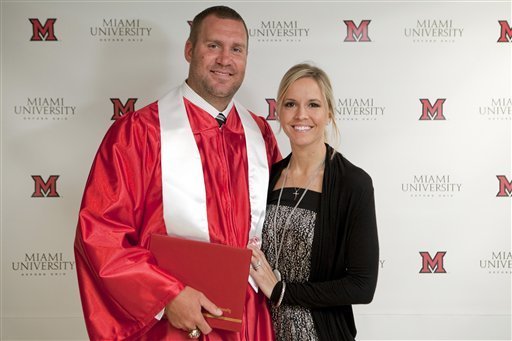 Signs that the NFL off-season has lulled football fans into a kind of diabetic coma:  PFT's Mike Florio went fishing this weekend. Another sign is Pittsburgh sports fans are actually starting to believe in their Pittsburgh Pirates. And here at Total Steelers, you know I'm dying for some interesting news when I'm reduced to writing about Ben Roethlisberger's virility. Then again, relaying that Ashley Roethlisberger's ovaries have done their best impression of the Steelers offensive line is a whole helluva lot better than having to post pictures of her husband's Roethliseed splattered all over a dingy bathroom wall of some dive bar in Georgia.
Yes, for those who haven't heard, Big Ben announced on his website that he and his wife are expecting their first child. It's a boy, by the way, so I hope the little fella enjoys throwing post routes. Whether the kid grows up to have the speed and instincts to be the next Brian Urlacher is irrelevant as he's pretty much doomed to playing quarterback throughout his athletic career. Whereas the daughters of famous athletes have some weird fixation on becoming the next Britney Spears, the sons of famous quarterbacks seem locked into following in their daddy's footsteps.
Granted it worked out pretty good for the Manning clan. Father Archie was a great quarterback in his day and both sons grew up to be Super Bowl winning signal callers. The results have been less positive for other famous names. Brian Griese was probably the most successful of the next batch, enjoying a ten year career, primarily as a stater, even making a Pro Bowl in 2000. Then we have Phil Simms, who was nothing more than a game manager so I suppose it's not shocking neither of his sons set the world on fire. Chris Simms was once seen as a QB-of-the-future but ended up being nothing but a  journeyman pothead while Matt is currently trying to hook on as an undrafted free agent following a mediocre college career.
Of course, not every son of an NFL legend even makes it to the big leagues. Case in point are the sons of the two greatest QBs of the 80s, Joe Montana and John Elway. Both of Joe's sons went into the family business with little positive to show for it. Nick Montana recently transferred to a  juco after redshirting at UWashington while older brother Nate is a fifth year senior playing in Division II after failing as a walk-on at his father's alma mater, Notre Dame. Elway's son Jack was a highly touted high schooler but recently announced he was quitting football after redshirting at Arizona State.
Anyway, congratulations to Ben and Ashley on their impending arrival.