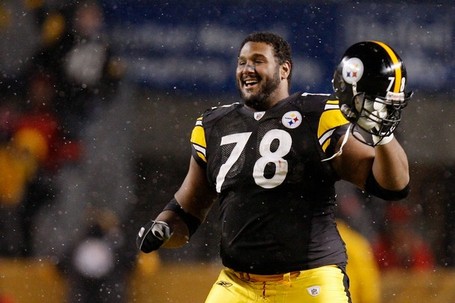 Veteran offensive tackle Max Starks has re-signed with the Pittsburgh Steelers. Shocking, I know. Any fan rabid enough to own either a Starks or Charlie Batch jersey has made the safest investment outside of buying stock in Apple. No matter who the Steelers draft, no matter who the Steelers sign, no matter what injury should befall their man during the season, you can safely rest assured Mad Max and Chaz will be on the roster come the following year. It's right up there with death and taxes.
I won't bother recapping Max's long strange journey, suffice it to say much like Michael Corleone, every time you think he's out, the Black and Gold pull him back in. Max lost his starting RT job way back in 2007 only to reinvent himself as a LT later that year. The Steelers tagged him two consecutive years in a row before finally inking him to four year deal in 2009. He suffered what was feared to be a career-ending neck injury in 2011, leading to his release. Despite ballooning to well over 400 pounds during the off-season, Max managed to work himself back into shape in time to ride to the Steelers rescue at LT in 2012. He played quite well but ended up blowing out his ACL in the Steelers Wild Card loss to Denver leading to yet more questions about his future. Evidently rehab has gone well because the Steelers are bringing him to Latrobe in August.
This was supposed to be a transition year for the offensive line. The Steelers invested their first two 2012 draft picks in OG David DeCastro and LT Mike Adams and are expecting oft-injured RT Willie Colon back in the lineup (for about two weeks anyway). Colon is being moved to guard which left Jonathan Scott and second year man Marcus Gilbert to compete with Adams for the two tackle spots. Now with Max back in the mix, one has to wonder if the Steelers weren't a little concerned by what they saw from those large-boned gentlemen during mini-camp.
I've been saying all along, I'm not totally sold on this new look o-line. Gilbert had a brief try-out at LT last season and did his best impression of a traffic cone. Scott was similarly abused during his short and ignominious tenure at LT. Rookies starting on the line isn't that unusual but Adams was said to be a bit raw so counting on him to step in and start immediately was always a dicey proposition. The thought was if Adams wasn't ready, perhaps Gilbert had matured enough to play LT but all the experience in the world won't make up for slow feet. If Gilbert can't handle the move and Adams isn't ready, Big Ben's blind side all of a sudden became a real danger zone.
Or it was before Mad Max returned to the fold. Welcome back, big guy. It's like you never left.