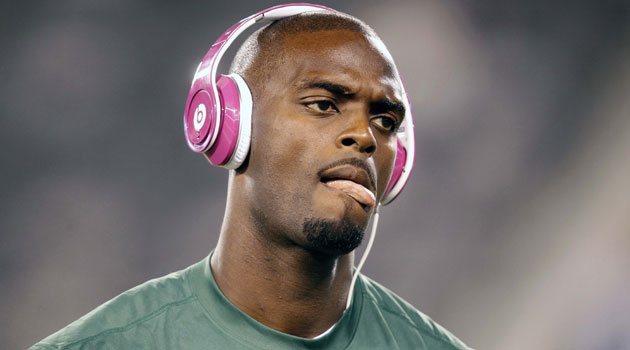 Later tonight, the Pittsburgh Steelers kick off the pre-season with their annual Battle of Pennsylvania against the Philadelphia Eagles. It'll be our first look at the Black and Gold since that cold Denver night so many months ago. One person we won't be seeing is wide receiver Mike Wallace, who continues his ill-advised hold out. The Steelers will some how have to find another receiver to make up the 3 catches for 26 yards he contributed in the Mile High disaster.
Welcome to another installment of Wallace Watch.
While Wallace has checked out physically by refusing to sign his tender and report to camp, Steelers management has begun checking out mentally in terms of wanting to negotiate with him. GM Kevin Colbert told a local radio station that he hasn't talked with Wallace recently and doesn't plan to until the selfish idiot signs his damn tender and shows up to work. Gerry Dulac of the P-G is also reporting that Wallace has lost all support from Mike Tomlin, who's no longer pushing management to sign the wide out to a long term deal. When you've lost Tomlin, perhaps the biggest player's coach in the NFL, you know you've done stepped in it.
Despite negotiations seemingly at an impasse, Colbert also reiterated he has no intention of trading Wallace. Nor should he. I'm not going to repeat what I've written time after time but the Steelers aren't the ones over the barrel here. Wallace owes the Steelers one more year at his tender price before he can become an unrestricted free agent. Until he shows up and fulfills his obligations, he's not going anywhere. Mike Florio at PFT floated the insane idea that the Steelers could pull the tender, thereby rendering him a UFA, and apply that money to signing a veteran wide receiver. Yeah, that's how you deal with an asshole; give him exactly what he wants.
Besides, what veteran receiver could the Steelers possibly sign?
Oh.
Yes, word has surfaced that the Steelers have been kicking the tires of ex-Steeler Plaxico Burress. There's no doubt they had great interest in bringing Plax back last summer when he was first released from jail. Their interest waned quickly when a bidding war broke out with the dumbass Jets swooping in at the eleventh hour to sign Burress to a one year $3 million deal. The Steelers would want a deal more in line with what they gave Jerricho Cotchery (two years, $1.5 million per) which may not be doable with Plax facing a number of debts. Then again, nobody has shown much interest in Plax this off-season so beggars can't always be choosers.
Would the Steelers be interested in trading one headcase wide receiver for another? Well, let's make one thing clear: Plax isn't Mike Wallace. Wallace is a big play threat who stretches the field while Plax is more or less a possession receiver at this point in his career. Where Burress would excel is as a red zone threat. Last season he caught 45 balls for only 600 yards but he snagged 8 touchdowns, the exact same number as Wallace, who caught twice as many passes and had twice as many yards. At 6'5 230, Plax has the kind of size that makes him nearly impossible to cover on jump balls in the end zone.
Considering red zone offense was one area the Steelers were woefully inept last season, having another big galoot out there is enticing. When you think of the success the Patriots had with Gronk and Aaron Hernandez, imagine how awesome it would be if the Steelers had their own Jolly Green Giant package with Plax, Heath, and/or Wes Saunders. Plus, we know Ben has wanted a big target for awhile now. Why not give your star QB what he wants, especially since Hines Ward is no longer here to moan about it?
Of course, PFT reported the Plax rumor as solid because it was tweeted by Uncle Eddy at the P-G, which all Yinzers know is laughable because ESPN's Adam Schefter and John Clayton (who used to cover the Steelers beat once upon a time) have gotten way more scoops than Bouchette ever has. I will say this much for the rumor, though, the P-G (as all Pittsburgh media) has been and always will be a PR tool for the Steelers. As such, the beat writers usually report what the team wants them to report so if they're talking about a "rumor" that Plax is on their radar, chances are somebody in the front office wants that story out there.
Now, whether they're leaking this info because they want to send a message to Wallace that they're prepared to go forward without him or whether they're genuinely interested in Plax is the million dollar question. Or, in Wallace's case, the $55.555 million dollar question.