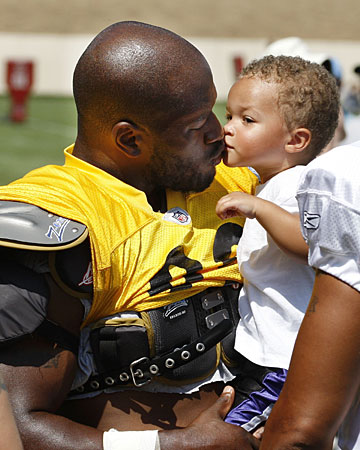 Another day, another injury.
Yesterday I mentioned that Pittsburgh Steelers All-Pro linebacker James Harrison remained on the PUP list due to ongoing soreness and swelling in his knee. No sooner did the rumor surface he may need arthroscopic surgery than we find out Deebo has indeed gone under the knife. The Steelers are hopeful Harrison will be healed up by the season opener on September 9th although who knows if those expectations are realistic. Last year was a down year for the normally dominant Steeler linebackers due to the fact Harrison and LaMarr Woodley were either out or playing hurt almost the entire season.
Can't say I'm liking how this year is starting either.
With Harrison shelved, his place will be taken by Chris Carter. No, not the loudmouth ESPN analyst who misspells his first name, I'm referring to the CC who was a 2011 fifth round draft choice out of Fresno State. Carter is being pressed into duty ostensibly because former second rounder Jason Worilds is currently sidelined with a wrist injury. Worilds is on the PUP list but he was healthy last year when the Steelers chose to move ILB Lawrence Timmons outside when they knew they'd be starting the season without Woodley. Worilds would eventually start with the linebacking unit ravaged by injury but didn't look particularly impressive.
They can't move LT this season because without James Farrior, they need him to anchor the ILB corps. Which means it's time for one of the 49 recent draft picks at linebacker to step up. Carter primarily played special teams last year although he did see a few snaps where he appeared way out of his league. However, that's not uncommon for rookies playing in Dick LeBeau's complicated defense. Remember Silverback was cut three times because every time he'd come to camp he'd appear totally clueless as to what to do. Where Worilds is a big strong LB in the Woodley mold (6'2 260), Carter is much more of a Harrison clone. He's smallish (6'1 248) but is quick off the snap and possesses great rushing speed.
I guess we'll see if he can repeat Harrison's feat of winning a job after being pressed into service due to a last minute situation with the team's regular starter.
Speaking of rushing, the Black and Gold's beleaguered running backs can now count starter Isaac Redman among their injured. Redzone has been battling a groin pull the likes of which you couldn't possibly imagine but it's recently worsened to where he hasn't practiced the past two days. He tried to do one-on-one drills yesterday only to fall to the ground clutching his sore groin. At least, I hope that's what he was doing. For those keeping score at home, the Steelers currently have exactly two healthy backs on the roster: Chris Rainey and our pal Hennessy's hero, Baron Batch.
Let's hope Redzone feels better very soon.