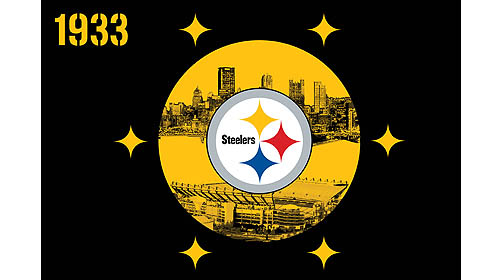 Remember the Terrible Towel? Myron Cope's brainchild has been a cherished symbol to members of Steeler Nation and an object of much scorn to those who are jealous of the Pittsburgh Steelers success. The Terrible Towel has been everywhere, from the Great Wall of China to outer space. The stories associated with the Towel are numerous, such as the curse which befalls those who desecrate it to the story of obnoxious Redskins owner Danny Snyder ordering his team to hand out cheap knock-offs because he was so angry over seeing a sea of Towels twirling through the air the last time Steeler Nation invaded FedEx Field.
As if having one banner wasn't enough, the Steelers have evidently authorized another. I guess the NFL realized what a cash machine Allegheny Valley School has with those Towels so they're desperate to duplicate it for 31 other teams. A few years back, they tried to sell people on insipid team inspired "Rally Towels" which were widely mocked as obvious rip-offs and totally failed to catch on because no fan base is as rabid as Steeler Nation. So the marketing geniuses over at the NFL have gone back to the drawing board and come with something called the Fan Flag Challenge where fans for each team submitted their designs for team-specific flags.
The Steelers, ever the loyal soldiers, went along with this farce. The winning design, as pictured above, was done by Brent Osbourne, a 12 year veteran of the US Army. I have to admit, what Mr. Osbourne came up with was pretty sweet. The six hypocycloids (the technical name for those stars the Steelers wear on their helmets) representing the six Lombardi Trophies along with the magnificent Pittsburgh skyline make the flag look quite striking.
As an aside, how annoying is it that our own hometown newspaper, the Post-Gazette, still writes "Steelers Nation" when everybody else uses Steeler Nation? UFlorida fans don't say Gators Nation and the two remaining Boston baseball fans don't say Red Soxes Nation, do they? Man, unless you have a parakeet or are in the process of paper-training your puppy, I don't know why anybody bothers with that unreadable rag. Screw Mark Cuban buying the Pirates, why can't he come here and start a decent newspaper, perhaps with some columnists under the age of 65?
Anyway, Steeler Nation surely doesn't need another symbol to wave around when they invade opposing team's stadiums. However, many of us do have flag poles and as cool as a Terrible Towel looks worn Yinzer-style (tucked through your belt on game days), it's not exactly ideal home decor. For those of us with flag poles, basically everybody living in Mt. Lebanon, this new Steelers flag will look snazzy flying high above our homes from September through Super Bowl Sunday. When they actually get around to selling them, that is.
One question though: if the Steelers lose to the Ravens again, do we fly the flag at half-mast?