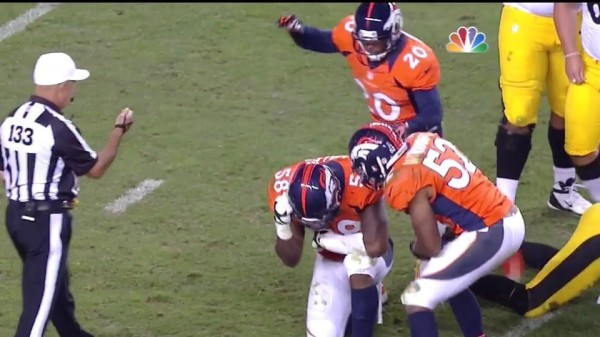 Once upon a time, the prospect of playing the boys from the Mile High City was met with the same level of disdain Steeler Nation now reserves for the Ratbirds or Patriots. After last night's game, I think it's safe to say while the Denver Broncos may not be full-fledged members of the Circle of Hate, they're definitely vying for a spot. For the second straight game dating back to last season's Wild Card debacle, the Broncos defeated the Pittsburgh Steelers in groan-worthy fashion, 31-19.
Where to start with this disaster.
How about new offensive coordinator Todd Haley? Some people view Twitter as a sign of the apocalypse (Follow me @totalsteelers) but I enjoy it because instead of waiting hours or even minutes to gauge reaction, you have it in seconds. It took roughly one quarter before the armchair offensive coordinators started calling for Haley's head. His crime?
He was running the ball too much!
Yes, the same group who called into Pittsburgh sports talk shows whining about Bruce Arians and his Flying Circus offense for the past three years were moaning because Haley gave them what they asked for. More importantly, he gave Art Rooney II exactly what he wanted, a return to Stiller Football. And how did Stiller Football fare? Isaac Redman gained 20 yards on 11 carries while Jon Dwyer, one of the game's lone offensive stars, chipped in 43 yards on only 9 carries with one big 17 yard gain wiped out due to a dubious holding call on Mike Wallace.
On the bright side, we totally dominated time of possession!
Seeing this offense try to relive the glory days of Franco and the Bus was PAINFUL to watch. Several times we had first and 15s and Haley elected to run on two successive downs. Only Ben Roethlisberger completing some big third down throws kept the chains moving. This team has one of the deepest and most talented group of wide receivers in the NFL. They shouldn't be running to set up the pass, they should be passing to set up the run.
FORGET YINZERBALL AND PLAY TO YOUR STRENGTHS.
Ben is going to catch some flak for his performance last night, as he should. When your rep is being the best clutch player in football, you don't throw a pick-six down six with 3 minutes left. Ben certainly had a Jekyll/Hyde game, making some great throws where he literally threaded a needle but he also made several incredibly dangerous throws which could've easily gotten intercepted. He also missed several big plays such as botching a sure TD to Heath Miller (who was open all day) and never seeing Wallace left wide open on a crucial fourth quarter drive. While I think it'd be totally unfair to pin this loss on him, Ben needs to play a helluva lot better if this team is going to win.
Especially if the defense is going to play like they played last night. Last year, Warren Sapp derided them as old, slow and done. This season, it appears they're young, eager and over their heads. Despite obnoxious Cris Collinsworth occasionally getting up off his knees to proclaim "Peyton Manning is doing this to the league's #1 ranked defense!" this is not the league's top ranked defense. That was last year's team with James Harrison and Ryan Clark and a healthier Casey Hampton and William Gay opposite Ike Taylor. Last night's defense had none of those things and the results showed.
Manning was only sacked twice and one of those, by Jason Worilds, was a clean shot thanks to Manning mixing up the protection call. Other than a first quarter sack by Larry Foote, who was one of the few bright spots on defense, they generated almost zero pressure. Surely the altitude played a part but it doesn't excuse anything. The bottom line is the Steelers offense held the ball for a whopping 10 minutes (35 to 25) longer yet the "exhausted" Broncos D held them to 19 points while the "rested" Steelers D allowed Pey-Pey to march right down the field on them.
Foote forced an early fumble although it was more luck than skill as he got thrown into the back and happened to knock the ball loose. That was it as far as highlights go. The D-line got pushed around on passing plays and couldn't stop the run when it counted. The linebackers effort can be summed up by watching Peyton OUTRUN supposedly super-athlete Lawrence Timmons to the sticks for a 7 yard gain. Then we have the secondary. Youngsters Keenan Lewis and Cortez Allen did their best B-Mac impressions, allowing generous 5 yard cushions on every pass play. And then we have Demaryius Thomas, who once again abused Ike Taylor to the tune of 5 catches for 110 yards.
Perhaps no play summed up last night's debacle like the third quarter turning point when Thomas took a little slant and ran away from like half the defense on his way to a 71 yard TD. Of course the scab refs missed a hold on Ryan Mundy on the play but it probably wouldn't have mattered anyway.
What would have mattered was the facemask on Ben they missed on the Steelers' previous drive which ended with a Shaun Suisham field goal. The game was an absolute fiasco from an officiating standpoint, with the scab refs saving their worst for prime time and most of their incompetence going against the Steelers. The lone time we got a call, on yet another boneheaded Mike Tomlin challenge which came in after a play had been run, it would've been better if they hadn't. Meanwhile, Wallace's hold wiping out a big Dwyer run and a crucial pass interference on Lewis late in the 4th were the definition of ticky-tacky especially after not calling worse against the Broncos. Evidently they did read the Illegal Formations portion of the rule book on the can before the game because that was one thing they called on both teams at least a good half dozen times.
Let's not blame the scab refs on this fiasco. The Steelers played a terrible game last night. If Ben had Superman'd up and pulled out a last-second victory, it only would've been a Band-Aid on a gaping chest wound. The Steelers clearly have some fundamental issues they need to address on both sides of the ball. And they need to start by figuring out what kind of offense they want to run. Because what we saw last night isn't going to get it done, not against Peyton Manning, not against Tim Tebow, not against anybody.