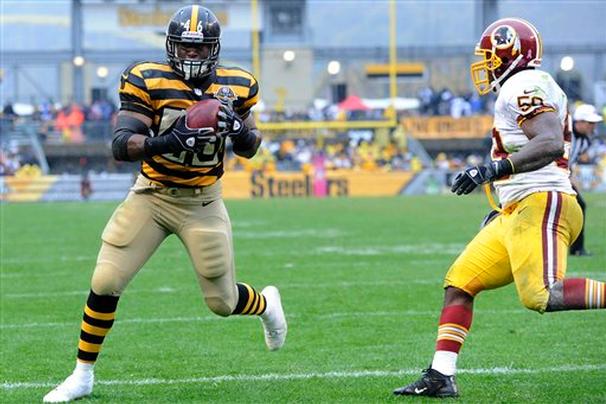 As the great Hannibal Smith once said: "I love when a plan comes together."
Things seem to be coming together nicely for the Pittsburgh Steelers following their 27-12 whupping of the Washington Redskins. In the week leading up to the game, all I heard was worry. Can Todd Haley's dink and dunk offense score enough points? Can the Steelers' shaky D hold up? How are they going to deal with the Ultimate Weapon, superstar rookie Robert Griffin III? In fact, ESPN even began floating the idea of RG3 for MVP.
Well, how about Big Ben for MVP?
After all, he only went 24/33 with 3 TDs and zero picks to continue his string of masterful performances. I understand that dink and dunk isn't as exciting as a 75 yard bomb to Mike Wallace but I finally get what Haley is doing. This almost West Coast style offense has two key benefits. First, it gets the ball out of Ben's hand faster, leading to him taking less sacks (he was sacked only once yesterday). And by relying on short passes instead of that one big strike, you possess the ball longer. The longer the offense stays on the field, the less you ask of your admittedly less than dominant defense.
The only caveat is if you're going to dink and dunk, you have to finish drives. And to finish drives, you need a good running game.
Presto, change-o, the Steelers have found a running game thanks to the Minibus, Jonathan Dwyer. Dwyer had his second consecutive 100 yard performance yesterday, the first Steeler back to accomplish that since Fast Willie Parker did it way back in 2008. I honestly don't know how you take him out of the line-up.
In his post-game presser, Mike Tomlin was already in full liar mode talking about Dwyer experiencing "calf stiffness" late in the game. This will undoubtedly be his excuse for starting Rashard Bin Laden next week even though he hasn't been much more than an average back for almost two years now.
We can worry about next week later, let's revel in this victory a little more now. The Steelers offense was virtually unstoppable all afternoon, scoring on five of their first six possessions. Rookie Drew Butler could've pulled a Skippy and showed up two hours late and hung over because they didn't really need him until the game was more than half over. The three and outs only started coming in the 4th when the Steelers were obviously trying to run out the clock and Washington loaded up the box to stop them.
Ben hit nine different receivers, with all three of his TDs going to separate targets. FB Will Johnson scored his first career TD on a short goal line catch while TE Leonard Pope made his first reception as a Steeler count for a TD. Heath Miller chipped in with yet another TD catch in what is fast becoming a break out season for him. Wallace shook off last week's Sweeditis by snaring a team high 7 passes although I wouldn't ask him to throw any more halfback options. The other members of Young Money combined for 7 catches, several for big third conversions.
Defensively, well, I'm not going to lie. A lot of their dominance was thanks to Washington shooting themselves in the foot. In my game preview, I sagely remarked that their receiving corps was pretty lackluster. They lived down to my expectations, dropping a ridiculous number of balls (official count was somewhere around 11). Rookie RB Alfred Morris ripped off some nice runs but the Skins couldn't stick with the ground game because they fell too far behind too early. RG3 did everything he could but only Mr. Perfect can throw it and catch it himself.
It's hard to fairly evaluate their defensive performance because Dick LeBeau was clearly worried about stopping RG3. Receivers got open because the linebackers were instructed not to drop back into coverage lest RG3 take off running. Then Ryan Clark left the game with a concussion. Will Allen and Ryan Mundy played well in relief of Ryan and Troy but they have their limits. Larry Foote and Keenan Lewis (who made his bid for Academy Award consideration with a faux interception…Manny Sanders and his "leg cramp" are still front-runners, though) continued their strong play while LaMarr Woodley and James Harrison did a pretty decent job of keeping RG3 contained in the pocket.
NFL math seldom holds up. A beating B and B beating C doesn't automatically mean A will defeat C. Next Sunday, the Steelers face the defending champion Giants, who needed a herculean effort to pull out a last second victory over Washington last week. Our manhandling of the Skins doesn't mean anything when the ball is kicked off in the Meadowlands.
But yesterday's performance does make me feel a whole lot better about this team going forward. I like what they're doing on offense. I like how the defense is shaping up. I also like the bumblebee throwback uniforms, which looked surprisingly cool. The stripey socks looked kinda Urkel-esque but the rugby style tops and tan pants were almost snazzy. I can't believe I'm saying this but I wouldn't mind seeing them again.
And I wouldn't mind seeing a similar performance from the Steelers, too. In fact, give me seven or so team-wide efforts like this and I'll see you in the playoffs.