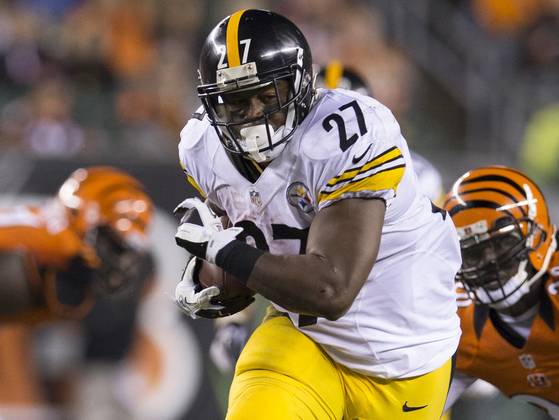 Jonathan Dwyer went over 100 yards on Sunday in the Pittsburgh Steelers win over the Redskins, his second consecutive 100+ yard performance. By now, we've all heard the trivia. Dwyer is the first Steeler to post back-to-back 100 yard games since Fast Willie Parker did it in 2008. I guess the running game is only effective in election years.
And much like in an election year, coach Mike Tomlin has to make a choice between several worthy candidates.
The Post-Gazette has already endorsed their candidate:  Jon Dwyer. They even jumped on the bandwagon comparing Dwyer to Jerome Bettis. I'm not one to toot my own horn but a long time ago on a site far far away, I made the exact same comparison the day he was drafted. But when even Steeler Nation has taken to calling Dwyer the Minibus, it's a comparison that's hard to ignore.
Meanwhile, the incumbent, Rashard Mendenhall, is waiting in the wings. I have to admit, I'm not a Mendenhall fan. He had two consecutive 1,000 yard seasons and came within 90 yards of making it three in a row last year but I've just never liked his running style. He's always been the type of runner who'll get stopped for minimal gains on his first five carries then break one for 20. His dancing at the line of scrimmage can lead to big plays but it makes him a liability in short yardage.
Next we have Isaac Redman. Redman is almost the polar opposite of Mendy. There is nothing subtle about iRed. He gets the ball and just bulls straight ahead. That makes him a pretty effective short yardage runner but it doesn't lead to many big gains. Once he gets to the second level, there's no elusiveness or shiftiness at all.
Then there are the two young guys. Chris Rainey has seen quite a few snaps this season but I don't think offensive coordinator Todd Haley has totally figured out what to do with him yet. Every week it seems like they add a new wrinkle or trick play, such as the direct snap for a big run against the Skins. I think eventually he'll settle in as a Darren Sproles type although I don't expect he'll ever be a every down back. Then we have Baron Batch, who they use as a Mewelde Moore type third down back, at least while Redman and/or Mendenhall are injured.
The choice basically comes down to Mendy vs Dwyer. Redman is a short yardage specialist. Rainey and Batch are situational guys. Only Mendy and Dwyer profile as starting running backs. Who do you choose?
Later today, Mike Tomlin will have his weekly festival of lies they laughably call a press conference. I'm sure the reporters will ask who he's planning on starting and he'll hem and haw and tell everybody nothing. Mendenhall has been battling some residual issues stemming from off-season ACL surgery while Dwyer left Sunday's game with what Tomlin later called "calf stiffness." So there's an easy injury excuse depending on which direction the team wants to go.
Dwyer needs to start. Not because of running style. Not because of some outdated theory that starters can't lose their job due to injury. They have to start Dwyer because he's performed. The NFL is a "what have you done for me lately?" business and Dwyer has done everything asked of him and more. The Steelers parted ways with James Farrior and Hines Ward because other guys were doing a better job. Now it's time to reward one.