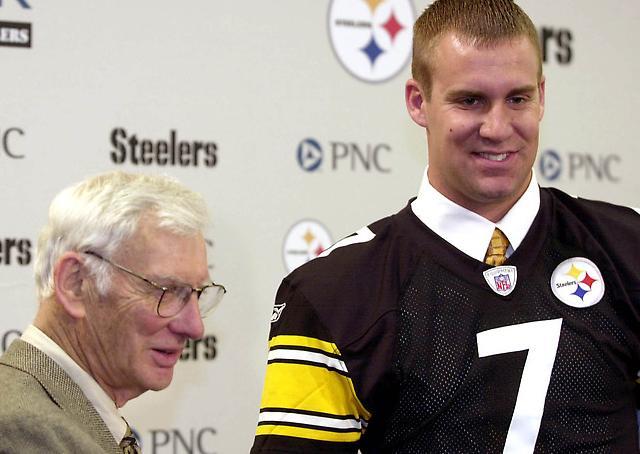 If you've been a football fan for more than a handful of years, you've probably heard of the fabled "Quarterback Class of 1983." The NFL was a different animal back in 1983. Quarterbacks were always important but they didn't usually carry as much of the offense back then as they do today. That's why teams could win a Super Bowl with an average signal caller like Mark Rypien or Jeff Hostetler.
So one can imagine how crazy it must have seemed back in '83 when six QBs were taken in the first round. The first overall pick, John Elway, was selected by the Colts but he didn't want to go there. He subsequently was traded to the Broncos were he went on to win two Super Bowls over a Hall of Fame career. The final QB picked was Pittsburgh's own Dan Marino, who never won the big one (and was passed over by his hometown team due to rumored drug use) although is still considered among the best QBs ever. The remaining four picks varied from another HOFer (Jim Kelly) to a total dud (Todd Blackledge).
Despite the media's attempts to attach the fabled tagline to other drafts, the last truly remarkable QB class was back in 2004. And the parallels are downright spooky. First overall pick Eli Manning was taken by the San Diego Chargers but didn't want to go there. He was swapped to the Giants for the fourth overall pick, quarterback Phillip Rivers. The eleventh player chosen was a QB by the name of Ben Roethlisberger. JP Losman was also taken in the first round but we'll forget about him and pretend Matt Schaub, taken in the 3rd round, was part of that class instead.
Big Ben has always felt disrespected by the fact teams slotted him as the third option behind Rivers and Manning. That chip on his shoulder enabled him to come out the gate strong, winning a Super Bowl in only his second season. By 2007, Ben was an established star and perhaps the most clutch QB in football. Eli struggled mightily his first couple years, the insane NY media even throwing around the B-word (bust) a few times. But in '07, Eli silenced his critics (and won my never-ending admiration) by leading his Giants to a Super Bowl victory over the undefeated New England Patriots.
Eli's MVP performance in XLII was a comeback for the ages. Ben answered that with an epic comeback of his own the next season, winning his second Super Bowl with a legendary last second drive against the Arizona Cardinals. Both QBs firmly established themselves as elite signal callers with Ben's second ring the only thing separating their resumes. After Ben flubbed his third shot at a Lombardi Trophy, Eli evened the ring count last season with another comeback against the Patriots.
It's nearly impossible to distinguish between the two at this point. Ben has long been called the most clutch QB in football but I dare anybody to find a player who has led more big comebacks the past three seasons than Eli Manning. Ben has never beaten the Patriots in a meaningful (ie playoff) game. Eli has done it twice. Ben has appeared in one more Super Bowl but Eli was MVP of both of his. Yeah, Ben should've been MVP of XLIII but he was little more than a spectator in the first one.
Some people are calling Sunday's game between the Pittsburgh Steelers and New York Giants the tiebreak. That's silly. I'm sure Ben dusted off that chip and Eli, who is said to be a quietly fierce competitor, wants to win just as badly. But in the grand scheme of things, it's just another regular season game.
No, there's only one way to end the argument. One true War to Settle the Score. That would be in the Super Bowl. Let's hope some day, some way, the stars align so we're treated to Big Ben vs Elite Eli, winner take all for the biggest prize in the sport. Until then, Sunday will just have to do.