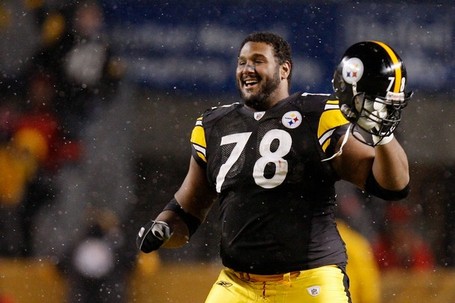 Okay, technically last week was the midpoint of the NFL season. Or was it the week before that? There are 17 weeks in a season which obviously doesn't split neatly in half. I know, declaring the midpoint before week 10 doesn't make a ton of sense but the Pittsburgh Steelers have now completed exactly half their schedule (8 games) so it does have some logic.
Besides, Sports Illustrated just released their mid-season awards. Who am I to argue with Peter King?
If you look over SI's mid-season All-Pro team, you'll notice that no Steelers were selected. Two Kansas City Chiefs were chosen, I repeat two players from the worst team in the NFL were chosen, but zero members of the Black and Gold. Go figure. Although the damned thing is, it's hard to argue about it.
The cliche about football being a team game is sometimes overused. When it comes to the Steelers, it's a pretty apt description. Don't get me wrong, there are definitely a few players who are having outstanding seasons. Overall, though, Mike Tomlin's beloved catchphrase "next man up" has never been in greater evidence than this year.
Look at the offense. Every game, Ben Roethlisberger has hit somewhere between 5-8 different receivers. Heath Miller is deadly in the red zone and on third down but Antonio Brown has made bigger plays. When AB went down, Jerricho Cotchery came in they didn't miss a beat. And do I even need to recount the RB carousel? Rashard Mendenhall came back for one game and rushed for 100 yards, Jon Dwyer had the team's first back-to-back 100 yard games since 2008 and last week iRed wore the Giants out with a bruising 140 yard performance which may have been the most impressive of all.
Defensively, who are the standouts? Both LaMarr Woodley and James Harrison have missed time with injury. Woodley has come on the past couple weeks but it's not like he's been taking over games. The team as a whole hasn't gotten many sacks and they haven't forced many turnovers. Ike Taylor has also played very well as of late although we can't simply forget the first month of where he was getting beat like government mule.
If I had to pick one guy who should've been named an SI mid-season All-Pro, it's Ryan Clark. The dude from San Diego is a very good player but Clark has been absolutely fantastic this season. When a team loses a future HOFer like Troy Polamalu, it's a hole that they simply cannot fill. Clark hasn't exactly been Troy but he's been pretty damn close. I haven't always been Clark's biggest fan, and I still find his off-the-field personality off-putting, but there is denying he's come into his own. In years past, losing Troy limited the D because it's hard to find a safety equally capable of pressuring the QB, stuffing the run, and dropping back into coverage. Clark does all three and does them extremely well.
Peter King also doles out mid-season awards, naming Falcons QB Matt Ryan his MVP. I'm pleased that King has avoided the trap most sportswriters fall into. MVP stands for most VALUABLE player. Not Best Offensive Player. It absolutely drives me nuts when I turn on the radio or momentarily glance at the Four Letter and see talking heads naming guys MVP because of their stats.
Don't misunderstand, Ryan is having a great season. Matty Ice is 4th in the NFL in TDs and 9th in total yards. However, what's most important is his team is undefeated. And he's not some cog in the wheel of a well-oiled machine. The Falcons are winning in large part because of him. They're only 19th in total defense. Even worse, their running game is ranked a miserable 25th. No, the Falcons owe their success to the play of Matt Ryan. And that's what an MVP should be.
I think we can all agree what Ryan is to the Falcons, Big Ben is to the Steelers. His stats are a tick less impressive in nearly every category (2,200 yds vs 2,300 or 16 TDs vs 17) and the Black and Gold do have a better defense and running game so I can see why King went with Ryan. It's still awfully hard not to include Ben in the MVP discussion, though. No QB, not even Ryan, is more efficient on third down. The Haley offense has had its ups and downs and there's no arguing there would've been a lot more downs had Ben not pulled off some of those third and longs. If the Falcons fall back towards the pack (or the Pack) and the Steelers continue their upward momentum, I would hope Ben starts getting some serious consideration come the end of year.
In the meantime, let's pick our own Steelers mid-season MVP. Since Ben is easily one of the most valuable players in the entire league and not just here in Pittsburgh, let's leave him out of the discussion. Keeping in mind my earlier statement about the team nature of the Steelers' success, it's hard to point to one specific player from a statistical standpoint. My initial thought was to pick Ryan Clark and I still couldn't argue with that choice. Although I'd like to point out a more unsung hero.
How about Max Starks?
Without a doubt one of the biggest surprises of the year has been the Steelers' offensive line. All summer I wrote about the "new look" O-line which was supposed to feature first round pick David DeCastro at RG, converted tackle Willie Colon at LG and a new LT. Well, those plans quickly went poof when DeCastro got injured and nobody looked halfway competent at LT during the preseason. Max Starks, who was coming off a serious potentially career-ending injury (the second such injury in two seasons), was pressed into duty once again. And once again, he's performing magnificently. To be fair, the entire O-line is doing great, especially Colon, who has turned into an absolute mauler on the inside. But old Max is playing the most difficult position on the line and doing so at a Pro Bowl level.