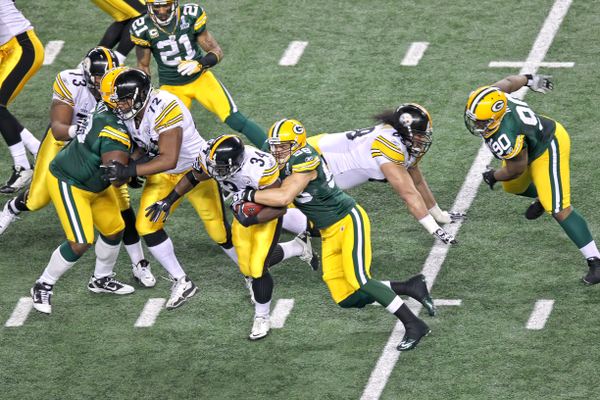 As if the Pittsburgh Steelers don't have enough issues to deal with…
The Steelers announced they have suspended running back Rashard Mendenhall for one game due to "conduct detrimental to the team." Mendy was told last Sunday that he wasn't going to be dressing for the game against the San Diego Chargers. When players don't dress, they're still expected to come to the game and stand on the sideline in official NFL team gear ™ so the television cameras can pan over to their glum faces when one of the announcers mentions their name. Evidently, Mendy took the news as a sign that he shouldn't even bother showing up.
After last week's anemic running performance, there were some calls for Mendenhall to regain his starting job. That's not happening now or probably ever. If anything, this suspension is the symbolic death knell for Rashard's career in the Black and Gold. All three of the team's running backs will be free agents this off-season and it's looking more and more like the Steelers will be cutting ties with their former first round pick.
The duo of Jonathan Dwyer and Isaac Redman definitely had a terrible showing against the Chargers. However, it's ridiculous to say Mendenhall would've performed any better. As I noted in my game preview, the Chargers have a talented D-line who are very strong against the run. On top of which, the Steelers' O-line was banged up with one of the team's best run blockers, Willie Colon, hobbled by a season ending injury which necessitated moving Maurkice Pouncey to LG and inserting Doug Legursky at center after only a few possessions.
Legursky is a lousy run blocker. Pouncey is a Pro Bowler at center but he's only average at guard. The Steelers were also playing with their third string RT, rookie Kelvin Beachum. Add it all up and the effective run blocking from the middle of the season is just no longer there. Word is the Steelers might finally bite the bullet and start this year's first rounder, David DeCastro, at RG (with Ramon Foster moving over to the left) this Sunday.
Speaking of first rounders, this latest incident completes a rather spectacular fall for the former 23rd overall pick. As I've noted many times, GM Kevin Colbert holds on to his first rounders well past the point of sanity. To his credit, sometimes that works out as in the case of Lawrence Timmons, who was maddeningly average for most of his career only to finally start fulfilling his immense potential this year. However, in the case of Mendenhall, it's looking like he'll be the rare first rounder the team cuts ties with without ever getting a second contract.