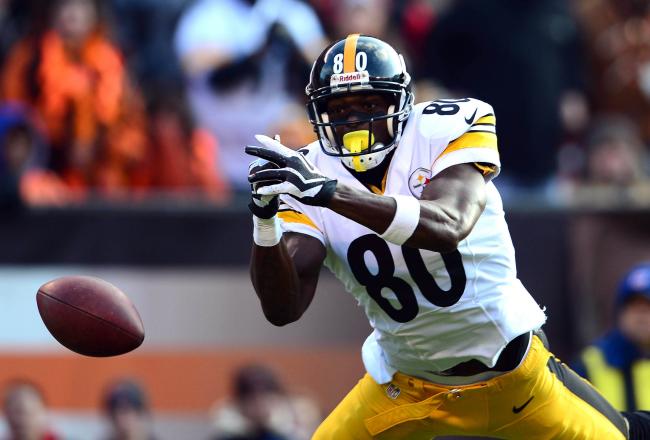 In a little less than two hours, the NFL free agency period officially begins. If you believe the rumors, sometime shortly thereafter the Pittsburgh Steelers will lose at least two and more likely three starters. Mike Wallace and Rashard Mendenhall are certainly gone. Wallace is reportedly taking his talent to South Beach for somewhere north of $10 million per season. By "talent," I of course mean his one and only talent of running really fast in a straight line. Mendenhall won't be overpaid nearly as much although word is he's being viewed as the best running back available this off-season. Several teams have been tied to him with the Denver Broncos being the early favorites to enjoy his butterfingers and hip-hop stylings behind the line of scrimmage.
The third departure will certainly hurt more than the first two. The Steelers would like to bring CB Keenan Lewis back but in a thin market and with good young secondary talent at a premium, it's likely they won't be able to offer him what some other team does. The Steelers have other options at corner as I've already written although Lewis is the kind of guy good teams keep around. While I personally think Cortez Allen is too good not to start, it hurts to spend years drafting and developing a guy like Lewis only for him to go elsewhere while we're stuck bringing back a mediocre retread like William Gay.
The Steelers have deviated from the Steeler Way and are paying for it now and likely in the immediate future. They used to have no qualms about jettisoning expensive veterans in favor of reloading with younger guys. For whatever reason, they held the current team together long past it's expiration date and those big money veteran contracts have left the team in salary cap hell. While those with tons of money to spend are almost always teams that suck (Miami, Cleveland) or successful teams winning with a lot of guys in their first few years in the league who are still on their relatively cheap rookie contracts (Seattle, San Fransisco), it can't be argued that the Steelers paid too much money to too many guys who were either past their prime or too injury prone to reach it.
With James Harrison's recent release and the earlier contract reworkings, the Steelers managed to get themselves around $10 million or so under the cap. They offered minimum tenders to four restricted free agents (meaning any team that signs them has to surrender a pick equal to the round they were picked in if the Steelers opt not to match) and re-signed G Ramon Foster to a three year/$6 million deal and ILB Larry Foote to a two year/$5 million deal which knocks that number down to around $2.5 million or so.
Manny Sanders, Steve McClendon, Isaac Redman, and Jonathan Dwyer all received $1.3 million tenders. Dwyer signed his right away which is unusual since players usually wait to see if a better offer is forthcoming. Dwyer clearly wanted to show the Steelers he was serious about wearing the Black and Gold and serious about being the team's featured back next year. Sanders is probably safe under the minimum tender since he was a third round pick and it's unlikely a team would want to surrender a premium pick for him. McClendon and Redzone aren't sure things since they were undrafted and thus teams can sign them without losing a pick. If McClendon goes elsewhere, the Steelers nose tackle options will be limited to squeezing another year out of broken down Casey Hampton or rolling the dice with homicidal maniac Alameda Ta'amu.
The Steelers did manage to reel in one big free agent to off-set the loss of Wallace. "Big" as in literally large, not a big name unless you've just stepped out of Delorean that came from 2003. Plaxico Burress re-signed with the team that originally drafted him way back in 2000. He's being brought back to give Ben Roethlisberger the tall wide receiver he's wanted for several years now. Plax is old (35) and slow but he's still 6'5 so he could be a decent red zone threat. Best of all, he's dirt cheap.
Cheap is where the Steelers are right now. Yeah, winning the off-season is usually zero indication of actually winning when the 2013 season kicks off six months from now. However, the Steelers are an aging group with plenty of holes to fill. It would be nice to have a little money to spend instead of the traditional dumpster diving. Unfortunately, dumpster diving it is.