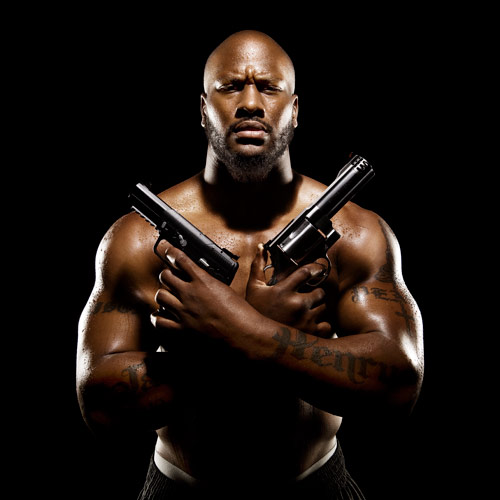 One NFL agent has already been fired due to free agency incompetence. Another may soon join him.
Linebacker Elvis Dumervil was happily employed by the Denver Broncos, who were scheduled to pay him $12 million next season. After signing some name free agents (Wes Welker and Dominique Rodgers-Cromartie), the Broncos found themselves over the salary cap. Under NFL bylaws, after any new signing, a team has a window of 48 hours to get in compliance with the cap or they risk forfeiting a first or second round draft pick. Dumervil agreed to rework his contract to help Denver out but thanks some sort of fax machine shenanigans, the papers weren't signed in time and the team was forced to release him.
Dumervil quickly became a hot commodity as no fewer than five teams were bidding for his services. The Pittsburgh Steelers were among his suitors as were the Baltimore Ravens. The Ratbirds ultimately won the Dumervil sweepstakes, signing him to a five year deal that will pay him $8.5 million this season although only $2.5 of it counts against the cap (the bulk of his first year salary comes in the form of a signing bonus). Why can't supposed salary cap sooper-genius Omar Khan work out these kind of deals?
The addition of Dumervil is quite the coup for the Ravens, who have lost five defensive starters this off-season. At 29 years old, Dumervil is an accomplished pass rusher having posted 17, 9.5 and 11 sacks the past three years. Paired with Terrell Suggs, they should form one of the better OLB duos in the AFC.
When word broke of Dumervil signing with Baltimore, Steeler fans immediately went into sour grapes mode, pointing out Doom's limited experience as a 3-4 OLB (he began his career as a 4-3 DE) and his so-so ability to stop the run. Anybody who doesn't think Dumervil would've been a huge asset to the Steelers is completely insane. Had they signed him, he immediately would've been the team's best pass rusher as he's infinitely more talented than Jason Worilds and has grossly outperformed LaMarr Woodley the past few seasons. What's more, at 29 years old, he's got at least three or four more prime years left before age and injury start to catch up with him.
With Dumervil off the table, rumor has it the Steelers have turned their sights to former Colts DE Dwight Freeney. At this point, Freeney is nothing more than a poor man's Dumervil. Sure he might come cheaper but in football as with smoked ham, you get what you pay for. Freeney is older (33), has a more worrisome injury history, and appears to be a horrible fit for our defense. Where Dumervil shifted from DE to OLB without missing a beat, Freeney moved to OLB last season and recorded a career-low 5 sacks. Freeney isn't an upgrade over Dumervil, he's not even an upgrade over the man he's ostensibly replacing, James Harrison.
Ah, poor Deebo. The agent I mentioned who may soon find himself unemployed (if not naked in a gutter with dog bites and "BMF" tattood on his left butt cheek) is the assclown representing James Harrison. Harrison was scheduled to make $6.57 million this season but the Steelers asked him to take a 30% pay cut down to roughly $4.5 million. He balked thinking he could easily command his original salary on the open market. How sadly he was mistaken.
According to reports, the market for Harrison's rapidly declining skills is tepid to say the least. In fact it's so icy that Harrison's agent has already started floating the idea that James would be open to returning to the Steelers, presumably for the salary he idiotically turned down in the first place. For their part, the Steelers have leaked word that they have no interest in bringing a grovelling Harrison back at any price. Ouch.
The thing is, yes, Harrison is in the twilight of his career. And yes, he was dumb for not agreeing to take the pay cut when it was offered. At the same time, Harrison was the team's best pass rusher last season and until Woodley discovers the Stairmaster, would still be so heading into this one. Even with eroding skills, Harrison is a better option than either Jason Worilds or Dwight Freeney. Of course, there are still players left to be signed and the draft can change a lot of things so it's not imperative the Steelers decide on the lesser of three evils. However, they better do something or risk falling even further behind their AFC North rivals.