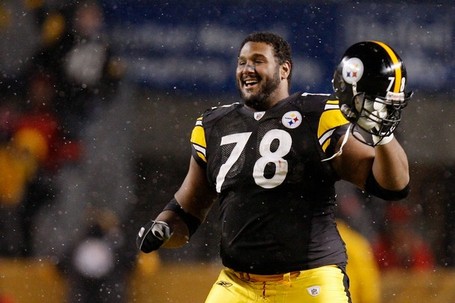 The city of Pittsburgh is understandably preoccupied. Between the streaking Penguins and resurgent Pirates, nobody is thinking about the Pittsburgh Steelers right now. Which is why I haven't been posting much as of late. It's also why seemingly irrelevant news can pass right under the radar like it did a couple days ago. News which, in about four months or so, we may be looking back on with quite a bit of consternation.
Longtime Steelers left tackle Max Starks is now a member of the San Diego Chargers.
Thus ends a long strange odyssey for Mad Max. The starting right tackle on the Super XL winning team, Max would lose his job to Willie Colon two seasons later. After a career ending injury to Marvel Smith, Starks moved to the left side where he would start for the team's next Super Bowl winning team. After being transition tagged two years in a row, the Steelers finally signed him to a lucrative four year $28 million contract in 2009.
Naturally, he would suffer a severe neck injury one year later which prevented him from playing in his third Super Bowl. The injury was significant enough that free agent Jonathan Scott was penciled in as his heir apparent at LT in 2011. Scott was a disaster and with rookie Marcus Gilbert equally ineffective the Steelers literally plucked Starks off the street to once again anchor the left side. He played well but ended up tearing his ACL in the season ending loss to the Fighting Tebows which left him once again out of the Steelers plans. Nevertheless, the Steelers brought Max back last season and while he struggled mightily at times, he was the only member of the line to start all 16 games.
There is no question age is catching up with Mad Max. There is also no question that the Steelers have been preparing to replace him. They drafted Gilbert two years ago and last year invested a second round pick in Mike Adams. While both guys have shown flashes of ability, neither has proven they can be counted on to be a dependable left tackle. New offensive line coach Jack Bicknell Jr. is said to favor younger, more athletic tackles which no doubt explains the team's lack of urgency in keeping Starks. Let's just hope when it comes time to kick off the 2013 season that their decision doesn't come back to bite them.