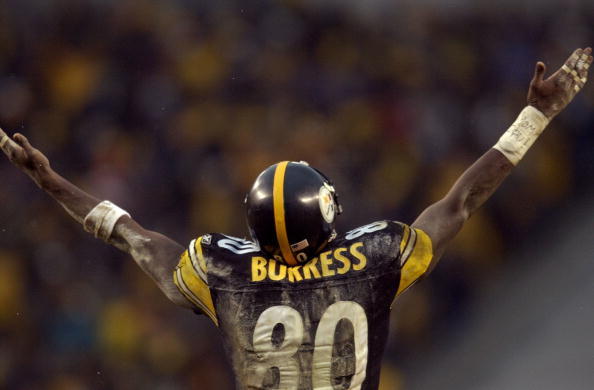 On the eve of their first preseason game, the Pittsburgh Steelers may have suffered their first significant loss of the year. Wide receiver Plaxico Burress was carted off the field yesterday after hitting the ground hard while trying to make a catch. He was later seen with his right arm in a sling. This morning, unnamed league sources are saying it's feared he has a torn rotator cuff. While we've yet to get an official diagnosis, if the rumors are indeed true then it would appear Plax's season is over before it had a chance to begin.
Losing Burress will be a serious blow to the team's already questionable receiving corps. He was probably going to be fourth on the depth chart, behind presumed starters Antonio Brown and Emmanuel Sanders with veteran Jerricho Cotchery penciled in at the slot. However, Burress was expected to be utilized heavily in the red zone, where his size and skill make him particularly dangerous. With Heath Miller still on the shelf, Plax would've been the team's premiere big bodied threat in the end zone, a role he was looking forward to filling.
If Plax is lost, the Steelers don't have many options to replace him. Rookie Markus Wheaton would be next in line on the depth chart but at 5'11, he's more of a Brown/Sanders clone than a substitute for Burress. The only remaining big receiver on the roster is rookie fifth rounder Justin Brown, who hasn't done much to distinguish himself thus far. With Plax down, the team's best large receiving threat is probably second year TE David Paulson.
Speaking of TE, that's another position that is quickly becoming a horror show. In addition to the rehabbing Miller, TE/FB David Johnson has also yet to return from last year's season ending surgery. Meanwhile, stonehands Matt Spaeth has been battling a bum knee and been in and out of practice all week. Depth at TE is enough of a concern that the Steelers signed third year journeyman Nathan Overbay (nephew of former Pirates first baseman, Lyle Overbay) and claimed Michael Palmer off waivers from Seattle. Palmer, a four year pro, has 21 catches and 3 TDs in 43 career games.
In the meantime, let's hope the rumors of Plax's demise are greatly exaggerated. At 36,  a torn rotator cuff would likely spell the end of his career. And while it would be slightly poetic for his final NFL catch to be a TD for the Pittsburgh Steelers, I'm sure he'd rather write another ending. Given the team's current depth chart, I'm sure we all would.