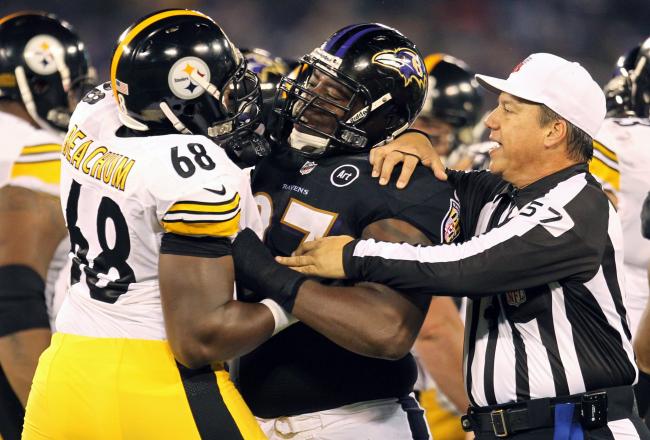 Tonight the Pittsburgh Steelers face the Washington Redskins in preseason game number two. Once again, those members of Steeler Nation living outside of the greatest city in the US of A will have an opportunity to watch the game live on ESPN. If there is a just and merciful God, Chris Berman will not be on the call. Leave it to the Four Letter to actually make me long for the unholy pairing of Bob Pompeani and Edmund Nelson.
There's really not much to preview before tonight's game. Le'Veon Bell will likely be a game-time decision. Other than that, we'll probably see the starters play a little longer than we did last week. The first cut down to a 75 man roster doesn't happen until after the third game so we'll still see plenty of future used car salesmen in the second half. If nothing else, it'll give them plenty of time to talk about Landry Jones.
Instead of going over the positional battles for seemingly the billionth time, I'm just going to concentrate on one. Offensive line.
The Steelers first team line looked pretty good last Saturday. Other than getting Marcus Gilbert some time at LT as insurance should something happen to expected starter Mike Adams, there really isn't anything that needs tweaking. I reserve the right to throw them all under the bus once the regular season begins. For now, though, as long as they play decently and walk away healthy…
Emphasis on healthy because if you stuck with that first preseason game after the starters left, you probably noticed the guys backing up the starter are, um, not very good. In fact, most of them outright stunk. It would be nice to hope our five starters stay healthy for all 16 games this season (C'mon Football Gods, you owe us one!) but soul-crushing reality is that the chances of that happening are roughly the same as me scoring a date with Jenna Haze. And if one of the starters goes down (not unlike the aforementioned Ms. Haze), it would be nice if the guys behind him didn't blow (again, like Jenna).
Utility man Doug Legursky is now in Buffalo so the Steelers no longer have that super sub to come off the bench in a pinch. John Malecki was tabbed as the new back-up center but his performance last week was not unlike that of a bright orange traffic cone. You can say I'm overreacting to one bad game but even the Steelers seem to be worried.
How do I know? Well, because they announced backup tackle Kelvin Beachum is going to get a look at backup center tonight. Beachum, you may recall, was the rookie seventh rounder thrown into the fire at RT against the Ravens last year when the line became the football equivalent of the Walking Dead. He performed admirably then and has looked fairly solid this year. In fact, there were reports out of camp that Beachum might challenge Gilbert for the starting RT position although it appears the Steelers are content to use him as the top backup.
After Beachum, though, the drop-off is precipitous. The aforementioned Malecki needs to not suck or he could very well be cut. There are slim pickens at guard, with only undrafted rookie Chris Hubbard and converted tackle Guy Whimper to back up the starters. The landscape at tackle isn't much prettier. The Steelers signed veteran D'Anthony Batiste at the start of camp and going off last week's showing, it's no shock he's on his sixth team in eight seasons.
The sad part is these backups really don't have much in the way of competition for their spots. All that remains at guard is a pair of undrafted rookies. People may be pulling for Joe Madsen because he's an ex-Mountaineer and Mike Golic Jr. because they're fans of Golic & Greenberg but one or both are almost certainly ticketed for the practice squad. Over at tackle, the only other options are another second genner, Joe "Son of Howie" Long (Firestorm was the bomb, yo!), who spent all of last year on the practice squad and rookie Mike Farrell, who was awesome on MASH but undrafted out of Penn State. If I was a second stringer, I know I'd sleep pretty comfortably at night knowing this was my so-called competition.
Clearly, I'm not the only one who realizes the vast wasteland that is the second and third string O-line. Reports are the Steelers are also concerned and may wait until cuts are made to see if they can poach a solid veteran back-up or two. Remember, they salvaged Flozell Adams off the junk heap several years back and that turned out okay. But things would sure be a whole lot simpler if the guys already on the roster showed them something.
Beachum came out of nowhere to shock the world last year. All I'm asking is for one, maybe two of these guys to step up. A glimmer of hope that if/when a starter has to sit out a game, Big Ben isn't going to be running for his life. That's not too much to ask, is it?