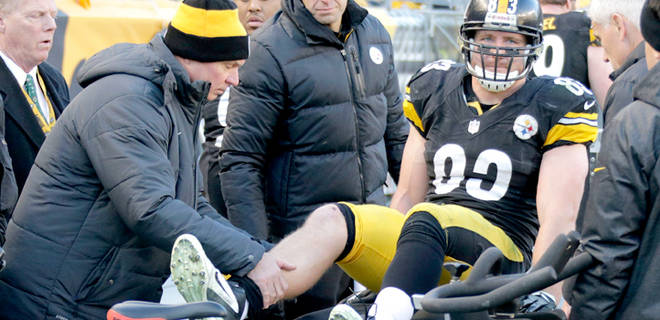 The Pittsburgh Steelers haven't played a single meaningful game this season and we're already deeply concerned about their injury situation. To review, the Black and Gold have suffered a rash of injuries that has decimated depth to at secondary, running back, and tight end.  The good news, that is if you believe the updates given out by incorrigible liar Mike Tomlin, is that many of those players will be back before long.
One who may not be is Heath Miller.
Alan Robinson at the Tribune-Review recently wrote a column detailing Tomlin's  current concerns. The bulk of the column is nothing I haven't been writing for two weeks now, although Mr. Robinson may want to rethink placing the O-line on his "No Worries" list after Monday night's horrendous display. What made the column newsworthy was a small item he slipped into a paragraph about the tight ends:
Heath Miller probably won't be back at least for the first month of the season and perhaps longer.
Whoa, there… Yeah, I've been saying all along that Heath is going to miss more time than the Steelers are letting on because when it comes to injuries, I never believe anything they say. But this was the first time my suspicions have been sort of confirmed by somebody published in one our fair city's news rags. Food for thought if nothing else.
Or it would've been if not for one of Mike Florio's army of cut and paste gnomes. ProFootBallTalk came across the line excerpted above and spun that off into an absurd 500 word post about how somebody at the Trib has reported Heath Miller is absolutely positively out for the first month of the season. PFT needs to either find writers who understand what modifiers like "probably" mean or chill a bit when it comes to the site wide Anti-Steelers edict handed down by Florio.
The Heath story was met with immediate rebuttal by the local media.  Today, Jason La Canfora posted an update that says he's hearing Heath may be back at practice in a couple weeks with an eye toward playing in the season opener against Tennessee. Amusingly, La Canfora even referenced the asinine PFT story in his post; "he could return to the lineup sooner than some have reported." *Mic Drop*
To be fair to the Gnome, I'm not totally convinced Heath is on track for a week one return either. When it comes to Steelers and injuries, it's always best to never believe it until you see it. Heath is still on the PUP list and I've heard nothing to indicate he's slated to come off it anytime soon. When he's off the PUP, then I'll believe his return is imminent.
Whether that's in two weeks or six remains to be seen. With Matt Spaeth lost for two months (or more) and David Johnson probably out for the year recently re-activated from the PUP list, the Steelers are still extremely thin at TE. The sooner Heath is ready, the better off the Steelers inept offense will be.