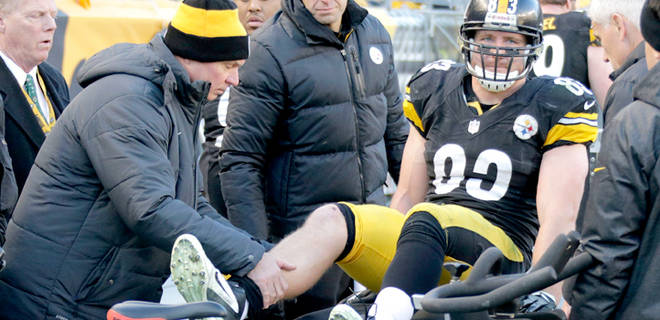 Lost among all the activity surrounding the 53 man roster was news that Pittsburgh Steelers Pro Bowl tight end Heath Miller has been activated off the Physically Unable to Perform (PUP) list. Don't get too excited over the prospect of shouting "HEEEEAATTTTH" after a clutch third down catch yet, though. Heath is still working his way back from the catastrophic knee injury he suffered in last year's season finale. This is more or less a procedural move.
Under the NFL's bizarre injury policies, players on the PUP can't do anything but lay on the training table and stand around the sideline. For Miller to actually practice with the team, he needed to be placed on the active roster. Until he puts on the pads and starts throwing blocks and running routes, I wouldn't expect to see him in the starting line-up anytime soon.
Counting Matt Spaeth, who has been moved to IR albeit tagged with the designation to return in six weeks, the Steelers currently have five tight ends on the roster. The expected starter is David Johnson, who was lost for the season last year and started this one on the PUP. Johnson is more of a TE/FB hybrid (He was actually slated to be the team's primary fullback when Todd Haley first arrived) but with Will Johnson establishing himself as the team's top fullback, they can afford to move him back to TE. I'm not quite sure what the Steelers see in Johnson – David, not Will – as he's never impressed me as a blocker nor pass catcher.
In fact, Haley was using Kelvin Beachum as the sixth linemen/tight end eligible in running sets during the preseason. Second stringer David Paulson isn't much of a blocker either but at least he has pretty good hands.  The Black and Gold also kept veteran Michael Palmer, who they claimed off waivers from Atlanta earlier in the preseason. I only saw a little of Palmer but he seemed to be a decent blocking tight end.
None of these guys are Heath Miller, however. Although it would be pretty cool to hear 30,000 people yell "JOOOHNSOON!" after a catch.