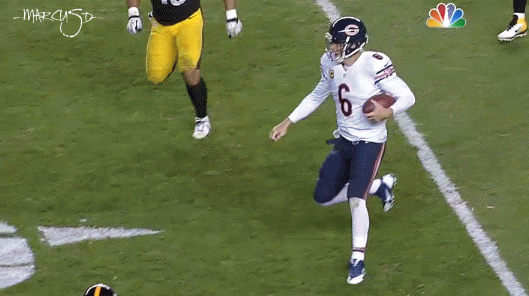 During the preseason they just didn't care. Nothing went right in week one. Last Monday, a laughable running game combined with a porous offensive line to spell doom. So whose turn would it be to crap the bed this week?
Ben Roethlisberger, come on down!
The Pittsburgh Steelers remained winless in 2013 – counting preseason – falling to the Chicago Bears 40-23 on Sunday Night Football. On the positive side, the offense finally showed some signs of life. As expected, the return of Heath Miller opened things up in both the running and passing games. Unfortunately, the Black and Gold found yet another way to lose as they've become seemingly allergic to success.
When did we become the Cleveland Browns?
Let's start with some positives. Heath returned and caught 3 balls for 35 yards. Todd Haley and the coaching staff FINALLY got the memo that One Yard Redman was useless garbage and split playing time exclusively between Felix Jones (4.9 YPC) and Jonathan Dwyer (a Bettis-esque 25 yard gain in the 2nd). They combined for 73 yards which is what the team TOTALED through the first two games. Kelvin Beachum also saw significant time at RT in lieu of  steadily declining Marcus Gilbert.
But last night was first and foremost the Antonio Brown Show. Both he and Boss Todd deny there was an altercation last week, nonetheless the Steelers made a clear effort to get the ball to their best (only?) playmaker. AB responded with 9 catches for 196 yards and two TDs. The second TD being a ridonkulous one handed snag in the corner of the end zone where he managed to reel in the ball while dragging his feet inbounds. I've been critical of Brown – and we can argue whether he's a good #1 or very good #2 – but the guy is definitely a player.
All the positives on offense were ultimately undone by turnovers. Five of them to be exact, with four belonging to Big Ben. For the goofs on Twitter who constantly bitch about "Open up the offense! Free Ben!" last night was example 1-A of why you can't treat Ben like Peyton Manning. He threw 41 times for 404 yards yet fumbled twice and threw two interceptions. Yes, the O-line is partly to blame – Ben was sacked 3 times and under constant duress – but the pressure was nothing he hadn't faced before. His freewheelin' gunslinger attitude simply led to too many mistakes.
To add insult to injury, the Bears opportunistic defense took two of those turnovers back for touchdowns. All told, Chicago scored 16 points off Ben's miscues and 19 points off turnovers altogether. When your offense is being held together with bubblegum and duct tape, there is no way to overcome that many errors. Especially when your defense doesn't even up the ledger.
Ah, the defense. Again, I saw some Twit-wits last night actually trying to argue the defense stunk because they gave up a few big plays to the Bears offense. No, the Steelers D isn't the dominant D of old but they are pretty damn good. Chicago did nothing for almost two entire quarters leading Jay Cutler to admit afterward he played a lousy game. And I don't want to hear any bitching about Ike Taylor. Last week he held AJ Green to 41 yards, this week he capped Brandon Marshall off at 51 – 41 one of which came on a single catch that no corner in the league could've defensed any better.
Troy Polamalu looks almost like the Troy of old. The defensive line is playing better than it has in years. Jarvis Jones and LaMarr Woodley continue to bring heat on opposing QBs. The only negatives last night were idiot loudmouth Ryan Clark missing a tackle on Matt Forte that led to a 55 yard gain to set up one score, and the aforementioned bomb to Marshall which set up an equally insane AB-esque TD catch by Earl Bennett. The other scores were either on the offense or set up by one of their innumerable turnovers.
Yes, the D didn't generate any turnovers for the third straight game. They did finally sack the quarterback, albeit only twice. However, when you hold one of the league's better QBs under 200 yards, one of the top backs under 100, and one of the top receivers under 60, there's is no possible way you can say they played poorly. The only guy you can maybe laugh at is poor Robert Golden, who got absolutely TRUCKED by Cutler for a crucial first down.
And that play is an apt synopsis of the Black and Gold's 2013 campaign. As I said in my game preview, only 3 teams in the past 23 years have made the playoffs after starting 0-3. The Steelers travel to London to meet a truly wretched Minnesota Vikings team that lost to the Cleveland F'n Browns then enjoy a bye week before starting a stretch where they'll meet such powerhouses as the Jets, Bills, and Raiders. Maybe Le'Veon Bell will come back and rejuvenate the offense. Maybe they'll get on a roll and tear off 3-4 straight wins.
Although it just may be too little, too late.