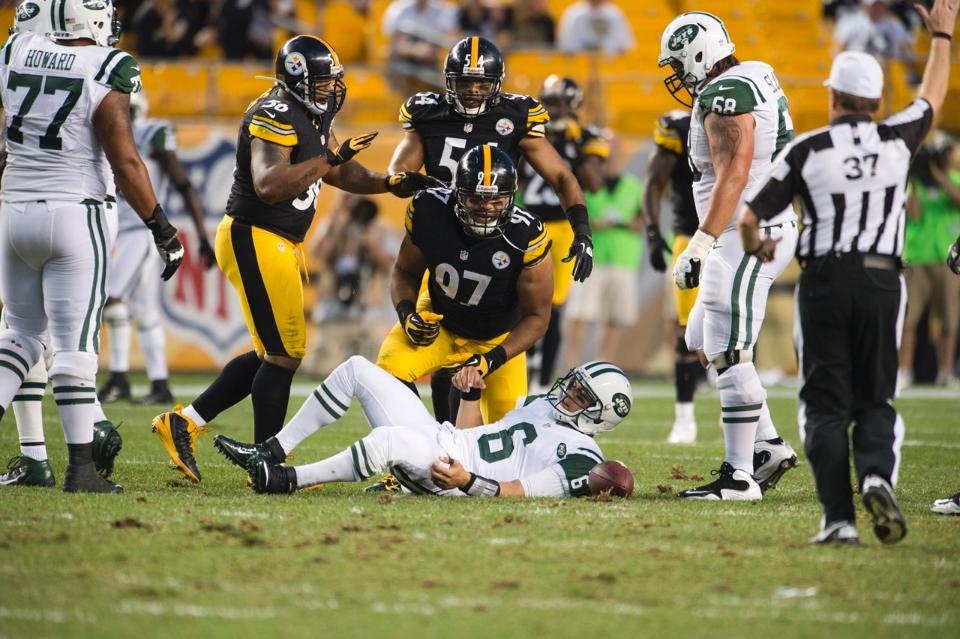 Pittsburgh Steelers head coach Mike Tomlin promised changes after his team's terrible loss to the Minnesota Vikings in London. As with anything spoken by Tomlin, I operated under the standard assumption if his mouth was moving, he was probably lying. Lo and behold a few days later the team made a trade for left tackle Levi Brown in an effort to bolster that position.
If you thought that was the end of the changes, boy were you wrong. Evidently all it takes is a historically disastrous start for Tomlin to finally mean business.
The offensive line won't be the only line undergoing change when the Steelers take the field against the Jets. Cam Heyward has been elevated to starting defensive end ahead of fellow first round pick Ziggy Hood. Brett Keisel will continue to start on the opposite side with Steve McClendon manning the middle.
This move no doubt comes in response to the team's utter inability to stop the run. The Steelers, once one of the stingiest run Ds in NFL history, have fallen to 25th against the rush, surrendering an average of 122 yards per game. Yes, Adrian Peterson is a beast but there's no excuse for getting gashed by the two-headed monster of Giovani Bernard and Benjarvus Green-Ellis or the suddenly ordinary Chris Johnson. Something needed to change.
Of course, most have identified McClendon as the main downfall in run defense. McClendon is certainly more athletic than his predecessor – my arthritic cat is more nimble than Big Snack – but he doesn't dictate double teams or hold the point of attack like Hampton did. There really isn't anything that can be done, though, as with Alameda Ta'amu a drunken wash out, the Steelers don't have any viable options at nose tackle. Keisel has been a steady contributor which leaves only Hood.
I've been saying for awhile now that Heyward should probably start over Ziggy. Of all the D-linemen, Son of Ironhead has been by far the most impressive this year. It seems like every time he's in the game he does something positive. I dunno if he's been watching JJ Watt tapes or what but not only does he push the pocket on pass plays, he's become very good at getting his hands up to deflect passes. I'm not sure how he'll do against the run since the Steelers have been using Hood in the base and Cam in obvious pass-rush situations but at this point I don't see any harm in redistributing some playing time.
Hood is a solid but thoroughly unspectacular player on a defense that is in desperate need of playmakers.
If Levi Brown starts and assuming Kelvin Beachum takes over RT, this latest line-up change really speaks to how unspeakably awful Kevin Colbert and company have drafted. Counting Hood, that'll be one first round and two second round picks sitting on the bench this weekend while another recent first rounder (Rashard Mendenhall) continues to stink up the joint in Arizona. Teams miss on picks all the time but four premium draft choices all proving to be useless pretty much sums up why the Steelers find themselves in the situation they're in.