The Pittsburgh Steelers continue to try and remake their fatally flawed roster through cast-offs and dumpster diving. Good luck with that. At this point, it's growing increasingly obvious the powers-that-be didn't have a Plan B on top of an already shaky Plan A. What a mess.
Anyway, there was a shuffling of the linebacker position with veteran Kion Wilson being released. The Steelers re-signed Stevenson Sylvester to fill his vacated spot at inside linebacker. Sylvester was a fifth rounder back in 2010 who they hoped would blossom into an eventual starter or quality back-up at ILB but did exactly bupkiss in this three years here. He was one of the final cuts when the team had to get down to the final 53 man roster. He also has a first name for a last name and a last name for a first name which makes me dislike him immediately.
As Mike Tomlin noted in his press conference, rookie sixth rounder Vince Williams has become the starter with Larry Foote lost for the season. Initially it was Wilson starting, then it was a rotation system before Williams ultimately took over the job pretty much full-time. He's been up and down – VW has a good motor and has been active but he's also gotten out of position and missed a number of important tackles. The Steelers special teams have been shockingly good so Wilson's exit has to be related to ILB play.
There was basically a three-way competition in camp for the back-up ILB spot between Wilson, Williams, and Sylvester. Williams had easily the best pre-season and combined with being a 2013 draft pick, his spot was nearly certain. That left third year free agent Wilson and the underachieving Sylvester to battle for the final slot. Despite a fairly unremarkable pre-season, I guess the Steelers decided to go with the devil they didn't know in keeping Wilson. No doubt they never expected to lose one of their starting ILB for the entire year because why plan ahead?
Speaking of depth, safety Will Allen was also spotted at Steelers HQ yesterday. Allen was signed as a free agent by Dallas over the off-season but never really factored in down there and was released earlier this week. The Steelers officially re-signed him this morning. Tomlin mentioned in his presser that back-up safety Damon Cromartie-Smith is hurt and likely out so that probably factored into their decision.
They do still have two back-up safeties on the roster, Shamarko Thomas and Robert Golden. No word on who they released yet to make room for Allen. I think it's pretty safe to assume they'll ditch Golden. I don't see how anybody can take him seriously after his disgraceful display: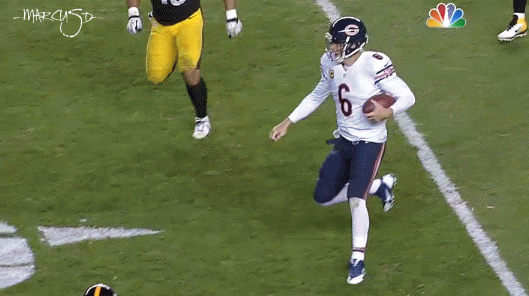 If one gif can sum up an entire season, that's the one.