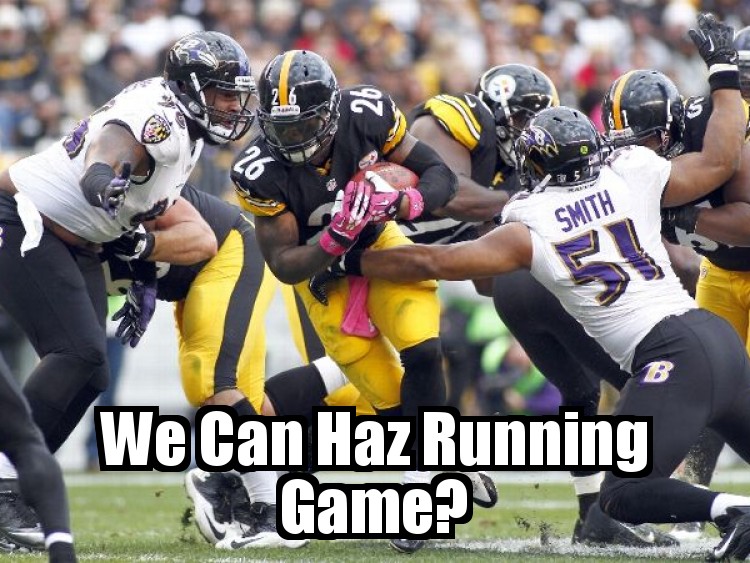 I'm not sure we can say the Pittsburgh Steelers are all the way back. But they're  getting there. Yesterday afternoon, the Steelers took a giant step toward digging out of the 0-4 hole that began their season by pulling off a last second victory over the Baltimore Ravens 19-16.
Last week, the Steelers finally broke out of the turnover slump by picking off Geno Smith twice. This week, they finally found a running game. Rookie Le'Veon Bell just missed his first career 100 yard game (93 yards) as five guys combined to pile up 141 yards of rushing offense. Bell averaged 4.9 yards a rush which was particularly impressive when you consider his longest gainer was only 11 yards.
Speaking of impressive, the running game got on track despite the offensive line suffering yet another setback. Marcus Gilbert was injured early on leading to Guy Whimper taking his place at right tackle. Whimper had been used exclusively at guard since coming here but is a tackle by trade so that's not a huge shock – that they'd rather insert Whimper into a game than Mike Adams is. Adams did see some action when LT Kelvin Beachum was briefly shaken up but it appears he's buried deep inside Mike Tomlin's non-existent doghouse.
The makeshift line managed to protect Ben Roethlisberger fairly well. Ben still got sacked 3 times and hit another 4 although he wasn't under constant siege like in weeks past. A lot of that is owed to the team's success in the running game which kept the offense out of a lot of obvious passing situations. For all the buffoons on Twitter with the #freeBen hashtags and incessant whining about turning Ben loose, yesterday was the text book example of why the offense needs – NEEDS – a strong running game to be successful.
Todd Haley called his second excellent game in a row. His trick play du jour this week was unveiling a WildCat formation with Bell at QB. It worked well the first time, not so well the second – shades of last week where Haley went to the pass option with Antonio Brown once too often. He also unveiled a sweet shovel pass play which led to Heath Miller scoring the team's lone touchdown.
I'd certainly like to see them score more than one TD per game but overall I thought the play calling was excellent. The game should've been put out of reach early in the fourth quarter when rookie Derek Moye – who earlier made a fantastic leaping 16 yard catch – was wide open in the end zone only for Ben's perfect pass to fall right between his arms. Then again, the Steelers were basically gift-wrapped a field goal earlier in the half thanks to Elvis Dumervil, who got flagged for two 15 yard personal fouls on the same drive.
Which brings to mind why I am cautious about declaring the Steelers are back. Ratbird mistakes really aided the Black and Gold cause yesterday. In a game that came down to a walkoff field goal, Baltimore miscues definitely helped us out. Despite the Steelers committing the game's only turnover – a fumble by Heath – it was the Ravens who made the two worst errors. The aforementioned Dumervil drive was the first, the second came early in the fourth quarter when John Harbaugh ordered an insane onside kick.
Perhaps Harbs was desperate thanks to a Baltimore offense that was absolutely pathetic for most of the game. The Steelers defense certainly deserves a lot of credit for another solid effort. They didn't force any turnovers but came within two minutes of going two whole games without surrendering a touchdown. It was a little concerning – and a little too reminiscent of last season's late game breakdowns – that they allowed the Ravens an eight minute game tying TD drive to close out the game, though.
Captain Checkdown was in full effect on that drive as he'd been for the bulk of the game. I still can't believe they paid Joe Flacco $120 million to throw his dizzying array of screens and dump-offs. Baltimore's entire offense consists of short safe passes which is no longer effective because their star running back is a gimp. Without Ray Rice running effectively and mixing in the ability to turn those screens into 10-15 yard gains, they're doomed to trying to pound out drives a few yards at a time.
Steve McClendon had his best showing at nose tackle, collapsing lanes and making some nice stops in the running game. Cam Heyward and Lawrence Timmons were also very active with LT leading everybody with 17 tackles. There was one defensive breakdown – Jacoby Jones blew past William Gay for a TD but Flacco overthrew him by five yards – although ultimately Baltimore's best offensive play occurred on a 41 yard miracle completion to Torrey Smith where Ike Taylor had perfect coverage. Again, there is certainly room for improvement. For one, I would like to see more splash plays; forgetting turnovers, they surely need more than 1 sack and 2 QB hits, both by LaMarr Woodley.
Get well soon, Jarvis Jones!
In his weekly press conference, Mike Tomlin mentioned having dynamic special teams performers who have yet to produce a dynamic play. Emmanuel Sanders nearly pulled off a play for the ages when he made the (initially) foolish decision to bring a kick-off out of the end zone then proceeded to zip by everybody for what appeared to be a 100+ yard touchdown. The refs hosed us on that call but karma was eventually served thanks to Ben's steady hand and the leg of Stonecold Shaun Suisham. I seldom talk about kickers because, well, they're kickers but Suisham is quietly putting together a Pro Bowl caliber season. He's easily been the team's most consistent offensive weapon.
With yesterday's win, the Steelers move to 2-4. While having a better record than five teams in the whole NFL is hardly cause for celebration, it's not bad when put in perspective. Both the Ratbirds (3-4) and Browns (3-4) match the Steelers in the loss column with Cincy winning games by the skin of their teeth. The AFC is truly a den of mediocrity with the AFC North leading the race to the middle. If the Steelers can continue to build on the improvements of the past two weeks, that's a race they just might be able to win.