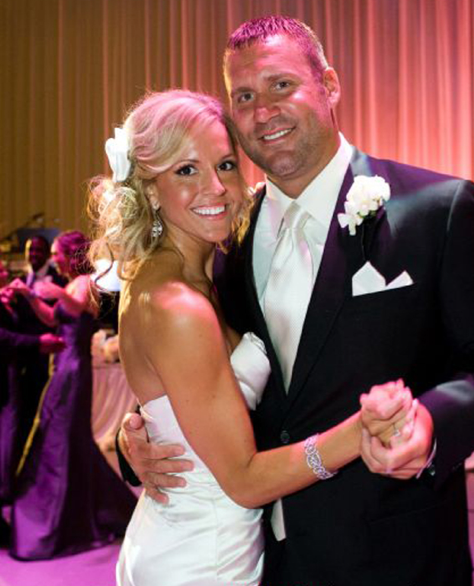 The more things change, the more things stay the same.
Forbes recently polled fans in order to find the most disliked NFL players. For the third consecutive year, Pittsburgh Steelers quarterback Ben Roethlisberger cracked the top five. I'm not going to belabor why Ben is on the list – at this point, the Milledgeville story has been beat to death and I don't think anybody is going to change their opinion about what happened in that dingy stinky bathroom stall – except to say I truly think today's Ben is not the same as "Bitches, Take My Shots" Ben.
For one, he settled down with a nice Pittsburgh Girl. He went back to Miami (Ohio) and completed his degree. Finally, he became a father. In fact, Ben and his wife Ashley recently announced they have second child on the way.
In any event, the Most Disliked list is always a sham anyway. The truly bad guys almost never make it while guys who, thanks to the media, are perceived as dirty players will rank highly. For years, Ray Lewis wouldn't crack the top 10 despite PLEADING GUILTY to being involved in a freakin' stabbing death yet Hines Ward would show up because he threw a couple crackback blocks. It's insanity.
And the insanity continues this year. Michael Vick retains his iron grip on the top spot due to his absolutely barbaric treatment of dogs. If you read Philly blogs – that is if you can get past the indecipherable grammar and Kindergarten level scribblings that pass as "thoughts" – they'll go on about how Vick has paid his penance, he's a changed man, they're just dogs, let it go, etc. I truly hope Vick is a changed man but, no, we don't have to let it go. He got his job back, he's being paid money most ex-cons won't see in ten lifetimes, pardon me if I don't pull out my tiny violin. He's a despicable asshole and always will be.
When we move to second and third place is where the list goes off the rails. Second place belongs to Manti Te'o while the Detroit Lions Ndamukong Suh clocks in at number three. Te'o is either a naive idiot or a closet homosexual. Neither of those things are worse than driving drunk or beating your baby momma. Suh has taken Hines' spot as the NFL's resident Bad Boy. Yeah, Suh is a bit of a on-field psychopath – his actions are far worse than what James Harrison was routinely punished for – but, again, being crazy on the field is totally different than being crazy off it.
The rest of the top 10 barely any sense at all. Mark Sanchez, Jay Cutler, and Tony Romo follow Ben on the list. Sanchez is a shit quarterback and bit of a ponce but he's never done anything blatantly illegal. Cutler's crime near as I can tell is being a pussy during the NFC Championship Game and taunting his opponents. Romo? If choking is a crime, why isn't Peyton "11 Playoff Appearances, 1 Ring" Manning on the list?