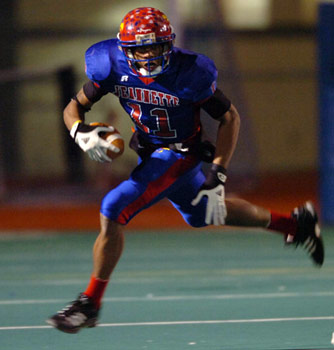 Oakland Raiders quarterback Terrelle Pryor faces the Pittsburgh Steelers this Sunday. For my readers living outside of Pittsburgh, that might not seem like a big deal. To out-of-towners, Pryor is probably familiar primarily for being the most well-known tattoo enthusiast to ever play quarterback at Ohio State. Here in Pittsburgh, he's something of a high school legend.
Pryor played high school ball for Jeanette, a small suburb southwest of the city. He was really good. How good? The dorks who rank high school football players had him ranked as the #1 prospect in the country back in 2008.
I saw Pryor play twice. Once in football and once in basketball. Yes, the Legend of Terrelle Pryor isn't limited to his exploits on the football field. Not only was he a standout football player, he was a legit NBA prospect as well. Before he broke out in football, Pryor committed to Pitt on a basketball scholarship before leading his school to a state basketball title. He also played for a local high school all-star team that featured two current pro basketball players and fellow OSUer and current Steeler Cam Heyward.
But football is where Pryor experienced his greatest glory. Pryor was a two time Pennsylvania player of the year while leading his high school to two state finals, winning the championship in his senior season. Now it should be noted Pryor didn't exactly face the stiffest competition – I won't bore you with an explanation of Pennsylvania high school athletics but let's just say they classify schools according to size so if the biggest schools are the major leagues, Jeanette would be playing in the equivalent of AA. When I saw Pryor play, he literally looked like a man among boys.
I don't remember how may yards he ran for but in the game I attended he'd take the snap and once he got around the tackle. he'd be 10-15 yards down the field before anybody touched him. It's funny, I catch the Raiders on Red Zone every now and then and see him running the same option off-tackle play and he still gets good yardage with it. The only other thing I remember is his passing being a little rough – he had some funky mechanics, like a wide receiver throwing the football. He also played some defensive back which was funny because with his leaping ability and dwarfing the guys he was playing he was able to swat down passes effortlessly.
Anyway, the Post-Gazette had an excellent write-up about the Legend of Terrelle Pryor in yesterday's edition. What's notable about that article is evidently Mike Tomlin met with Pryor prior to the Supplemental Draft and offered to draft him. Pryor said Tomlin told him a story about a QB having a hard time playing for his hometown team so he declined playing for the Steelers, who were naturally his favorite team. It makes sense, Pryor never considered going to Pitt for football nor did he choose Penn State, which isn't nearby but close enough.
I'm sure Pryor is telling the truth about his conversation with Tomlin but it does beg some questions. How did the Steelers think they would get him? The Supplemental Draft operates differently than the regular draft – it's more or less a silent auction. The teams get a list of the players available and if they want one, they submit to the league saying what round they would draft him in. Whoever submits the earliest round get the player with the catch being you forfeit that pick in next year's draft. So, yes, despite winning 12 games to Oakland's 8 that season, the Steelers could've gotten Pryor if they had made a 1st or 2nd round offer (Oakland got him for a 3rd).
Which tells me one of two things. Either the Steelers were extremely high on him and willing to sacrifice a premium pick for a guy who probably wouldn't start for them for the foreseeable future. I suppose if you think the guy is the next Colin Kaepernick that's a decent gamble but that'd be tough to lose a first or second rounder on a non-need. The other option is the Steelers felt his spotty college career would lead to questions and they could get him with somewhere between a 3rd to 5th round pick. Considering they wasted a fifth round pick on Dennis Dixon and just used a fourth on Landry Jones, that is probably the most likely scenario.
Whatever the case, Pryor ended up in Silver and Black and not Black and Gold. And I guess we'll known on Sunday if that worked out best for all concerned.