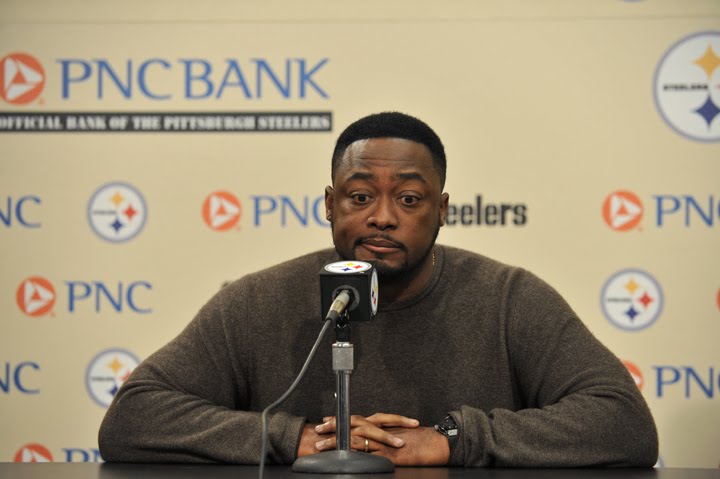 Welcome to this week's recap of Pittsburgh Steelers head coach Mike Tomlin's Tuesday press conference. Before we dig into our bag of goodies like a sugar-addicted kid on Halloween night, I'd like to take a moment to mention that this week I have some company in detailing Tomlin's ineptness.
The Grantland website features a weekly column by Bill Barnwell entitled, "Thank You For Not Coaching." which highlights the best and (mostly) the worst of the past weekend's coaching moves. Not only does the column detail how dumb Tomlin is at making challenges, Coach T also pulls off a rare Daily Double with two of the three Worst Calls Of the Week being his.
Now that we have the plugs out of the way, on with this week's press conference:
An obvious slow start
Yep, pretty damn obvious.
Starts don't determine the outcome of football games
So touchdowns scored in the 4th quarter count as 9 points while ones scored in the 1st are only worth 6?
Bah, what does it matter. The Steelers seldom score anyway.
The Oakland Raiders had two red zone possessions, they scored touchdowns on both
Man, to have an offense capable of going 2 for 2 in the red zone. If we only had the likes of Terrelle Pryor, Denarius Moore, and Rod Streater.
Both those scores occurred within the first 10 minutes of the game, by the way. So it appears starts DO determine the outcome of football games.
We have to play football for 60 minutes
Ah, the good old days. When the Steelers had a badass defense. And a head coach who knew what the hell he was doing.
Tell us what you thought of the Steelers effort on Sunday, Mike.
Obviously, some things that are disappointing
Yep, there were a few disappointments. The two missed field goals. Future Hall of Famer Le'Veon Bell rushing for 24 yards. Ben Roethlisberger getting sacked five times and throwing two picks. All the drops. The piss-poor clock management.
Oh and let's not forget the 2-5 record.
Steve McLendon was ill yesterday
He probably saw his game tape from Sunday.
Lets talk quickly about New England
The quicker we forget about the Oakland game, the better.
Obviously in terms of dealing with Gronkowski, he's a physical match-up issue…he's big
That's what she said.
Their team has gone through some adversity themselves but have found a way win in the midst of it
I wonder why that is?
Oh.
They have a really good stable of backs
We have a stable of backs.
They average over 120 yards a game rushin'
Our stable doesn't average that. Our stable doesn't average even half of that. What do they got that we ain't got?
They use all three guys and really in a variety of situations, its really tough to get a bead on roles
Why can't we use all three of our guys in a variety of situations?
Oh.
They have a definitive run demeanor
By run demeanor, I guess he means they run up to and past the line of scrimmage as opposed the demeanor of our backs which is to hit the line, stop, and fall down in a heap.
Obviously, they got a solid offensive line
They should! It's hard to build a line when you're always picking late like the Steelers are. New England's had all those high draft picks all these yea….
Waitasec…
They'll be playing with a new right tackle, Marcus Cannon, a talented young guy out of TCU who we evaluated a few years ago when he came out in the draft
THEN WHY DIDN'T WE DRAFT HIM?
For the record, Cannon was a 5th round pick. Our second rounder? Marcus Gilbert.
Their nose, Chris Jones, is really lighting it up, he's got a relentless motor, I think he's got about 5 or 5.5 sacks
THEN WHY DIDN'T WE DRAFT HIM?
For the record, Jones was a 6th rounder this season. But, hey, who needed a nose tackle when we had Steve McClendon and Alameda Ta'amu!
Alright, enough about the Patriots. Let's talk about important issues facing the Steelers. Let's talk about…punting!
[Zoltan Mesko]'s been inconsistent and obviously he needs to perform better
Alas, he won't get the chance. Shortly after this press conference, the Steelers announced they cut poor Zoltan.
We like what Beachum's doing at left tackle
[Jarvis Jones] just not doing enough detail work right now
Tomlinspeak for Jarvis isn't doing his homework. And since he already took away their ping pong table and shuffleboard, his only recourse is to bench Jones in favor of Jason Worilds.
In Jones' defense, it's hard to concentrate in meetings when you're stuffed full of a delicious Subway pastrami.
I'm not opposed to evaluating anyone at any position that's capable of helping us get better
Luckily for Tomlin, the Rooneys don't share the same view when it comes to their coaching staff.
Our record is our record
Their resume is their resume, it is what it is, stupid is as stupid does…
Speaking of stupid, how do you explain that chaotic clock management at the end of the game. From the 3 minute mark down to the 2 minute warning, you got off a grand total of two snaps.
We didn't do a great job of handling those circumstances
You don't say?
Hopefully, we learn from that
You'll learn..when you're down by 11 with three minutes left…you have to…hurry up?
I don't want to be presumptuous and make it seem like getting a touchdown in that circumstance was easy
I love that the Steelers offense has been so pathetic that even Tomlin acknowledges that scoring when you have a 1st down on the Oakland 19 with time running out and the opponent playing a soft prevent type D isn't a given.
Obviously, together it was catastrophic
Tomlin is referring to the blocked punt where David Paulson got pancaked while Mesko juggled the snap. But he could just as easily be referring to the team's entire performance against Oakland. Let's hope the Black and Gold are "On the screws" (Tomlinism of the Week) against the Patriots on Sunday.
Oh, almost forgot. This week's Obviously Count: 27