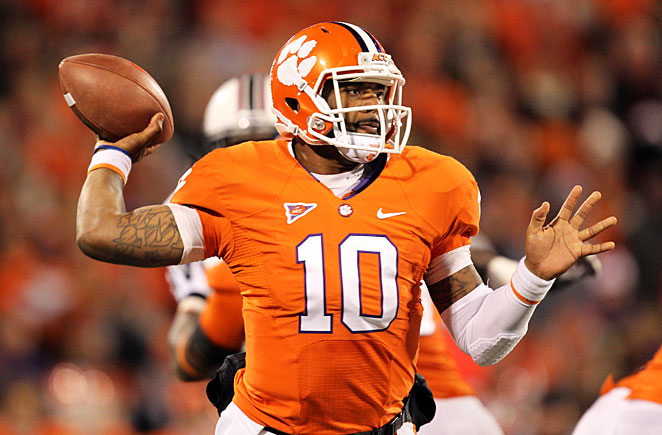 A few weeks ago, I mentioned that one of the weird little quirks of this season has been the fact NFL Network's Thursday Night Football has featured really good games. Last night, the Colts overcame a horrible first half to eventually edge the Titans and take commanding control of the AFC South. If the Pittsburgh Steelers were remotely in the playoff race, the Titans losing would be the important key news coming out of last night. But these are strange and unsettling times, my friends.
Going into halftime, the insufferable announcers teased "Steelers in Disarray" as one of the topics of discussion. Who should show up but alleged "insider" Ian Rapoport, to once again repeat his asinine and wholly unsubstantiated "scoop" that Ben Roethlisberger will be traded this off-season. This time, as to lend credence to Rapoport's apparently made-up rumor, they brought somebody named Mike Silver out to add the Steelers are happy that Ben is studying harder this year but still displeased he's "no Peyton Manning" when he's away from the facility.
The crowning jewel on this comedy of misinformation was the earth-shattering news that GM Kevin Colbert was at last night's Clemson game, apparently to scout quarterback Tajh Boyd. 
That not a single, NOT ONE, other NFL Insider has stepped forward to echo Rapoport's report leads me to believe NFL Network realized they f'd up and are now desperately scrambling to save face. Why they can't just let a sleeping dog lie, I do not know. To Rapoport's credit, nobody knew the putz existed a week ago, now he's being mentioned in the same sentence as King, Clayton, and Glazer. I wonder what he'll report this weekend before the Steelers kick off against the Detroit Lions at Heinz Field?
STEELERS DEFENSE vs LIONS OFFENSE
Remember what the Patriots did the Steelers a couple weeks back? Prepare yourself for a similar onslaught this week. Granted, Matthew Stafford isn't Tom Brady. But he's an excellent quarterback finally coming into his own after inconsistency and injury plagued him early on.
Stafford controls one of the NFL's most explosive offenses. The Lions have been involved in two of the league's craziest shoot outs (40-32 over the Bears and an epic 31-30 win over the Cowboys) and have scored over 30 points four times this season. If not for a 9 point loss to the Packers where they were missing the most dangerous offensive player in football, they'd be averaging nearly 28 points per game.
The player I'm referring to above is of course receiver Calvin Johnson. As Mike Tomlin stated in his press conference, everybody knows he's a threat. Defensive coordinators have thrown every coverage you can possibly imagine at the Lions. And no matter what they've tried, Megatron still gets his 100 yards and a touchdown every single game. You cannot stop him, only hope to contain him.
Meanwhile, focusing on Megatron frees up a lot of space for some of the other dynamic playmakers they have on offense. Chief among them is Reggie Bush, who has rushed for over 600 yards while adding another 350 yards to be the team's second leading receiver. Bush is literally a dual threat, capable of an explosive every time he touches the ball. Detroit also boasts a pair of talented tight ends in former first rounder Brandon Pettigrew and red zone threat Joseph Fauria.
Last week the Steelers defense looked much improved against a stunningly inept offensive football team. To steal a Tomlinism, they'll need to be on the screws this week. Any missteps and they'll be looking up at lopsided score before they know what hit them. To make things a little more difficult, the Steelers will probably be without two of their defensive stalwarts in Brett Keisel and LaMarr Woodley. Neither man practiced on Friday which is usually an indication they aren't going to be playing on Sunday.
If Woodley can't go, Jarvis Jones will take his place. Stafford has been protected very well this season and I don't imagine the devastating pass rush of Jones and Jason Worilds is gonna keep him up at night. Elsewhere, the defensive line has had all sorts of problems clogging gaps and stuffing the run, although most of that is the huge downgrade from Big Snack to Steve McClendon. Ziggy Hood will start in place of the Diesel which isn't nearly as big a drop-off but certainly doesn't help.
STEELERS OFFENSE vs LIONS DEFENSE
The only reason I'm not 100% sure this will be a one-sided ass-whuppin' is this aspect of the match-up. Say what you will about Todd Haley – and idiot Yinzers clearly believe we'd be Super Bowl bound if not for him – but the offense has not been bad the past month or so. The Steelers have been scoring points. 23 last week, 31 against the Pats, 27 in the loss to the Vikings…
The Lions defense isn't particularly bad, averaging about 24 points against which puts them at 18th in the league. They do give up a lot of yards, though, surrendering 275 yards passing and nearly 400 total yards per game on average. Of course, some of this is probably skewed by the fact the Lions offense will occasionally get out to a big lead, necessitating the other team to throw a bunch in an effort to catch up while they simply sit back and play bend-but-don't-break. Still, they don't seem particularly adept at stopping the pass, nor do they pressure the quarterback, having amassed only 15 total sacks, one less than the anemic Black and Gold pass rush has mustered.
Of course, the Lions pass rushers will be facing the Walking Dead this week in the form of the Steelers banged up offensive line. There isn't a single member of the O-line who hasn't missed time at practice this week. However, Ramon Foster was the only one who didn't make it on Friday which means the Steelers will probably go with last week's line-up of Guy Whimper at RG with David DeCastro sliding over to left and Kelvin Beachum and Marcus Gilbert starting at the tackles. Gilbert leaves practically every game he plays in because he's evidently a giant pussy so if the pattern continues Mike Adams will also be available.
Assuming the beat up line can keep the NFL's resident psychopath, Ndamukong Suh, away from Ben Roethlisberger, there should be plays to be made. If Ben doesn't want to see Tajh Boyd behind center next season, it would probably behoove him to avoid the bonehead turnovers that have plagued him nearly every game. With Suh and Nick Fairly up front, I don't expect much of a ground attack from Future Hall of Famer Le'Veon Bell but the wide receivers should have a good day. The key, of course, being the Steelers MUST SCORE TOUCHDOWNS. Settling for 3s in games like this is a recipe for disaster.
I don't expect a disaster on the tsunami like scale we witnessed up in New England. The Lions are talented but they're still young. Young teams on the road don't usually display the kind of swagger you saw from Tom Brady. For that reason and that reason alone, I expect the Steelers to keep this one respectable. A win would be nice, but at this point I just don't want to be humiliated. We've already suffered enough.