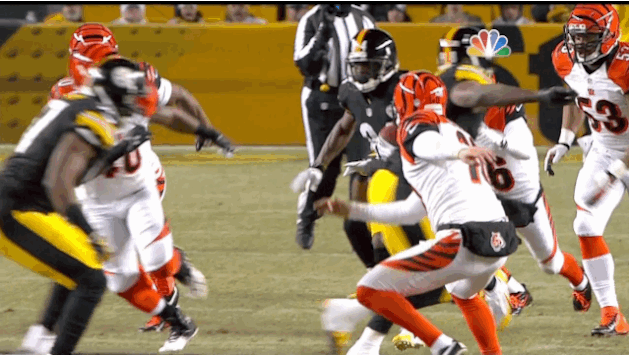 If ifs and buts were candy and nuts, every day would be Christmas…
The Pittsburgh Steelers laid a mighty whuppin' on the Cincinnati Bengals, temporarily keeping their slim playoff hopes alive with a 30-20 victory on Sunday Night Football. The final score doesn't accurately reflect how one-sided this game actually was. The Black and Gold roared out to a 21-0 lead in the first quarter and basically coasted the rest of the way. Meanwhile, Cincy never seemed to get on track, repeatedly shooting themselves in the foot with mistakes or ill-timed penalties. As Cris Collinsworth, a former Bungle, said after one of their players got flagged for taunting down while down 20 points, "Well, it's the Bengals."
Cincy's defense, which looked so impressive on paper, couldn't stop the Steelers offense all night. Perhaps not coincidentally, the Steelers ran the no-huddle nearly the entire game. I remember two months ago when everybody could see how much more effective the offense was with Ben Roethlisberger calling plays, coach Mike Tomlin was asked why they didn't use it more. His typically asinine response was that the no-huddle "limits" what you can do and is more of a change-of-pace gimmick than something they can use with regularity.
Hey Mike, I hear Texas has a job opening you may be interested in…
Ben was perfect on his first half dozen or so pass attempts en route to finishing a tidy 20/25 for 191 yards with a sweet scrambling TD pass to Antonio Brown for the team's second score. He did throw one pick although that was due to the swirling wind at Heinz Field knocking down a long bomb intended for Emmanuel Sanders. The banged up offensive line – led by tackles Kelvin Beachum and Marcus Gilbert, who are clearly hurting but kept coming back out to play – performed magnificently once again in limiting the vaunted Bengals pass rush to only one sack. Even sad sack Sanders had a good game, finally coming through in the clutch with a nifty first down catch and run for 8 yards that salted away the win.
Of course, the man of the hour was once again Antonio Brown. He only caught 5 balls for 66 yards but he made the big play the team needed. This time it came on special teams as he juked the Bengals' gunner out of his jock en route to an electrifying 67 yard punt return TD. Sure it came a week late but better late than never I suppose.
Le'Veon Bell continued his ascent, rushing 24 times for 57 yards and catching 5 passes for 50 to put him over 1,000 combined yards for the season. It'd be nice to see him average more than 2.4 yards per carry but a lot of his short gains came after the Steelers went up and the Bengals knew they were trying to milk the clock. He's not quite the budding superstar zealous Steeler fans so badly want him to be although he's definitely a player to watch. A four yard gain early in the third quarter where he stiff armed one Bengal to the ground then ran over another was positively Bettis-esque.
Kevin Huber, the Bengals poor pathetic punter, had a nightmarish game. Not only did he get his ass knocked the F out by Terence Garvin on AB's punt return, he couldn't handle a terrible snap and got tackled a foot outside his own end zone setting up Bell's goal line plunge for the game's first score. Of course, it was that kind of night for Cincinnati as not only did their punter leave with a broken jaw, they also lost actual important football players when starting CB Terence Newman hobbled off the field and former Steeler James Harrison left with a concussion.
Of course the Steelers had injuries to deal with themselves as LaMarr Woodley returned long enough to be introduced in the starting line-up graphic before his fat ass put too much strain on his good calf and he limped off never to return. I've never seen a player fall so far so fast as Woodley. I'm at the point the Steelers should make an effort to trade him for ANYTHING this off-season. Even if they only get a 4th or 5th round pick, it'd be a good deal just to get rid of his ridiculous contract and be able to re-sign the far superior Jason Worilds. The guy has literally done NOTHING for two seasons now.
Worilds and the rest of the Steelers defense put forth their finest effort in months, limiting Cincy to only 275 yards of total offense, much of which came late in the second half. Troy Polamalu – who continues to be the talk of "Will he return next year?" rumors – had a fine game forcing one fumble and nearly causing two other turnovers. Ike Taylor and Cortez Allen took turns covering AJ Green and kept him pretty well in check until they started playing softer semi-prevent style coverages up big in the second half. Al Woods started at NT in place of the injured Steve McClendon and did a much better job stuffing up the middle of the line. Rookie ILB Vince Williams had a nice game, leading all non-corners with 6 tackles.
It was an excellent all-around effort from the Black and Gold. Unfortunately, it came in mid-December with the team's playoff hopes hanging by the slimmest of threads rather than in October or November when they could've made a move. If only they had made some of these line-up and tactical changes sooner. If only they hadn't suffered so many injuries early on. If only…
Well, Christmas is right around the corner.