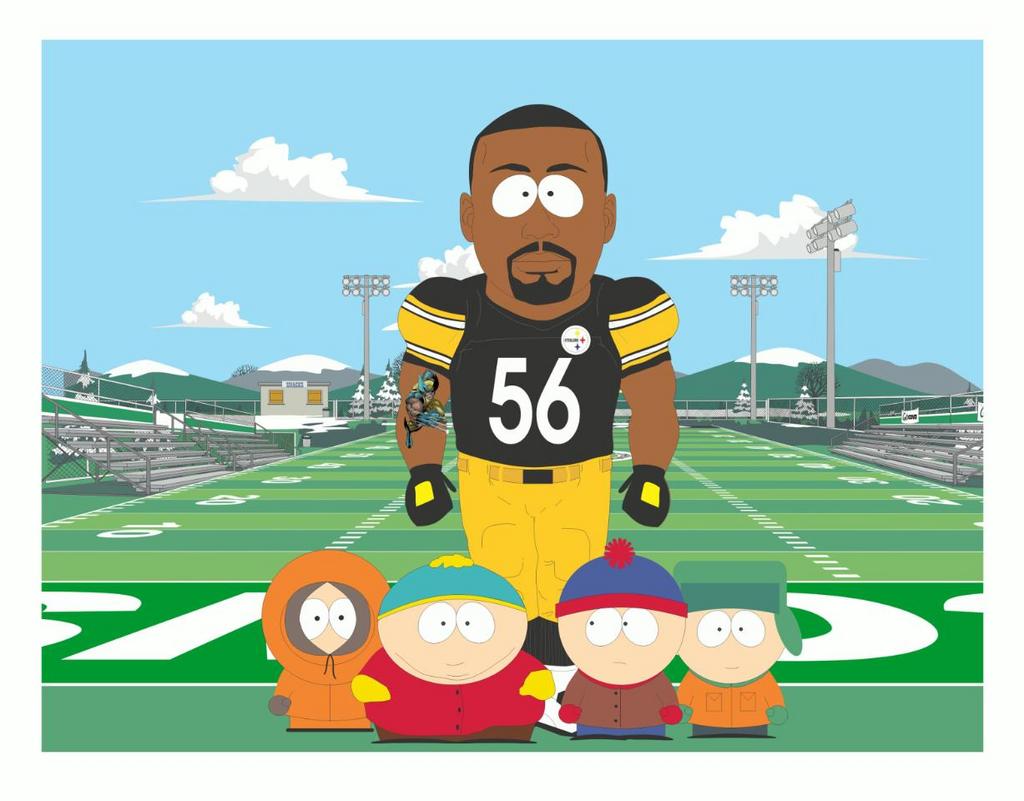 The Pittsburgh Steelers placed linebacker LaMarr Woodley on injured reserve yesterday, thus ending his 2013 season. I know what you're thinking, "Woodley played this season?" I can barely remember myself.
In my recap of Sunday night's game, I mentioned Woodley falling farther faster than nearly any player I can remember. He was an absolute beast his first three seasons, amassing 35 sacks playing opposite James Harrison. Since signing a six year $61 million extension in 2011, however, he's been a shadow of his former self. Surely a lot of it has to do with the decline and eventual departure of Deebo, who was one of the best linebackers of the current era. But a lot also has to do with the whispers of Woodley being a lazy unmotivated fatass whose near constant stream of injuries are directly related to his poor work ethic.
Take the money and run, LaMarr.
Also in my recap, I mentioned the fact Woodley can't stay on the field – counting the final two games of this season, he'll have missed 17 games over the past few seasons, not including the numerous games where he "tried" to come back only to hobble off the field after a handful of snaps – may mean the Steelers should seriously consider parting ways with him. Today, the P-G seriously floated the notion this may be the end of Woodley's tenure in the Black and Gold. While I foolishly thought they might trade him for a late round draft pick, the paper suggests cutting him outright. Given the way he's played of late, I suppose that's the more realistic scenario.
There are several undeniable facts. First, Jason Worilds has clearly outplayed Woodley the past two years. Worilds is younger and more athletic. The Steelers have the oldest starting defense in the NFL. They simply cannot hope to compete if they don't start reloading with younger, more dynamic players. Worilds is also a free agent, albeit one who'll probably command a salary less than what we're currently playing Woodley to pick splinters out of his ass. With a salary in excess of $10 million due the next three seasons, there's no question Woodley is grossly overpaid for the meager production he provides.
The drawback to ridding themselves of Woodley lies in that horrible contract extension. The Steelers face three options. First, they keep Woodley, pay him the approximately $14 million he's owed next season, and likely lose Worilds. Or they have two options for cutting him. If they cut him prior to June 1st, they'll still owe him $14 million – and more importantly, it'll still count against the cap – but they'll be totally free from the final two years of his contract. If they cut him post June 1st (or simply designate him a post June 1st cut despite releasing him earlier), after June their cap hit will only be $6 million dollars with the drawback being another $8 million in dead money on the books in 2015.
Since the Steelers still find themselves in Salary Cap Hell – thanks to "genius" Omar Khan – I don't see the $14 million cap hit as a realistic possibility. It's hard to project where the Steelers are at exactly because there are always cuts and/or restructures to be made but next year's cap is expected to be around $126 million which the Steelers are already right up against. $14 million is way too much dead space for a team with so many needs. Besides, assuming they purge some declining veterans – Brett Keisel and Ryan Clark in particular – their situation should be a bit better in 2015.
Whatever the Steelers do, re-signing Worilds has to be an off-season priority. He's having an excellent year but it's not on par with Woodley's early Harrison-assisted seasons. I expect he can be had for less than the $61 million Woodley commanded stole. Failing a multi-year deal, the Steelers could always Franchise or Transition tag Worilds until they work out a better deal. Last year's tag cost $8.5-9.5 million which is steep but would certainly prevent another team from signing him.
All I can say for certain is the Steelers need to stop worrying about the past and build for the future. There's an old saying that if you aren't part of the solution, then you're part of the problem. Woodley hasn't solved anything going on three years now. Perhaps it's time for him to become someone else's problem.